Grilled peppers are a really delicious side dish and loved by all. They can be prepared on both a non-stick and cast iron plate, on the embers of the fireplace in winter and on the barbecue in summer as I did. In my opinion they are the most exquisite side dish ever, sweet with that slight smoked flavor and they go very well with any dish from meat to fish. They are also excellent for preparing cold pasta, perhaps adding tuna. As for the dressing, oil, salt, garlic and parsley are simply used, while in this recipe I have added sun-dried tomatoes prepared by me, olives and Greek basil.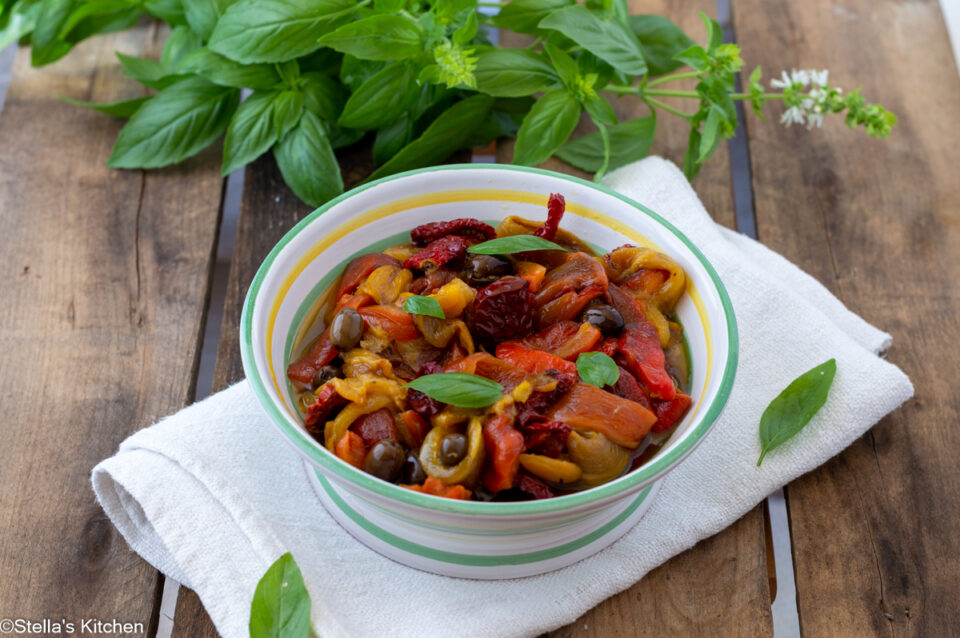 Difficulty

Very easy

Cost

Medium

Preparation time

10 Minutes

Rest time

2 Hours

Cooking time

25 Minutes

Cooking method

Grid

Cuisine

Italian

Seasonality

Summer
Ingredients
4
tablespoons
extra-virgin olive oil
Steps
Wash the peppers under running water.
Dry them with kitchen paper and place them on a very hot grid, grill for about 25 minutes.
turn them from time to time to cook them on all sides.
The skin of the pepper must be well cooked, of a dark colour.
While still hot, arrange the peppers in a paper bag, like a bread bag, and let them cool inside.
Remove the skin and internal seeds.
Let it drip for a few hours.
Cut into strips and season with oil, salt and grated garlic or cut into thin slices for a more delicate flavour.
Add the dried tomatoes, olives and basil.
Mix well and leave to flavor for a few hours before serving.
Cook's tips
You can leave them in the paper bag overnight and proceed with the recipe the following day.
Vegetables recipes
Do you like my recipes? Then stay up to date by following my Facebook page.
Also follow me on Pinterest.