Scampi risotto is a first course of Italian cuisine, perfect on many occasions, for Christmas, New Year, Valentine's Day, a Sunday lunch. Scampi risotto is not a quick dish, it requires a little of time for the preparation of the scampi, as they must be peeled and prepared a fish stock with which the risotto will be cooked. The shellfish stock or bisque is fundamental in this dish as it enriches the risotto with flavor and taste. This first course of Italian cuisine is creamy, velvety and full of flavor, which will appeal to all your guests.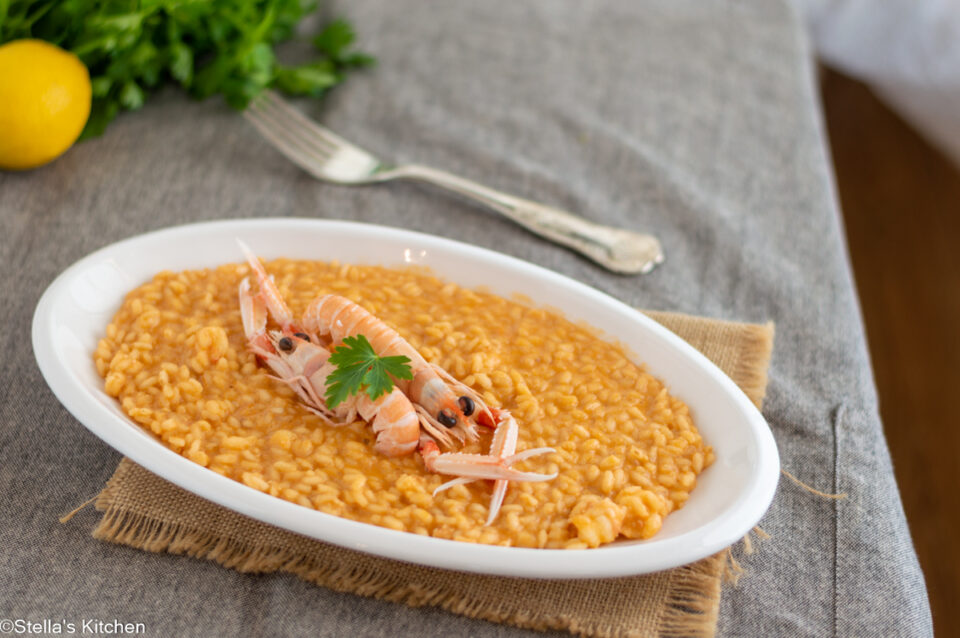 Difficulty

Medium

Cost

Expensive

Preparation time

1 Hour

Cooking time

40 Minutes

Serving

4

Cooking method

Stove

Cuisine

Italian
Ingredients
For fish stock
1
tablespoon
tomato paste
Steps
For the fish stock: remove the head from the prawns and set aside. With scissors, carve the part of the belly and gently extract the carapace, then remove the intestine with forceps. Coarsely chop the shallot and parsley, then put them together with the oil and crushed garlic in a pan. Allow to brown over medium heat, then add the shell and the heads of the prawns. Brown and after 5 minutes deglaze with the brandy. Evaporate the alcohol and add the water with the tomato paste. Leave to cook for 40 minutes. Filter and keep warm. For the scampi cream: in a pan add the oil together with a clove of garlic, let it brown over low heat, then add the prawn pulp and brown them for a couple of minutes. Season with salt and pepper, then deglaze with the lemon juice. Take half of the prawns and put them in a glass, add the cream and blend with an immersion blender. In a pan, add the rice and toast it for a couple of minutes. Add a ladle of fish stock. Stir and cook adding the fish stock from time to time. Turn off the heat and add the scampi cream, the grated lemon zest and mix everything together. Serve immediately. It can be decorated with scampi seared for a few minutes in boiling salted water.

Cook's tips
The fish stock and the scampi cream can also be prepared the day before and stored in the refrigerator.
Lemon zest and juice bring freshness to this dish
Recipe of pasta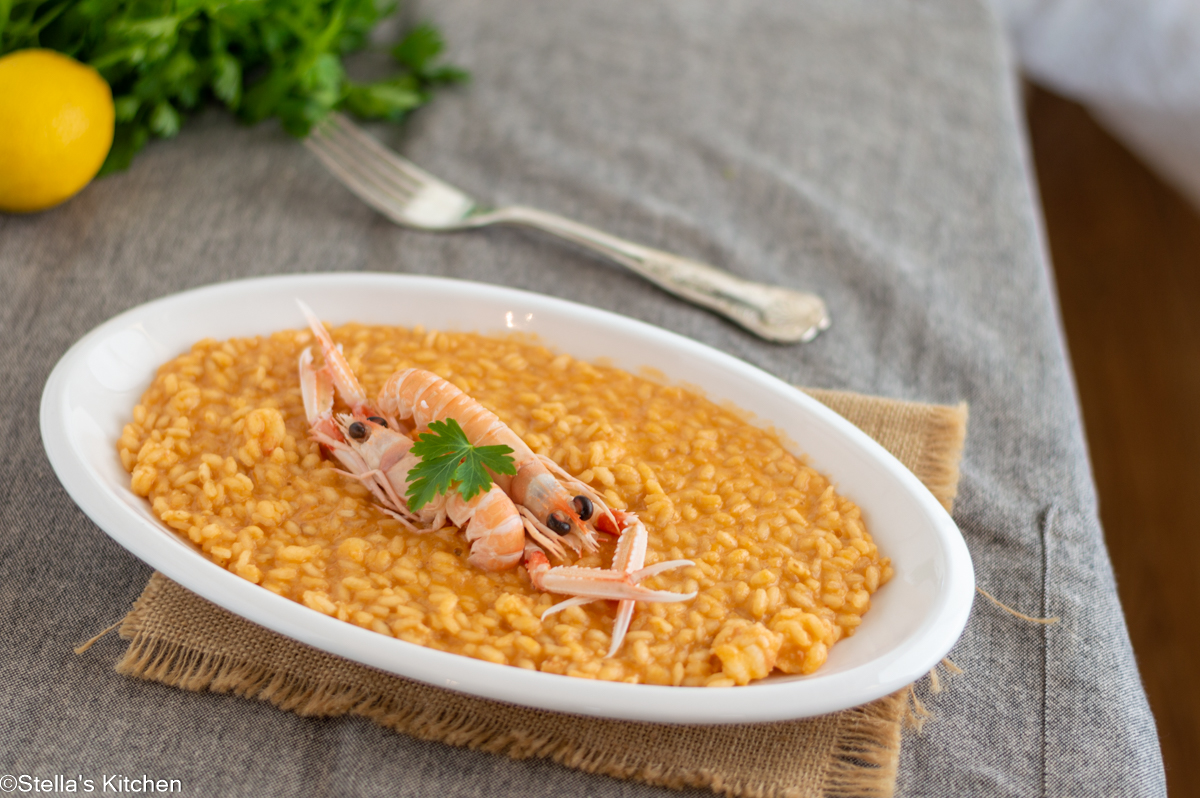 Do you like my recipes? Then stay up to date by following my Facebook page.
Also follow me on Pinterest.