The eggplant parmigiana is one of the specialties of the Italian tradition, a dish based on fried aubergines and then au gratin in the oven with tomato and basil sauce and cheeses that can be mozzarella, caciocavallo, scamorza. The origin of the eggplant parmigiana is still under discussion, a Sicilian or Neapolitan dish? Whatever its origin it is truly an exceptional dish.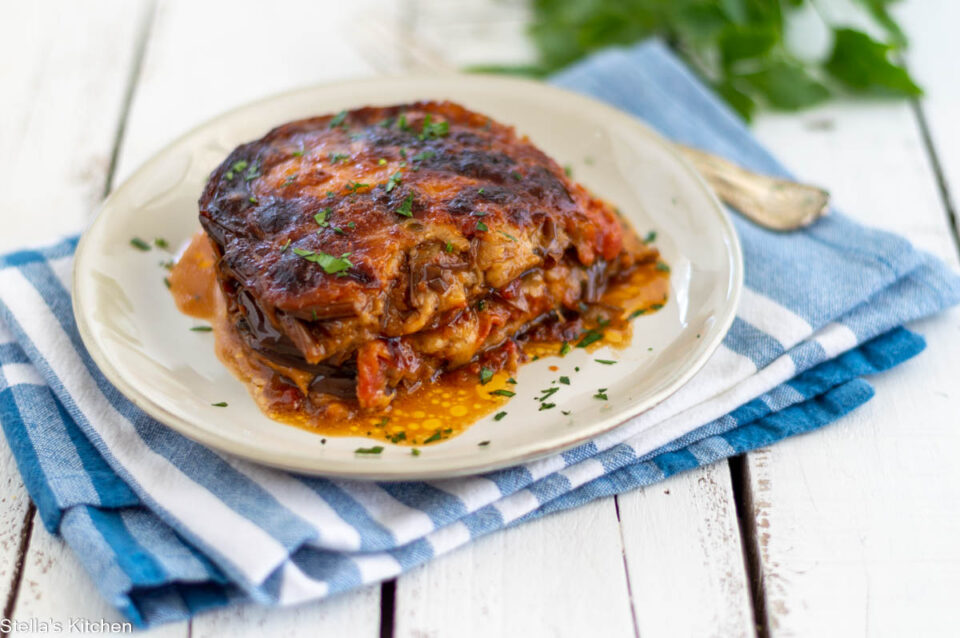 Difficulty

Easy

Cost

Medium

Preparation time

1 Hour

Serving

2

Cooking method

Frying

Cuisine

Italian
Ingredients
For tomato sauce
2
tablespoons
extra-virgin olive oil
Steps
Cut the eggplants into slices of about half a cm lengthwise. Sprinkle them with coarse salt and arrange them in layers in a colander. Leave them to drain for at least a couple of hours at room temperature, even overnight in the refrigerator. Prepare the tomato sauce. Chop the onion and fry it with the oil in a pan. Combine the tomato sauce and basil. Season with salt and pepper. Leave to cook for about 20 minutes. Dry the eggplants with absorbent paper. Fry them in plenty of peanut oil, until they are golden. Cut the mozzarella into slices. In a baking dish 8×8 inches or in single portions, pour a ladle of tomato sauce. Lay the first layer of eggplants, add the sauce and spread it well over the eggplants, then the mozzarella slices and the parmesan. Continue with the layers until all the ingredients are used up. Bake at 200 ° C for about 20 minutes. Remove from the oven and enjoy hot, warm or cold. Garnish with basil before to serve.
Cook's tips
Salt the eggplants eliminates excess water and during frying the eggplants absorb less oil. If you want to remove excess salt, you can skip this step.
Recipes of pasta
Pumpkin ravioli with Bolognese sauce 
Do you like my recipes? Then stay up to date by following my Facebook page.
Also follow me on Pinterest.