Today I propose a typical Italian dish, pumpkin ravioli with Bolognese sauce. A very tasty and savory dish that will delight your guests. Pumpkin ravioli are a typical dish of Northern Italy, the most famous are Mantuan tortelli, stuffed with baked or boiled pumpkin mixture, amaretti, mustard, parmesan and nutmeg. This dish is widespread with variations also in the nearby provinces of Cremona, Parma, Reggio Emilia and Ferrara. In Ferrara we find pumpkin cappellacci where amaretti and mustard are missing and pumpkin violin is used, in those of Reggio we find only apple mustard, while in Cremona the Cremonese mustard is used.
Difficulty

Medium

Cost

Medium

Preparation time

3 Hours

Cooking time

1 Hour

Serving

10

Cooking method

Stove

Cuisine

Italian
Ingredients
For pumpkin ravioli
5.6
ounces
mustard from Cremona
4.4
pounds
pumpkin
(

without peel

)
7
ounces
amaretti biscuit
5.6
ounces
parmesan cheese
For bolognese sauce
32
ounces
tomato pulp
(

or 2 tablespoon of tomato paste

)
For finishing
1
cup
parmesan cheese
(

grated

)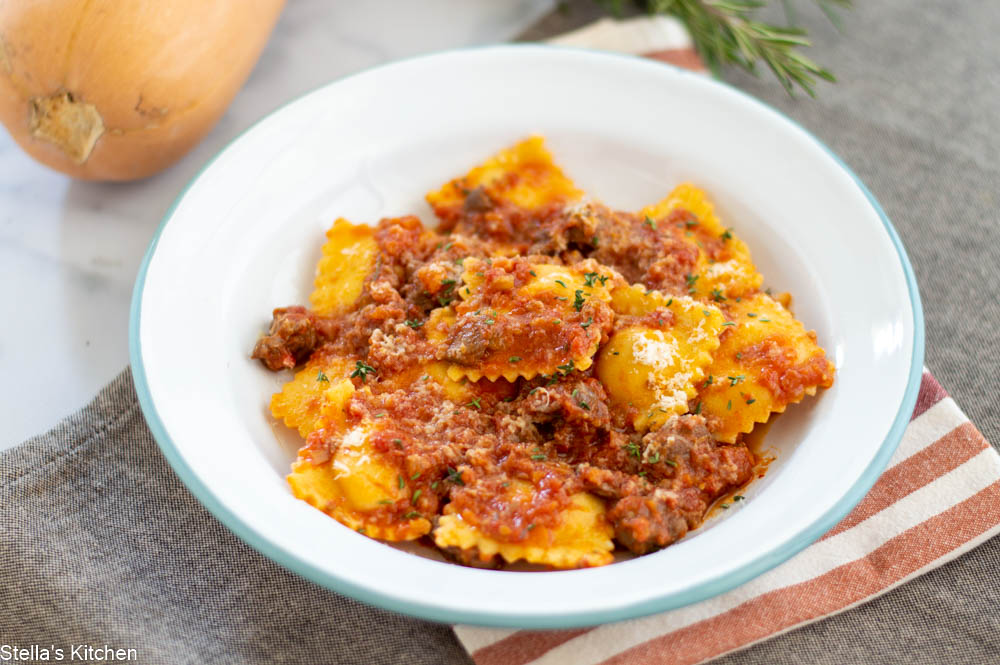 Steps
For pumpkin ravioli
Cook the squash cut into small pieces for about 40 minutes at 320 ° F (160 ° C). Allow to cool and purée with a potato masher. Fountain flour on a pastry board, possibly in wood. Shell the eggs in the center of the flour. Lightly beat the eggs with a fork then slowly begin to mix the flour as well. Continue to work the ingredients with your fingers until all the flour is incorporated into the eggs. Then work the dough well until the mixture is smooth and homogeneous. Form the dough and let it rest for half an hour covered with plastic wrap. While the dough rests, prepare the filling. Crumble the amaretti. In a bowl, add the pumpkin puree, lemon zest, amaretti, egg, parmesan, nutmeg and mustard chopped. Season with salt and pepper. Mix well. Take the dough back and spread it out on a well floured work surface, sliding the rolling pin in all directions. Roll the dough into a thin sheet and roll it starting from the flap facing down without pressing. Or roll out the dough with the special machine. Form long strips of dough. Place a little of the filling with a teaspoon, forming several piles. Fold the pasta over the filling. Between getting the air out and sealing. Cut out the tortelli with a notched wheel. arrange on a lightly floured tray.
For bolognese sauce
Start by preparing the mirepoix by adding chopped carrots, onion and celery in a food processor and blend until finely chopped. Heat a large saucepan over medium-high heat with the olive oil and add the chopped vegetables with a pinch of salt. Cook for 10 minutes until the vegetables release some water and soften, add the bacon, and then the minced meat and shell the meat with a spatula. When the meat is cooked, about 15 minutes, deglaze with the wine and reduce for 2-3 minutes and add the tomato paste or tomato pulp. If you add the tomato paste, add a cup of water. Give a final stir and bring the sauce to a slight boil. When it starts to boil, reduce to a simmer and put a lid on, leaving a small opening. Season with salt and pepper. Simmer the Bolognese sauce for at least 1 hour and longer, if you have time, up to 3 hours, adding water if necessary. 15 minutes before removing from the heat, add the milk. Continue to mix the sauce, making sure that nothing sticks to the bottom.
For finishing
Cook the pumpkin ravioli in boiling salted water. Drain and season with the Bolognese sauce and serve with plenty of grated Parmesan cheese
Cook's tips
Egg pasta can also be made with the help of a planetary mixer.
Pumpkin ravioli can be frozen on a tray and then placed in the special food bags.
Frozen pumpkin ravioli are cooked directly in boiling salted water.
Recipe variations
If you don't want to prepare the ragù you can dress them with melted butter and sage and plenty of Parmesan.
If you don't have mustard, you can omit it.
Recipes of pasta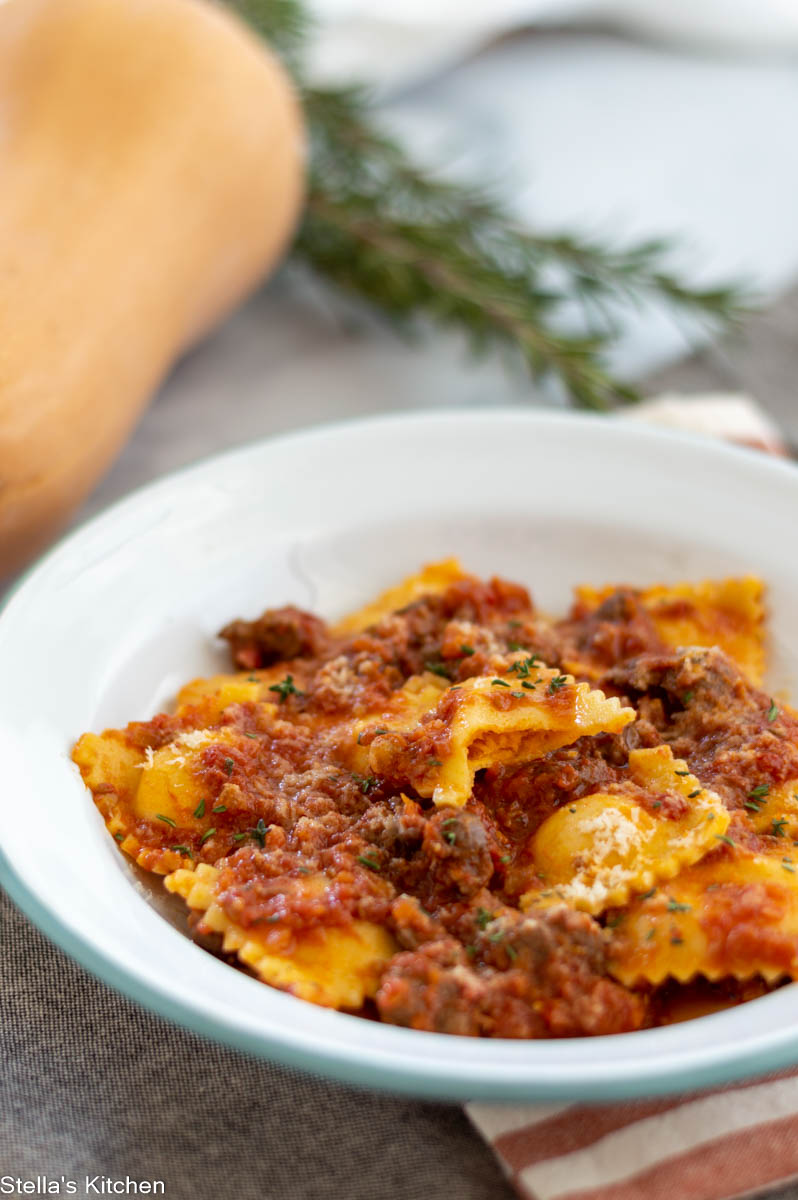 Do you like my recipes? Then stay up to date by following my Facebook page.
Also follow me on Pinterest.