Best super bowl recipes. The best way to ensure that everyone has a good time on Super Bowl Sunday, no matter what happens in the game is to have a good meal to eat.
The Super Bowl is the championship game of the National Football League, the American professional football league.
In the United States it is considered as the match that assigns the title of world champion of the sport.
These recipes are sure to be a hit! Choose a few for your next Super Bowl Party !
If you're looking for delicious and easy Super Bowl recipes for your next soccer party, check out my roundup of Super Bowl recipes, including appetizers, entrees, and more!
Aperitifs
Let's start with a great juice to celebrate the start of the game, whatever the result is the great company is the most important thing!
Continue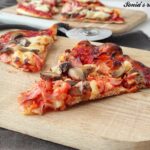 Pizza although an Italian food cannot be missed during the game! Excellent tasty and stringy!
Continue
Fried cauliflower! One piece leads to another, you can combine it with your best sauce !
Continue
Salmon rolls filled with excellent cream cheese !
Continue
Great fish appetizers! A bruschetta with creamy sauce and shrimp!
Continue
French fries can't be missed, even better if they are sweet potato fries!
Continue
Great these brussels sprouts, definitely tasty !
Continue
Baked chicken thighs, another must-have dish at the super bowl game
Continue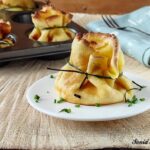 Simple stuffed dumplings, one pulls the other, really yummy!
Continue
Dessert
And who said popcorn is salty? Here's a tasty version with chocolate!
Continue
Great dessert sliced for all the guests !
Continue
Sweet fried balls to enjoy with friends!
Continue
Italian butter cookies, simple and delicious can not miss !
Continue
More delicious cookies with a creamy lemon filling !
Continue
Top it off with a dessert to be served in small plates, simple and very tasty!
Continue
If you like my recipes you can follow my faceboke page
You can follow me on pinterest by clicking 
 HERE
If you prefer my instagram channel click
Here
Have you made this recipe? We'd love to hear from you. Leave us a comment below.
(Visited 199 times, 1 visits today)