Cookies with Lemon Cream Filling. These cookies are really good. You will fall in love as soon as you taste one!
If you love lemon dessert as much as I do, these cookies are for you!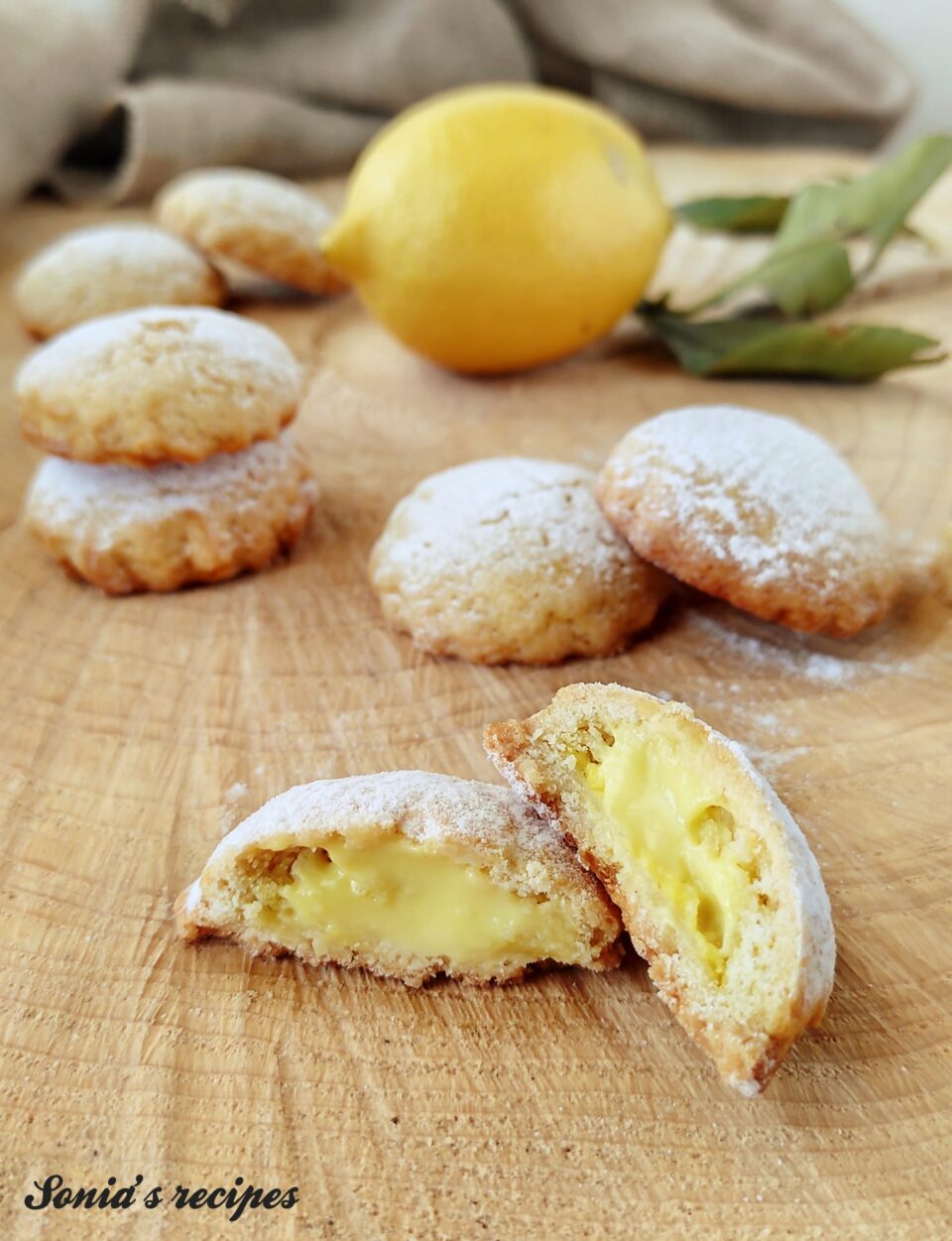 Difficulty

Medium

Cost

Cheap

Preparation time

35 Minutes

Cooking time

10 Minutes

Serving

20 Cookies

Cooking method

Oven

Cuisine

International
Ingredients Cookies with Lemon Cream Filling
For the pastry
4
1
/
4
ounces
unsalted butter
(

120 g

)
For the cream
2
tablespoons
cornstarch
(

40 g

)
1
/
2
cup
lemon juice
(

100 ml

)
Tools Cookies with Lemon Cream Filling
Steps Cookies with Lemon Cream Filling
To prepare the pastry
We put in the planetary flour, butter well cold cut into pieces with a pinch of salt and crumble everything with the machine. We join the eggs and sugar.
If we do not have a machine you can also do it by hand by joining the center of the flour to a fountain on a work surface eggs, butter a pinch of salt, and sugar.
Knead everything quickly until it forms a ball, the dough must always remain cold.
We form a ball that we will wrap with plastic wrap and put to rest in the refrigerator for 30 minutes before being stretched.
We prepare the lemon cream
In a saucepan, mix the egg yolks with the sugar, filtered lemon juice and baking powder , stir until the mixture is well blended.
Heat the milk and as soon as it comes to a boil, add it to the egg mixture and continue stirring. Place back on the heat for 5 minutes, or until the mixture is creamy.
Pour the cream into a bowl and let it cool covered with plastic wrap.
Cookie composition
Roll out with a rolling pin the dough to a thickness of about 1.15 inch (4 mm ) and carve circles of 1.96 inch (5 cm) using a round cookie cutter, we will get about 20 cookies. So until you finish all the shortbread dough.
On half of the circles, we put 1/2 teaspoon of lemon cream well cold.
and place on top of another disc pressing slowly on the edges, the cream must not come out.
Place the cookies on a baking sheet lined with baking paper and bake in a preheated oven 10 minutes at 350°F (180°C ) .
Let cool completely before dusting with powdered sugar.
ATTENTION : do not overcook otherwise the cream will dry out !
Our delicious cookies:
If you like my recipes you can follow my faceboke page
You can follow me on pinterest by clicking 
If you prefer my instagram channel click
Have you made this recipe? We'd love to hear from you. Leave us a comment below.
(Visited 6,683 times, 1 visits today)