The spinach and ricotta crepes are a rich, tasty and elegant main dish for any special occasion. They can be prepared in advance and cooked just before they are ready to serve, so we can enjoy family and friends more. They can also be frozen already stuffed and seasoned with both tomato sauce and bechamel sauce, in this way we have a dish ready in just 30 minutes because they are cooked directly frozen. A perfect dish for many occasions. The recipe that I propose to you is from my friend Sonia from the blog "Sonia's recipe".
Difficulty

Medium

Cost

Cheap

Preparation time

1 Hour

Cooking time

20 Minutes

Serving

4

Cooking method

Oven

Cuisine

Italian
Ingredients
For filling
1.10
pounds
ricotta cheese
1.7
ounces
spinach, fresh, boiled in distelled water, no salt, drained
For bechamel sauce
1
tablespoon
unsalted butter
For finishing
1
tablespoon
unsalted butter
Steps
For bechamel sauce
Melt the butter in a saucepan over low heat, add the flour and cook for about 1-2 minutes, stirring.
Meanwhile, heat the milk.
Add the hot milk to the white roux, mix with a whisk and cook.
Leave to simmer for about 20 minutes.
Cooking the bechamel is essential to avoid the raw flavor of the flour
For tomato sauce
Chop the onion and carrot. Put them in a saucepan with the oil and fry for 5 minutes. Add the tomatoes, season with salt and cook for 15 minutes.
For crepes
Beat the eggs in a bowl with a pinch of salt. Add the flour and mix with a whisk to remove any lumps. Add the milk and leave to rest for 30 minutes. Heat a pan with a drizzle of oil and then clean with kitchen paper, pour a little batter and spread with the help of the special crepes tool or swirl the pan until it covers the entire surface. Cook a couple of minutes on each side. Proceed in the same way until you run out of batter.
For filling
Beat the ricotta with a whisk and chop the spinach. Combine in a bowl and add the Parmesan, salt and nutmeg. Mix everything together and set aside.
For spinach and ricotta crepes
Fill the crepes with the filling and roll them up. In a greased pan add a little tomato sauce, 3-4 tablespoons and the same amount of béchamel. Arrange the crepes in the pan. Cover the crepes with the tomato sauce, add the remaining béchamel sauce, sprinkle with Parmesan and cook at 392 ° F (200 ° C) for 20-25 minutes.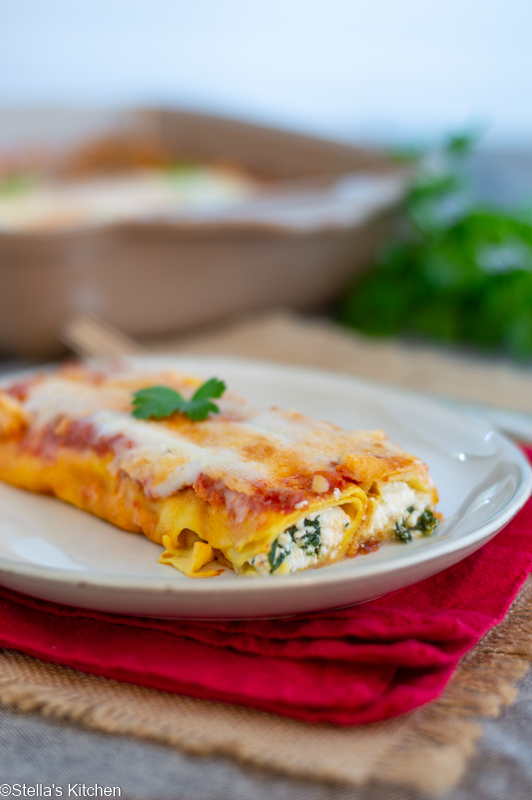 Cook's tips
Stir the batter before taking a ladle for cooking as the flour settles on the bottom
Recipe variations
For the gluten-free version, replace the flour with rice and adjust the amount of milk a little to obtain a fluid batter.
Recipe of pasta
Do you like my recipes? Then stay up to date by following my Facebook page.
Also follow me on Pinterest.