Eggplant parmigiana pizza, inspired by a classic of Italian cuisine. Tomato, mozzarella, basil and eggplants, rich in flavour and delicious for those who love eggplant parmigiana.
The eggplants are cooked directly on the pizza, a quicker and lighter version, otherwise the aubergines for the parmigiana must be fried in plenty of oil. Another alternative is to grill them. If you use raw eggplants as I do, I recommend that you cut them very thin, even with a mandoline, so that they can be cooked in a short time. This pizza can be prepared in a short time, the only thing is the rest in the fridge that allows us to obtain a light and fragrant pizza.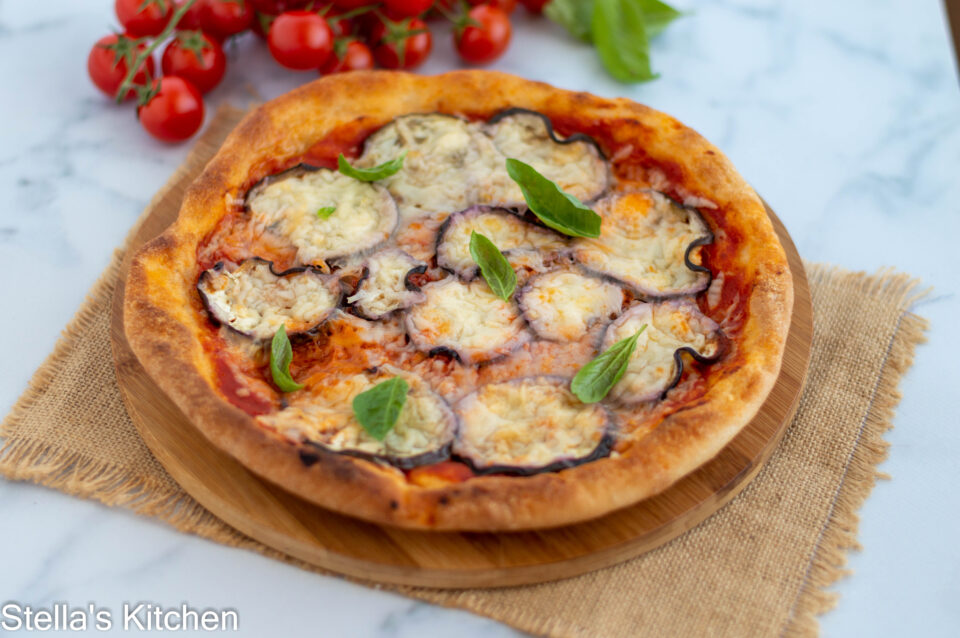 Difficulty

Medium

Cost

Very cheap

Preparation time

1 Hour

Rest time

1 Day

Cooking time

8 Minutes

Cooking method

Oven

Cuisine

Italian
Ingredients
For the dough
3
1
/
2
cups
flours
(

high gluten flour

)
1
cup
durum wheat fine semolina
2
1
/
2
cups
water
(

If necessary, add or reduce water.

)
Steps

In the afternoon at 2 pm knead the pizza.
Add the flour and yeast to the bowl of the kneading machine.
Start the machine and gradually add the water. Add or reduce the amount of water if necessary. When the dough is formed, add the oil. As soon as the oil is absorbed, add the salt. Knead for another 5 minutes. Leave to rest for an hour at room temperature.
Refrigerate for 1 day.
After 24 hours, remove from the fridge, divide into 120 g pieces and form into balls.
Place the balls in a lightly floured pizza box, in plastic containers or in baking tins.
Cover and leave to rise for 4 hours at room temperature.
Meanwhile, prepare the peeled tomato sauce with oil, salt, pepper and basil.
Thinly slice the eggplants and arrange them in layers in a colander. Sprinkle a pinch of salt on each layer.
This allows the eggplants to remove their vegetation water.
After 3 hours, rinse the eggplants and dry them.
Break up the mozzarella and set aside.
Preheat the oven to maximum.
Roll out each pizza loaf on a work surface with remilled durum wheat semolina. You can use a rolling pin or your fingertips and hands to make a round shape.
Transfer to a baking tray. Spread 4 tablespoons of tomato sauce over the pizza.
Add the eggplants, sprinkle with mozzarella, drizzle with oil and basil and place in the oven. Bake for about 7-8 minutes.

Cook's Tips
The aubergines are cooked directly on the pizza. I recommend cutting them very thin, even with a mandoline, so that they can be cooked in a short time.
The aubergines need to be salted in order to lose their vegetation water.
Recipe variations
In the real parmigiana, the eggplants are fried in plenty of oil.
We can also grill the eggplants.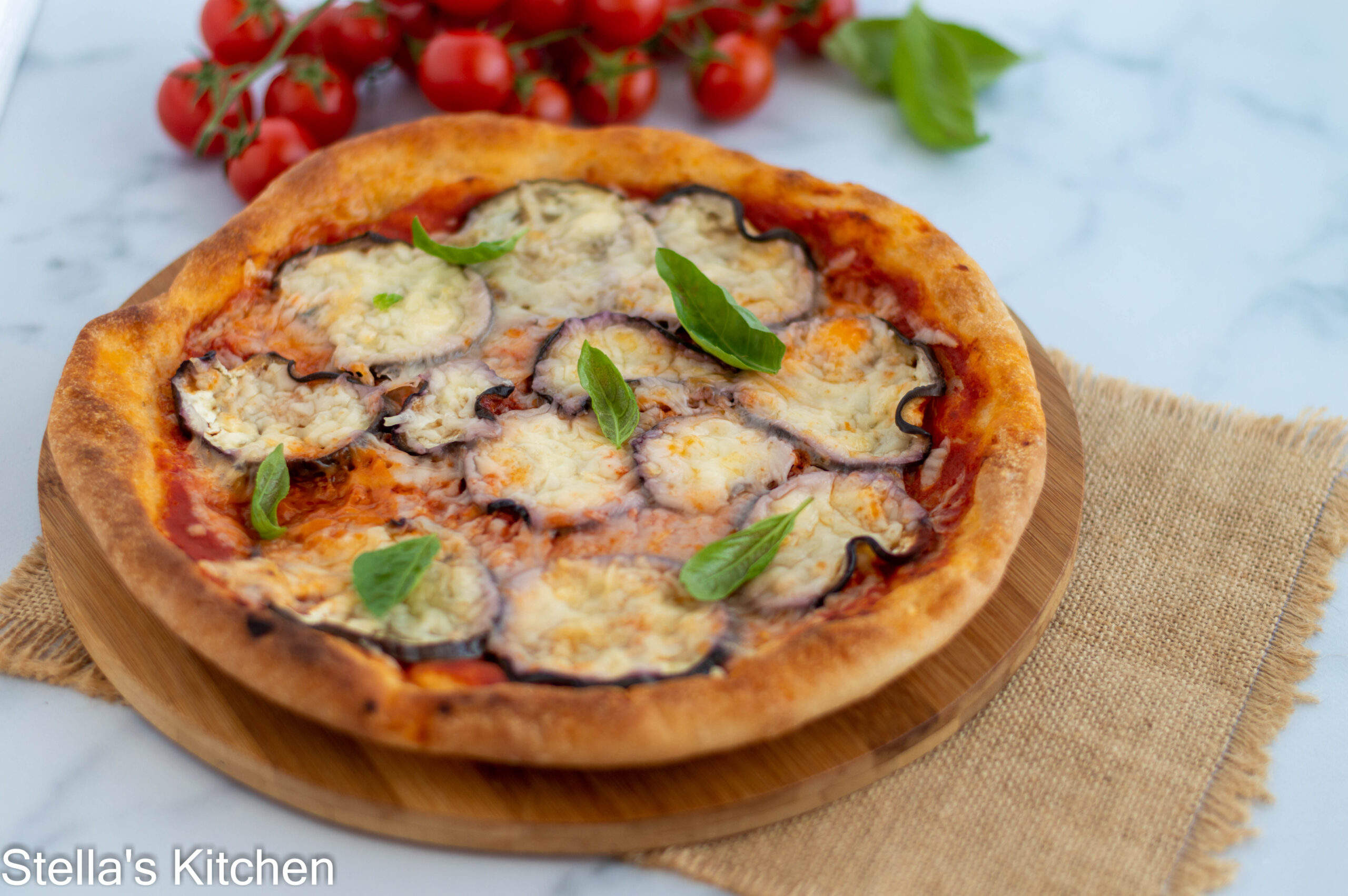 Do you like my recipes? Then stay up to date by following my Facebook page.
Also follow me on Pinterest.