Roscòn de Reyes, the donut of the Three Kings is a typical dessert of the Spanish tradition that is prepared for the Epiphany, on January 6. Also known as rosca de Reyes in Latin America. Often accompanied with a cup of hot chocolate, it can be enjoyed both for breakfast and as a snack. The Roscò de Reyes can be filled with whipped cream or cream, there are also truffle and chocolate variants. Another peculiarity of this dessert is that inside there are two surprises, ceramic or plastic figurines, which diners could find in their slice, in addition to a dried bean, the roscón that traditionally the one who finds it pays the price, roscòn.
Difficulty

Medium

Cost

Very cheap

Preparation time

1 Hour

Rest time

16 Hours

Cooking time

35 Minutes

Serving

10-12

Cuisine

Italian
Ingredients
For dough
3
cups
flours
(

high gluten flour

)
1
teaspoon
orange blossom
Steps
Dissolve the yeast in the warm milk and leave to rest for 10 minutes. In the bowl of the planetary mixer, add the flour, salt, sugar and herbs. Start the machine, add the milk and gradually beat the eggs. Leave the machine to work for about 15 minutes. When the dough is strung, start adding the butter a little at a time. Work without losing the string for about 15 minutes. Stop the machine and let it rise at room temperature for 2 hours. Transfer for 12 hours in the fridge. The next day, take the dough out of the fridge and leave it at room temperature for about 2 hours. Turn the dough over onto a lightly floured work surface. Form a loaf and leave to rest covered for 15 minutes and then form the central hole. Transfer to a lightly greased 26 cm mold. Cover with cling film and leave to rise in a warm place until doubled. Preheat the oven to 160 ° C. Brush the brioche with the egg yolk beaten with the milk. Decorate with candied fruit and sprinkles. Cook for 35-40 minutes. Remove from the oven and allow to cool before removing from the mold. It can be kept for a week in a sealed food bag.
Cook's tips
Leaving in the refrigerator with a little yeast guarantees a softer and longer-lasting dough.
Recipe variations
To make this donut faster you can add more yeast up to 12g and skip the leavening in the fridge.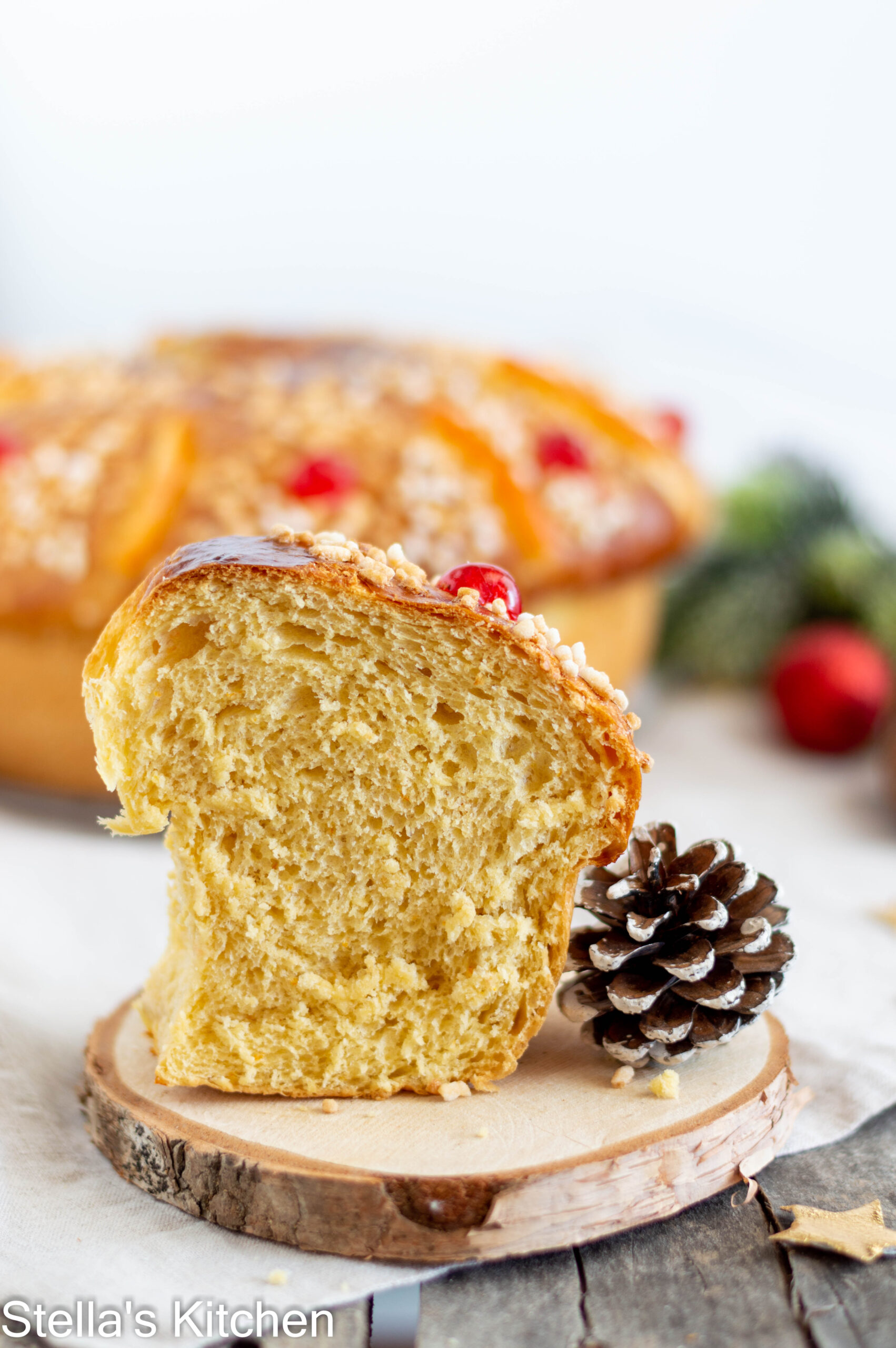 Do you like my recipes? Then stay up to date by following my Facebook page.
Also follow me on Pinterest.