Today let's make Puccia, the real recipe of Apulian bread, in particular of Lecce and Salento in general. One of the most loved street food, a crunchy bread outside and empty in the inside to be filled with whatever you desire the most. You can find it even in panetterie or in classic puccerie store's. Puccia is a kind of bread with circle shape, 20 cm large and not too high and usually it hasn't too much crumbs in order to be fully filled. Usually will be cook it on the fire but we will cook it in the oven and my advice is to high the temperature as much as you can. In Apulia you can try three different kinds of puccia : the one with olives in the inside, pizzaiola puccia and the classic that I'm going to meet you today, super crunch and empty inside to be filled with everything you want. I suggest you to fill it with my apulian bombette meat with potatoes, which you can find the recipe on my blog. Below here the recipe.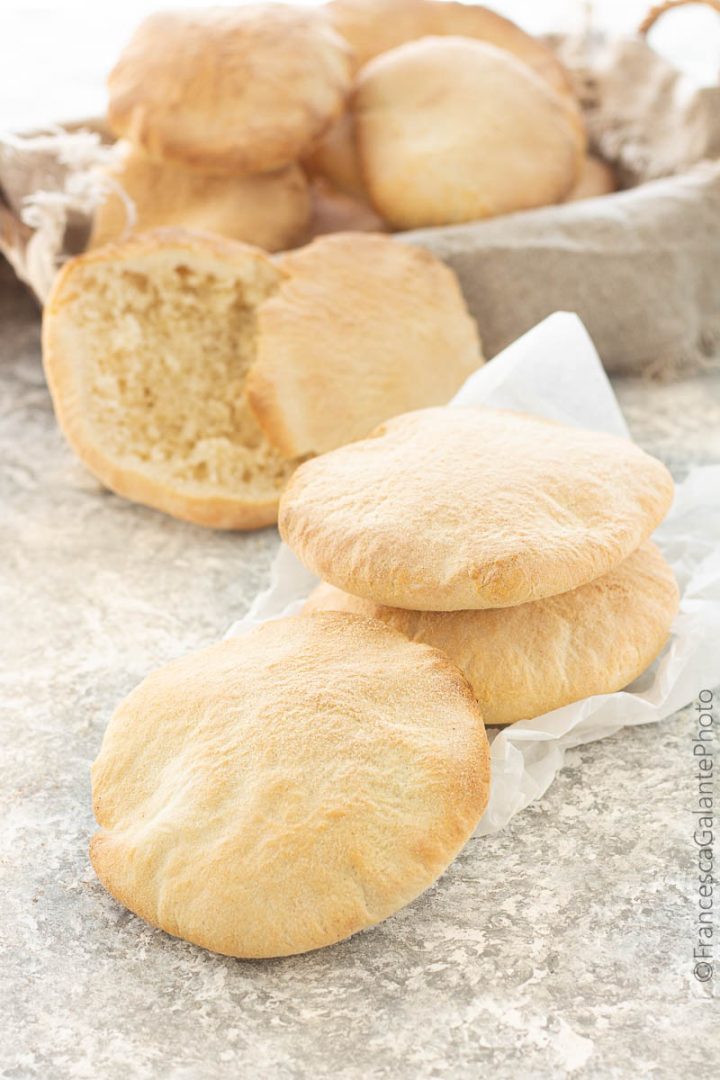 Preparation time

20 Minutes

Rest time

12 Hours

Cooking time

15 Minutes

Serving

20

Cooking method

Oven

Cuisine

Italian
Ingredients
3
cups
flour
(

0 flour 300 g

)
2
cups
semolina
(

Remilled semolina flour 200 g

)
14
oz
water
(

lukewarm 400 ml

)
2
tablespoons
extra-virgin olive oil
100
g
sourdough
(

or 10 g of brewer's yeast

)
For the filling
10
meat
(

apulian bombette

)
2
potatoes
(

cut into wedges and cooked in the oven with extra virgin olive oil and salt

)
10
cheese, semisoft, fresh caciottina
(

mini

)
Steps
If you have at your disposal sourdough refresh it and take it 120 g. Melt it in 300 ml of mild water (1).If you don't have sourdough or you don't have the time to refresh it melt in 300 ml of mild water the brewer's yeast powder (2).In 100 ml of water melt the salt (3) pour in a cup the flours (4) add on the center the melted yeast and the spoon of sugar (5).

Start to work it until the flour will be mixed with the water (6) add the oil (7) add little by little the water with the salt to wet the dough (8).Put the dough on a work plane and work it until you will have a dough ball smooth and compact (9).Let it rest for 3 hours if you are using the brewer's yeast powder, if you are using the sourdough let it rest for 6 hours. Cover with a film (10)

Once this time will be passed your dough will be bigger. Take it and put it again on the work plane creating a roll with it.
Take some pieces from your dough and create little balls of 100 g. Let it rest for 1 hour.
Now press your dough ball until you will have a circle. The size of your dough ball depends on your taste.
Put all of your dough balls on a mold covered with baking paper and cook it in a preheated oven for 15 minutes at 180 degrees.
Cut the potatoes and cook it with some oil and salt at 180 degrees for 20 minutes.
Now cook it the bombette in a preheated oven at 200 degrees for 20 minutes.
Fill the other puccia with salad, bombette and potatoes.