Apple Cheesecake is a real explosion of flavors and textures, the aroma of cinnamon and nutmeg, the creaminess of cheese and the softness of apples, so you just have to try it and you will be amazed by the simplicity of this dessert.
Difficulty

Very easy

Cost

Cheap

Preparation time

1 Hour

Rest time

8 Hours

Cooking time

50 Minutes

Serving

8-10

Cooking method

Oven

Cuisine

American
Ingredients
For crust
1
/
2
cup
unsalted butter
(

melted

)
For cheesecake
1
/
2
teaspoon
cinnamon powder
For topping
1
teaspoon
cinnamon powder
Tools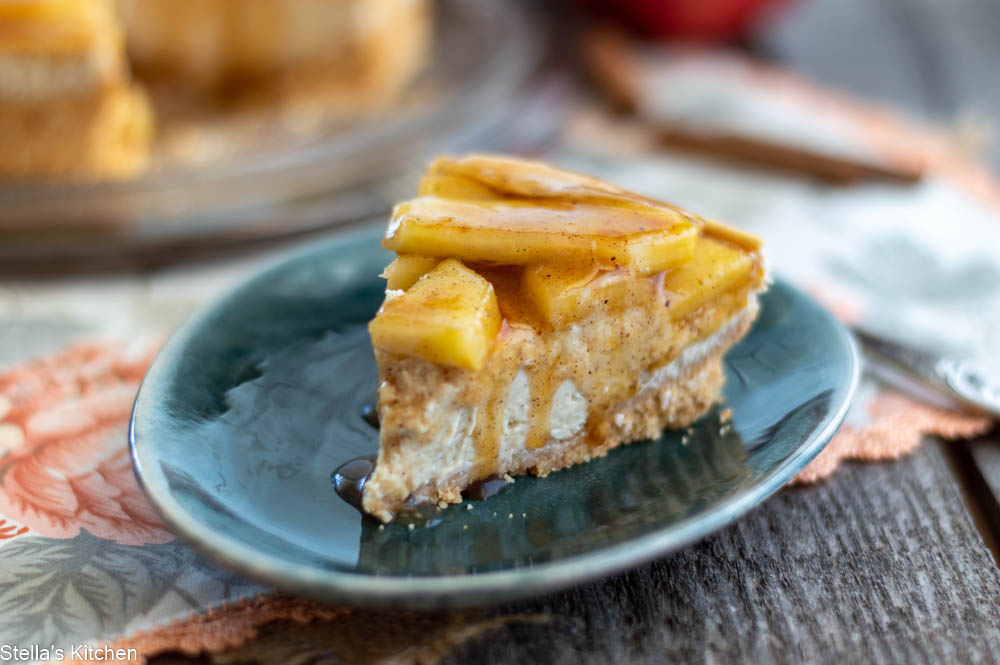 Steps
For topping
Peel the apples and cut them into slices. Sprinkle them with lemon juice to keep them from darkening. In a saucepan, add cold water with sugar, starch and spices. Mix well with a whisk and add the apples. Bring to the boil and leave to thicken for about 10 minutes. Remove from the heat and pour into a jar. Allow to cool to room temperature and then store in the fridge.
For crust
With a mixer, blend the biscuits and add the melted butter. Mix well and pour the mixture into a springform pan (8,6 inch). Compact well and transfer to the fridge for 30 minutes. Alternatively, you can crumble the cookies into a resistant bag by passing over the rolling pin several times.
For cheesecake
Mix all the ingredients with a whisk until you get a smooth and velvety cream. The cheese must be left at room temperature for at least 4 hours before use.
Pour the cream cheese over the biscuit base. Cover the bottom and edges of the mold with aluminum foil. Place it in a dripping pan and pour boiling water up to 2/3 of the edge of the cheesecake. Bake at 338 ° F (170 ° C) for 50 minutes. Remove from the oven and then from the remaining water. Let it cool for at least a couple of hours before putting it in the fridge. In the fridge for at least 8 hours or overnight. Unmold and arrange on a serving dish. Decorate the apple topping. It can be kept for 4 -5 days in the fridge.
Cook's tips
The cheese must be left at room temperature for at least 4 hours before use.
For the gluten-free and lactose-free version, replace with suitable ingredients, even vegetable ones in the same dose.
Recipes of dessert
Do you like my recipes? Then stay up to date by following my Facebook page.
Also follow me on Pinterest.