Stuffed smoked salmon rolls are a tasty and delicious appetizer, very fast to prepare in just 10 minutes.
Ideal to serve in any occasion such as a finger food or an appetizer, but also to go to compose a buffet, such as for the Christmas holidays that are approaching.

A variation could be with cooked ham and you can find the recipe by clicking here, from my blog in Italian.

If you are looking for other tasty ideas for other appetizers I recommend the Mini croissants stuffed with salmon.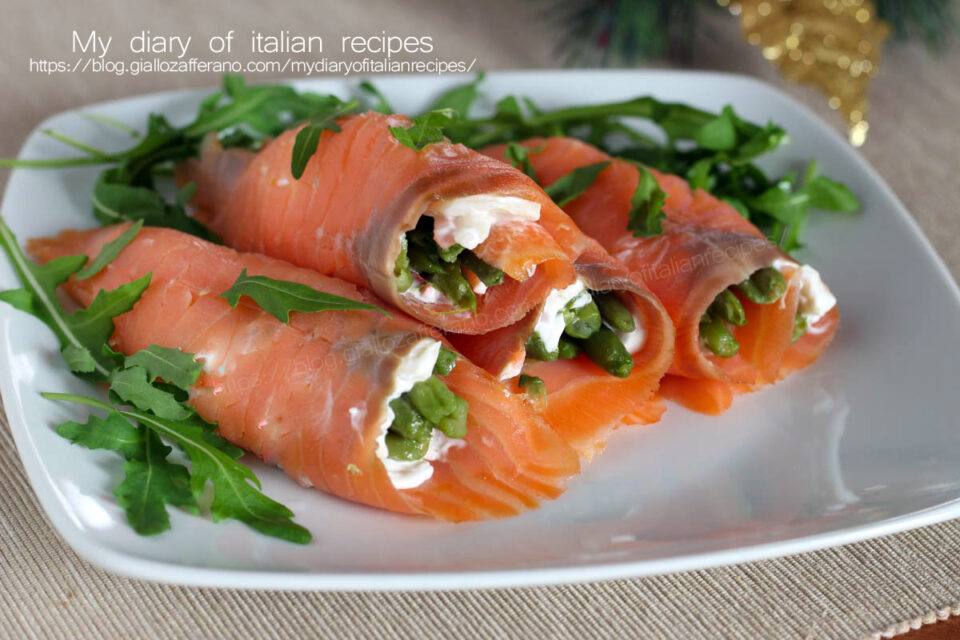 Difficulty

Very easy

Cost

Medium

Preparation time

10 Minutes

Serving

4

Cuisine

Italian
Ingredients
150
g
coleslaw
(

insalata capricciosa – Capricious salad

)
Preparation
In this recipe, I used the typical capricious salad (insalata capricciosa), which can be substituted for coleslaw.
Capricciosa salad, similar to Russian salad, is a typical Italian appetizer. It consists of celeriac, ham, carrots and cheese all julienned and mayonnaise to bind.
How to prepare Stuffed smoked salmon rolls
Boil the green beans in salted water then drain and season with a pinch of salt and allow to cool.

Arrange a slice of salmon on a chopping board, lay a layer of capricious salad on top, leaving the edges of the slice clean.
In the middle of the slice, arrange 4-6 green beans neatly lined up.
Roll up the smoked salmon slice, squeezing tightly but trying not to let all the filling come out.
Seal the rolls with plastic wrap and store in the refrigerator until ready to serve.
Conservation
The salmon rolls can also be prepared the day before and kept in the refrigerator, sealed in plastic wrap.
Consume them within 3 days at the most.
Subscribe to my facebook page so you don't miss all the latest news.
If you like my recipes, don't miss the latest video recipes by subscribing to my You Tube channel by clicking here.
Visit also my site of recipe in italian language, Dolci Creazioni..e non solo..tatam, you can find, for example, more idea to prepare in your kitchen.