Italian Lasagne with meat sauce is an irresistible dish, a great classic of Italian cuisine. It is the quintessential Sunday dish here in Italy.
A symbol of Italian cuisine throughout the world, the recipe for lasagna with meat sauce originated in Emila Romagna, in particular in Bologna, hence the name Lasagne alla Bolognese.
But lasagna is prepared all over Italy, with their small variations according to taste and region of origin.
In fact, every family here in Italy has its own recipe for lasagna.
But the basic recipe essentially calls for alternating layers of lasagna, béchamel sauce, meat sauce and parmesan cheese. In One word, this lasagna is amazing.

I often prepare a lasagna but a little different from these is without meat sauce and are the Lasagna mushrooms, bacon and mozzarella that you can find on my Italian blog.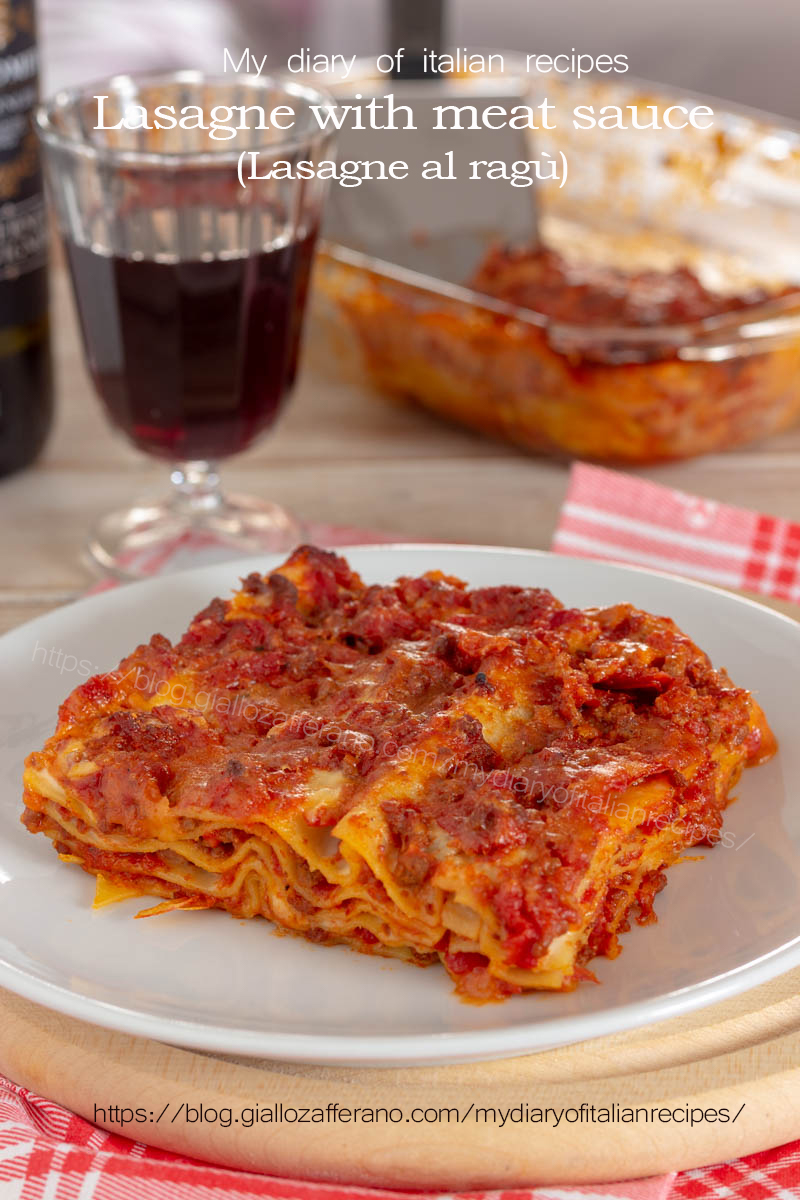 Difficulty

Medium

Cost

Cheap

Preparation time

1 Hour

Cooking time

2 Hours 40 Minutes

Serving

8

Cuisine

Italian
Ingredients
500
g
lasagna
(

boiled till al dente or use "no-boil"

)
250
g
parmesan cheese
(

grated

)
Meat sauce
300
g
beef
(

minced beef, coarse ground

)
150
g
mortadella of Bologna
(

or pancetta

)
4
tablespoons
extra-virgin olive oil
How to make Italian Lasagne with meat sauce (Lasagne al ragù)
How to make meat sauce (Meat ragù).
Finely chop the carrot, celery and onion and put them to stew in a pot with oil and half a glass of water.
In the meantime, finely chop the mortadella or pancetta with a knife.
When the water has evaporated, add the mortadella (or pancetta) and minced meat, stir and brown everything well.
Toss with red wine and let it evaporate over high heat.
Add the tomato puree, a glass of water, salt and pepper and cook over medium-low heat, with the lid on, for about 2 1/2 hours. Stir often and add more hot water if necessary.
Taste and adjust salt and pepper if necessary. Set aside.
Prepare the lasagne.
Spread a little of the sauce and béchamel on the bottom of a 30 x 20 cm baking pan.
Form a layer with the lasagna sheets, placing them side by side. If necessary, you can cut the sheets to fill in the empty spaces.

Form a layer of béchamel sauce and on top a layer of meat sauce.
Add grated Parmesan cheese and place another sheet of lasagna on top.
Make another layer of béchamel sauce, one of meat sauce, sprinkle with Parmesan cheese and another layer of lasagna.
Repeat steps until at least 5 layers of lasagna are formed.
Finish with a final layer of lasagna. Top with bechamel sauce. Top with meat sauce. Sprinkle with Parmesan cheese.
How to cook and serve lasagna with ragu.
Cover the pan with foil and bake for 30 minutes at 350°F (180°C).
Remove the foil and bake for another 15-20 minutes until the surface of the lasagna begins to toast.
Once cooked, allow the lasagna to cool for about ten minutes before serving.
Notes
You can also prepare the lasagna in advance and store it in the refrigerator for 3-4 days before baking.
Or you can freeze them raw and when it's time to cook them, let them thaw completely in the refrigerator first.
Once cooked, leftover lasagna can be stored in the refrigerator and should be eaten within 4-5 days at most.