Italian Nutella Tart (crostata alla nutella) is a mouthwatering dessert that is easy to prepare.
A shell of fragrant shortcrust pastry encloses an irresistible nutella filling.
In Italy, this delicious dessert is a classic, loved by young and old alike. Besides preparing it at home easily, it is also often found in cafes and restaurants in many Italian cities.
I'm sure this Nutella tart will become your favorite dessert.
Serve it at your next family dinner or to friends, everyone will fall in love with it at the first taste.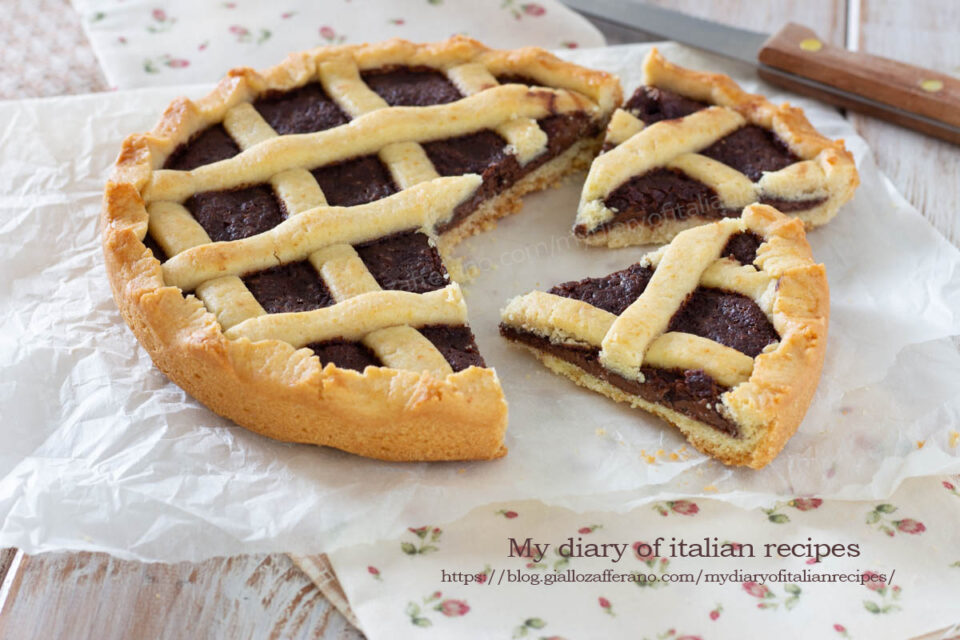 Difficulty

Very easy

Cost

Very cheap

Preparation time

30 Minutes

Rest time

30 Minutes

Cooking time

30 Minutes

Serving

6-8

Cooking method

Oven

Cuisine

Italian
Ingredients for Italian nutella tart
Steps
How to prepare shortcrust pastry (pasta frolla).
In a bowl, pour the cold refrigerated butter, reduced to small pieces.
Add the sugar and eggs and mash with a fork, reducing the butter to very small pieces.
Then add the flour and baking powder sifted together and stir with a wooden spoon.
When you can no longer work the mixture, pour it onto the lightly floured pastry board.
Work the dough quickly with your hands, so as not to heat it too much.
You should obtain a smooth and homogeneous dough.
Rest in the refrigerator.
Mash the dough with your hands and seal with plastic wrap.
Place it in the refrigerator for half an hour or in the freezer for 15 minutes.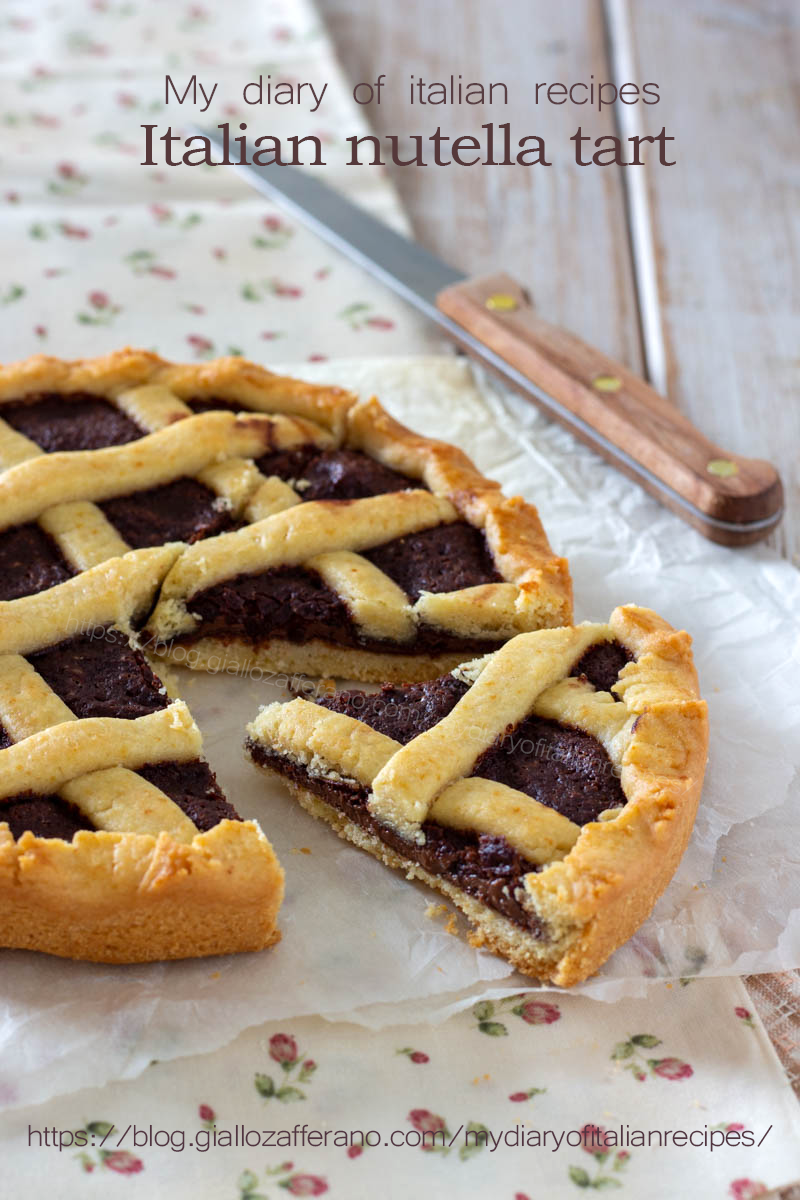 In the meantime, turn on the oven to 180-200°C (350-400 degrees).
Butter and flour a baking pan of 20-22 cm in diameter.
Coating the baking tray.
Once the resting time has passed, roll out the dough between two sheets of floured parchment paper.
Form a sheet about 1/4 – 1/2 inch thick.
Remove one sheet of baking paper then lift the dough with the sheet underneath.
Flip the dough onto the baking sheet and remove the baking paper.
Place the dough in the baking dish, trimming the edges and removing the excess dough.
Prick the pastry with the tines of a fork, this will help to ensure even baking.
For the filling.
Pour Nutella into the pastry shell and level it out with a spoon.
Knead the scraps of pastry and form rolls 1/4 inch thick and place them on top of the nutella forming a grid.
Bake Italian nutella tart.
Bake the tart for about 30-35 minutes or until the pastry begins to turn a nice golden color.
If the pastry gets too brown, cover the tart with foil.
Nutella tart is ready, let it cool for 3-4 hours before cutting!
Enjoy!
How to store Italian nutella tart
The tart will keep at room temperature for 4-5 days under a glass bell.
You can freeze the nutella tart already baked, cut into slices and consume it within 2 months.