Cherry Pie Crumble Bars is a dessert that my family loves very much. In Italy it is commonly called Sbriciolona, it takes this name from "brisa" which means crumb in English.
In Italy there are different versions, the original one is prepared with corn flour, lard and hazelnuts.  But, everyone then replicates it to his taste and consumption.
I propose this version, a casket of crumbled short pastry that contains a filling of jam flavored with black cherry. 
A cherry pie very easy to make, made with a shortcrust pastry that is crumbled by hand instead of being kneaded and poistesa.
So a quick recipe, which is prepared in minutes, a cake that will win you over not only with the eyes, but also with the flavor, a cherry pie,
which will be very difficult to resist.
Fragrant, crumbly and with a filling that you can change according to your taste, a versatile dessert and perfect for breakfast or snack … truly irresistible!
A cherry cake that, if accompanied by a fresh scoop of vanilla ice cream, becomes a delicious dessert to serve at the end of the meal.
Your guests will ask for seconds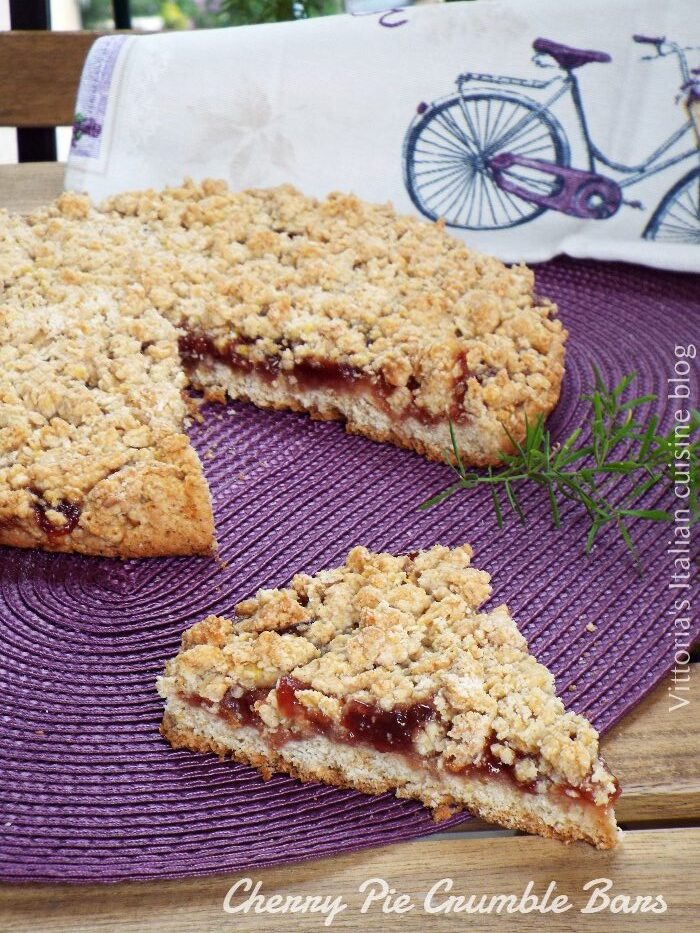 Difficulty

Very easy

Cost

Very cheap

Preparation time

15 Minutes

Cooking time

25 Minutes

Serving

8

Cooking method

Oven

Cuisine

Italian
Ingredients
8
g
baking powder for sweets
Cherry Pie Crumble Bars a simple dessert with a delicious heart. Ready in minutes!
Steps
1-To prepare the Cherry pie crumble bars you need to place the flour in a bowl along with the pinch of salt,
 baking powder and mix everything together.
2-Now add the butter cut into small pieces and sugar. With your fingers try to incorporate them into the flour.
3-Add the slightly beaten eggs to the mixture, work the mixture always with your fingertips and palms rubbing
 the ingredients all together, you must get a grainy mixture.
4-Lined a 24 cm mold with baking paper, place half of the crumbled mixture, press the mixture lightly 
with your hands, now pour the cherry jam, covers the base, leaving a little bit of edge.
5-Distribute over to cover all the jam the remaining crumble, sprinkle with sugar.
6-Bake at 180° for 35 minutes operate the grill function to caramelize the surface of the crumble. 
Leave the cake in the oven off for 10′, then take it out of the oven and let it cool completely… Enjoy!