Stuffed Meatloaf with Eggs and Spinach, a classic tasty and easy Sunday dish, that everyone likes, adults and children. It's very simple to make: just mix minced meat with eggs, grated cheese, salt, pepper, parsley and breadcrumbs and stuff with boiled spinach and hard-boiled eggs, to give it volume and structure. Put it in the oven for about 45 minutes and then it's ready to be sliced. You can serve it with baked potatoes like I did.

Let's see how to make my Stuffed Meatloaf with Eggs and Spinach recipe! So let's get started.

Other tasty recipes: Meatballs with Tomato Sauce, Bell Peppers Chicken, Baked Chicken nuggets with Pumpkin and Potatoes, Veal escalopes with cherry tomatoes and black olives, Potato sandwiches with raw ham and cheese, Potatoes and sausages in ale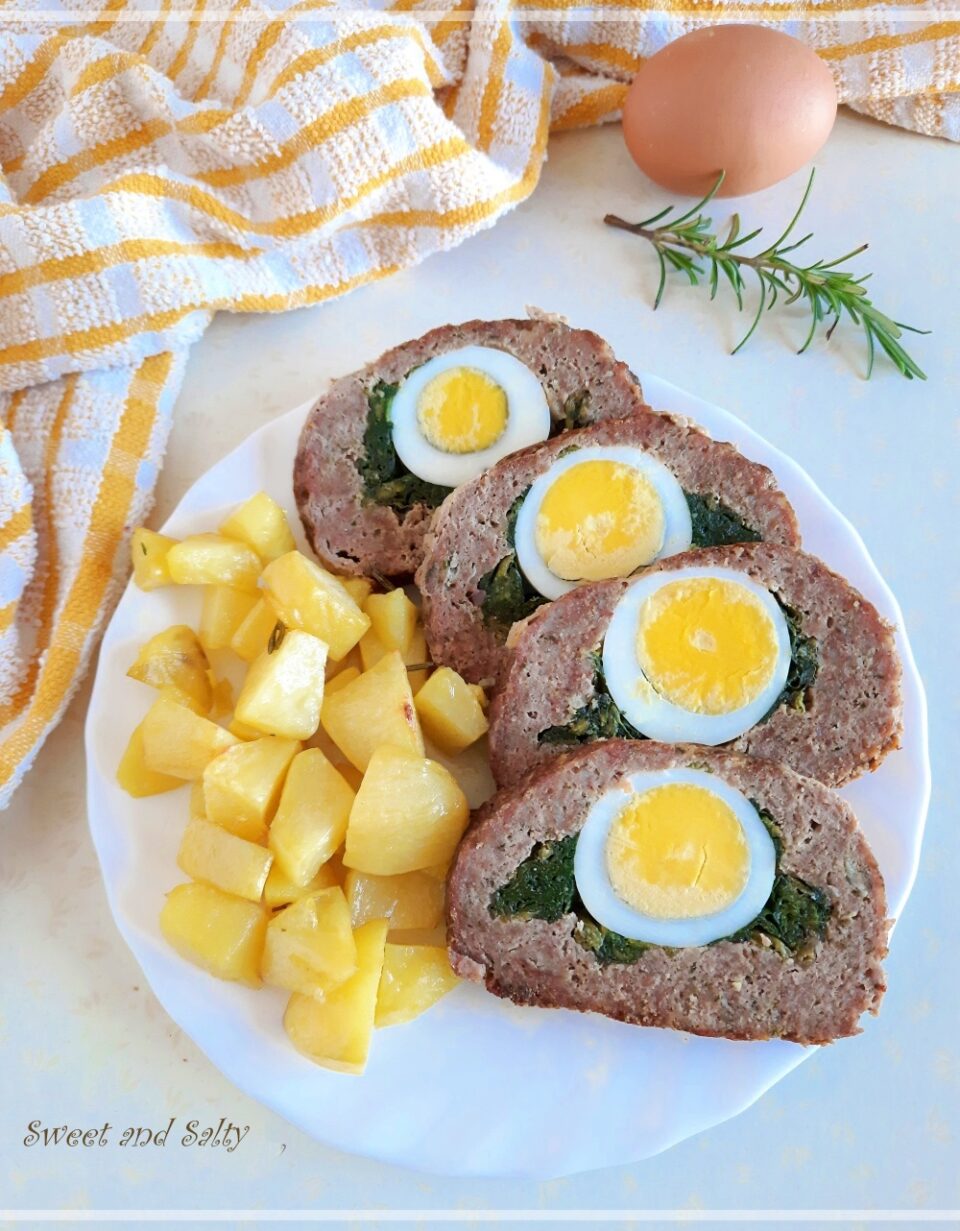 Difficulty

Easy

Cost

Medium

Preparation time

40 Minutes

Cooking time

55 Minutes

Serving

4

Cooking method

Oven

Cuisine

Italian
Ingredients
17
ounces
minced beef meat
(

500g

)
1
cup
parmesan cheese
(

grated – 3,50oz 100g

)
2
/
3
cup
bread crumbs
(

2,10oz 60g

)
For filling
7
ounces
spinach
(

boiled and drain – 200g

)
Steps
Stuffed Meatloaf with Eggs and Spinach recipe is easy to prepare.
First prepare the filling
Boil the eggs. Put the eggs in a saucepan with plenty of cold water and bring the water to a boil. Cook the eggs for about 8 minutes, from the moment of boiling.
Then let them cool and peel under cold water running.
While cooling, clean the spinach and boil it quickly. Once cooked, cool slightly before squeezing as much of the excess water from it as possible. Not to burn my hands, I let it go under cold water for a few seconds.
Make the meatloaf
In a large bowl add the ground beef, eggs, chopped parsley and garlic, grated Parmesan, salt, pepper (if you like) and breadcrumbs.
Combine with your hands until you get a soft but compact dough.
Place a sheet of parchment paper on a work surface. Pour over the mixture, spread it out and try to form a rectangle.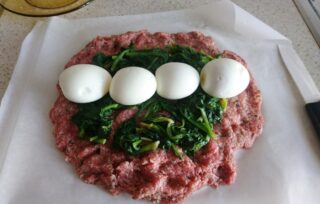 Spread the cooled and squeezed spinach on top and line the hard-boiled eggs on the long side.
Then, roll it up with the parchment paper until you form a meatloaf.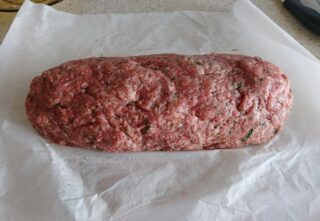 Close it in the paper with the closure down and seal it like a candy.
Bake
Place the meatloaf on a baking tray and bake at 356°F (180° C) in a preheated oven for about 45 minutes.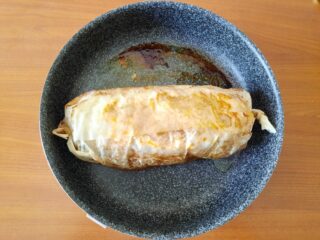 Once cooked, remove it from the parchment paper and wait a few minutes before cutting it into slices.
Here it is. Stuffed Meatloaf with Eggs and Spinach is ready.
Storage
You can store Stuffed Meatloaf with Eggs and Spinach in the refrigerator for 2 days, closed in an airtight container. If you want, you can also freeze it.
Tip & Tricks
You can enrich the meatloaf, before rolling it, with slices of cooked ham, mortadella or pancetta.
– Alternatively, you can also stuff it by combining spinach with cheese, such as fontina or caciocavallo.
– If you see that the parchment paper that wraps the meatloaf takes too much color during cooking, wet it with hot water.
If you like my recipes, follow me on my Facebook page here
This simple action helps the growth of this blog and makes me very happy 🙂