Mini croissants with Nutella are super easy to make, delicious and yummy treats with a rich and creamy filling.
These croissants are very fast to prepare, in fact in just 30 minutes we can prepare and bake them. For this reason, they are perfect for those in a hurry or for those who have a sudden desire for a fragrant and irresistible treat.
In Italy, these nutella croissants are never missing from holiday tables because everyone likes them and they always end up in a flash.
When you make these croissants, be sure to stock up on them because they will be gone in no time.
A few simple ingredients are needed to make these croissants that are something heavenly, crispy outside and creamy and delicious inside. They are small in size, and every bite will be an explosion of flavor and pleasure.

You must also try these delicious treats:
Japanese Dorayaki pancakes with Nutella
Delicious cinnamon apple fritters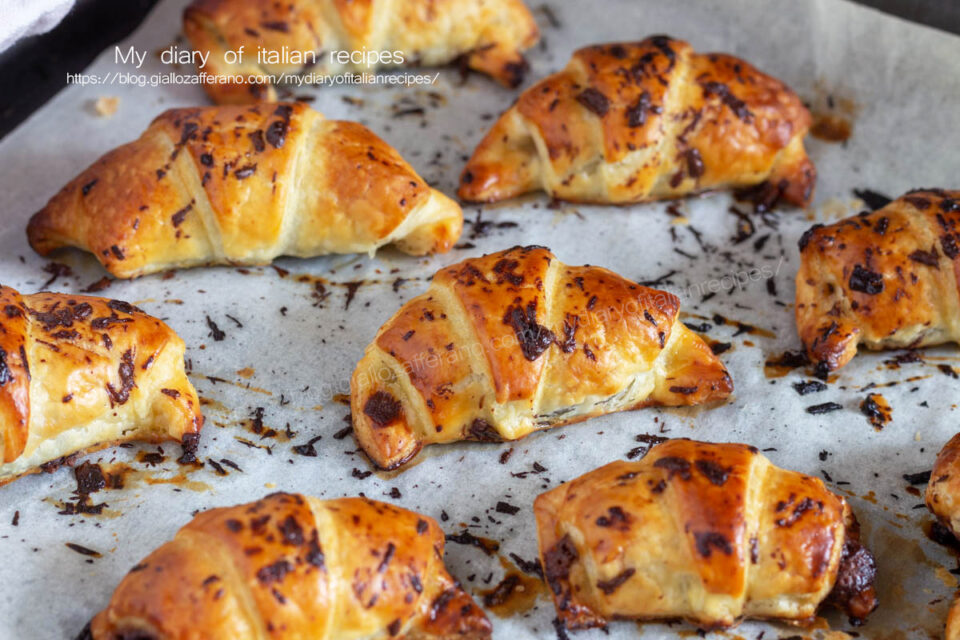 Difficulty

Very easy

Cost

Very cheap

Preparation time

10 Minutes

Rest time

30 Minutes

Cooking time

15 Minutes

Serving

12

Cooking method

Oven

Cuisine

Italian
Steps
Prepare the puff pastry.
To make the Mini croissants with Nutellan, remove the puff pastry from the refrigerator 10 minutes before starting the recipe, to let the puff pastry soften.
Leave the puff pastry on its supplied parchment paper.
Using a sharp knife or pastry wheel, divide the puff pastry into 12 wedges.
Stuffing the croissants.
Brush the perimeter of each puff pastry triangle with the beaten egg.
At the base of each triangle, place a teaspoon of Nutella.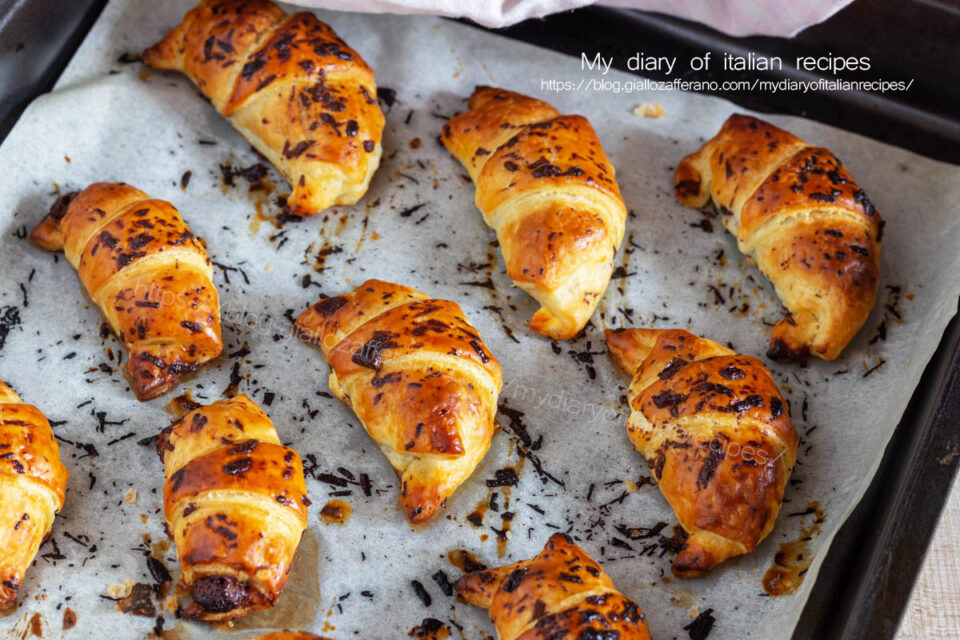 How to make croissants.
Starting with the base, roll the puff pastry without tightening it too much, reaching the tip.
Place the tip underneath the croissant, this will help to prevent the pastry from opening during cooking.
Once rolled, fold the tips of the croissants down to give them their typical crescent shape.
Place the croissants on a baking sheet covered with parchment paper.
Garnish.
Brush the surface of the croissants with beaten egg.
Distribute the chopped dark chocolate over the croissants.
How to bake Nutella croissants.
Bake the Mini croissants with Nutella in a preheated oven, at 180°C (350°F) for about 15-20 minutes or until golden brown.

If you want to bake the croissants in the air fryer, place them in the basket on top of a sheet of baking paper and bake at 180°C (350°F) for 10 minutes then at 200°C (400°F) for 2 minutes until golden brown. Air fryer cooking times are approximate because they can vary depending on the model of air fryer used.
Advice
The mini croissants will keep in an airtight container for up to 2 days.
You can reheat them for a few minutes in a conventional oven or air fryer.
But still, I recommend eating the smoked salmon croissants the same day to enjoy all the fragrance.