Japanese Dorayaki pancakes with Nutella are delicious and fluffy honey pancakes with a creamy and irresistible filling.
These sweet sandwiches are very easy and fast to prepare in fact they will be ready in less than 30 minutes.
Japanese pancakes are made without butter or oil, but they are so fluffy and spongy that no one will notice the lack.
The original recipe calls for filling Dorayaki with Azuki red bean jam called Anko. I, however, did not want to risk too much and I wanted to make an "Italian version" for this so I opted for a filling more accessible to everyone both in taste and preparation and I opted for Nutella® and fig jam, homemade of course.

I propose this version of Japanese pancakes in my blog because they are like an Italy-Japan twinning: the typical Japanese pancake base is filled with the famous Italian hazelnut cream, Nutella.

At the bottom of the article you will also find the video recipe, both in English and Italian.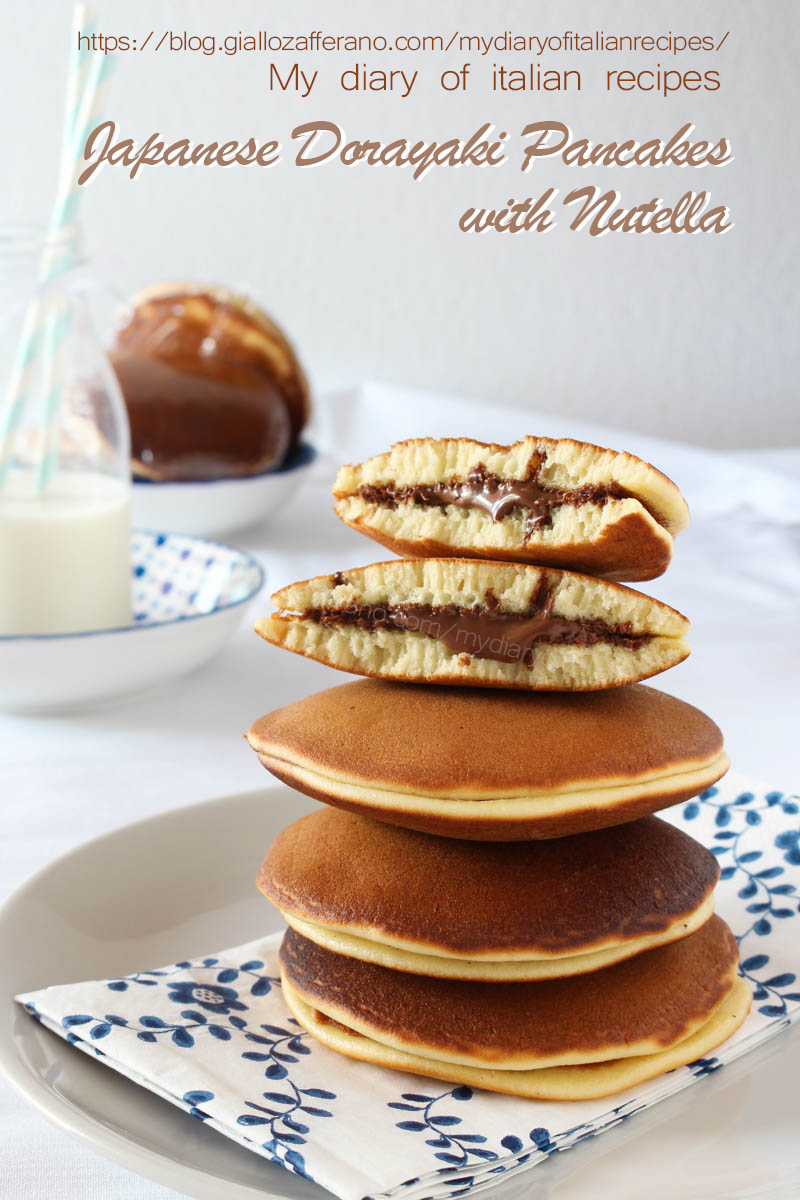 Difficulty

Very easy

Cost

Very cheap

Preparation time

10 Minutes

Rest time

10 Minutes

Cooking time

30 Minutes

Serving

10-12

Cooking method

Stove

Cuisine

Japanese
Tools
1

Bowl

1

Electric hand mixer

1

Frying Pan

1

Ice Cream portioner
Preparation
How to prepare the batter for dorayaki pancakes
Beat the eggs with the sugar and honey, with electric whips, until light and fluffy.

Combine the sifted flour along with the baking soda. After that, pour the milk a little at a time, continuing to whisk until you get a smooth batter without lumps.

Cover the bowl with plastic wrap.

Let the dough rest for 10 minutes.
How to cook Japanese Dorayaki pancakes with Nutella
Heat a non-stick frying pan over medium-low heat.

Lightly grease the pan with a little butter, removing any excess butter.

Using an ice cream scoop as a measuring cup (photo 1), pour about an amount of batter onto the pan.

Cook the pancake for a few minutes or until bubbles begin to form on its surface (photo 2).

At this point, flip the pancakes over and cook them for about 20-30 seconds. When the pancakes have a nice golden color (photo 3) remove them from the pan and place them on a plate.

Continue in the same manner until all the batter is used up.

As the pancakes are cooked, cover them with a wet and squeezed sheet of kitchen paper. This will help keep them from drying out and keep them warm.
How to stuff and store japanese dorayaki pancakes
While the pancakes are still hot, on the bottom, spread plenty of nutella (or jam) (photo 4), putting more in the center and leaving all around a clean edge.

Close with the other pancake (photo 5), pressing gently with your hand to form a dome.

Wrap the Japanese Dorayaki Pancakes with Nutella with cling film.

Press gently but firmly, with index finger and thumb, all around the edge to seal the two pancakes (photo 6) but be careful not to break them.

Store the Japanese Dorayaki pancakes with Nutella in the foil until ready to serve.
Advice
Sealing the edges of the dorayaki with your fingers will help keep the filling from coming out and give it the typical shape of these delicious Japanese treats.
It is important that the pancakes are wrapped in plastic wrap while still warm and stored closed like this. In this way, they will remain soft and delicious for up to a week.
__________________
Visit also my site of recipe in italian language, Dolci Creazioni..e non solo..tatam, you can find, for example, more idea to prepare in your kitchen.