VEGETARIAN PIZZA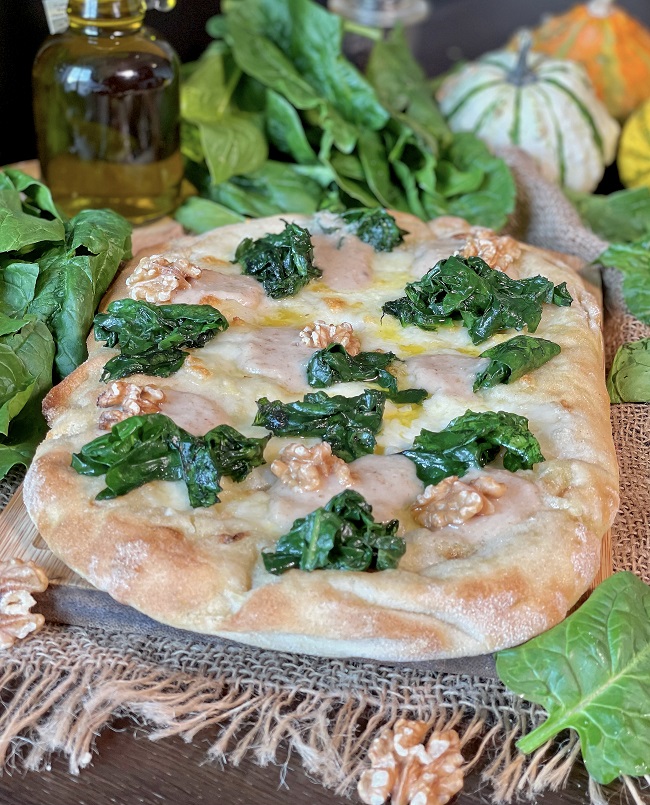 Vegetarian pizza is perfect for those who want to dine with taste and lightness.
You just have to make a simple dough with the flour and let it rise in a dry place.
Then add lightly fried spinach and fill the pizza with mozzarella to get a super tasty but also light and not too caloric result.
If you prefer you can also prepare vegetarian pizza without mozzarella, or add tomato, but also change vegetables if you don't like spinach.
In fact, vegetarian pizza contains the flavors of the garden and can also be prepared with other vegetables such as peppers, courgettes, aubergines, squash or your favorite vegetables.
The one I made today is my favorite with stringy mozzarella and spinach.
To make it tastier, I added blue cheese that I had in the fridge.
You have to try the vegetarian pizza, it's a simple and light recipe (if you don't put blue cheese), ideal for lunch or dinner in the garden with friends.
Difficulty

Very easy

Cost

Very cheap

Preparation time

15 Minutes

Cooking time

20 Minutes

Serving

2 pizzas

Cuisine

Italian
Ingredients
1
/
2
pound
mozzarella
(

about 250 g

)
2
ounces
blue cheese
(

about 60 g

)
1
tablespoon
parmesan cheese
(

1 tablespoon of grated Parmesan cheese

)
1
/
2
pound
spinach
(

200 g fresh spinach or other vegetables

)
3
tablespoons
extra-virgin olive oil
Steps
STEP 1
STEP 2
If using fresh spinach, wash well and remove the stems, if using frozen spinach, boil and then squeeze well to remove excess water.
Pour 2 tablespoons of extra virgin olive oil, a clove of garlic, spinach and a pinch of salt into a pan.
Leave to cook for about 3-4 minutes: they should not overcook.
Cut the mozzarella into small pieces as well as the blue cheese.
STEP 3
At this point, take the pizza dough that you have left to rise and roll it out in a pan lightly covered with parchment paper.
Let the dough rest for another 30 minutes.
STEP 4
Start to season the pizza: put mozzarella and blue cheese on the surface, distributing the cheeses into small pieces then season with a drizzle of extra virgin olive oil.
Preheat the oven to 250 ° C / 500 ° F / gas 9.
Bake the pizza in the center of the oven for 15-20 minutes, until the pizzas are golden and crispy.
When it is cooked, take it out of the oven and finish stuffing.
STEP 5
Place the spinach or vegetable of your choice on top of the vegetarian pizza, add a little grated Parmesan cheese then sprinkle a few walnuts on top for a crunchy touch.
Your vegetarian pizza is ready to be enjoyed!
STORAGE
I'm pretty sure you'll eat all your vegetarian pizza, but if you have leftover you can keep it in the fridge for up to 2 days. Then reheat in the oven or microwave before eating.
NOTE
The cooking times in the oven are different for each type of oven so you have to check the pizza during cooking, it could take a few minutes more or less than the timeindicated.
FOLLOW MY INSTAGRAM PAGE