BEAN and PASTA SOUP pasta e fagioli


Pasta and beans soup, a hot and substantial first course, a great classic of Italian cuisine.

Poor Italian cuisine is characterized by balanced dishes made with simple, pantry ingredients that, taken together, give more than the sum of their parts.

Among the many pasta and legume dishes of the Italian culinary tradition, the one that unites the whole peninsula, from north to south, pasta and beans, the comforting bean and pasta soup, is perhaps my favorite.

The pasta that will be cooked together with the previously stewed beans, releasing the released starch will bind to the legumes giving life to the classic creamy and incredibly tasty consistency of the Pasta and Bean Soup.

It is as essential in the preparation and in the list of ingredients as it is rich and complex in taste.

A classic beat, made with chopped carrots, celery and onion, to start, enriched with a few pieces of pancetta then cannellini beans, a good pasta and to finish a drizzle of raw extra virgin olive oil and a freshly ground black pepper .

Like all traditional recipes it has infinite variations, essentially every family has its own recipe and none is more right or wrong.

Sometimes a spoonful of tomato paste is added to give color, or it can include the use of bacon to make this dish richer and tastier.

Even the choice of pasta is not trivial, in my family for example my father prefers fresh pasta (such as maltagliati) my husband and my son instead choose short dry pasta.

In any case, this is definitely a tasty, enveloping and satisfying dish, the classic comfort food.

My recipe is from my family's tradition and uses short pasta such as Ditalini, cannellini beans (you can also use borlotti beans) and of course bacon!

if you like my recipes I invite you to visit my Italian blog "A tavola con Tea" with more than 500 Italian recipes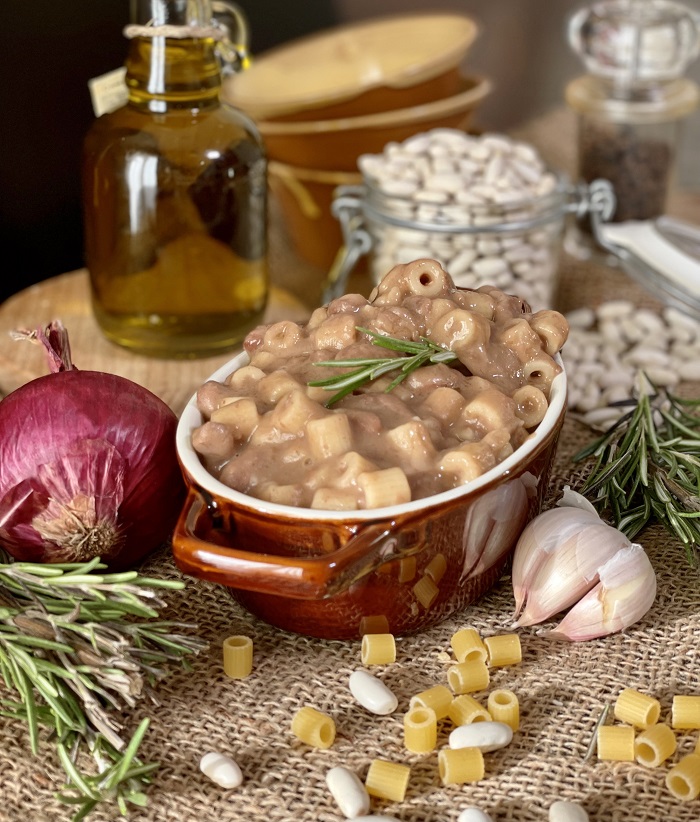 Difficulty

Very easy

Cost

Very cheap

Preparation time

5 Minutes

Cooking time

30 Minutes

Serving

4

Cuisine

Italian
Ingredients
4
cups
cannellini white beans
(

drained and rinsed about 700g

)
water
(

2 1/2 cups bean cooking water about 600 ml

)
7
ounces
pasta
(

short pasta, such as ditalini or maltagliati about 200 g

)
bacon
(

1 3/4 oz about 50 g

)
4
tablespoons
extra-virgin olive oil
1
tablespoon
tomato paste
1
pinch
black pepper
(

Freshly ground black pepper

)
Steps
STEP 1
Mince carrot, celery and onion and add them into a thick bottomed saucepan with the extra virgin olive oil and the finely chopped pancetta.

Sauté for five minutes over a low heat until the vegetables are soft.
STEP 2
Pour in the cannellini beans and their cooking water and add a tablespoon of tomato paste. Salt to taste.

Bring to the boil over medium heat, then add the pasta. Cook according to the packaging instructions, stirring occasionally.
STEP 3
As soon as the pasta is cooked, remove from the heat: the beans will make the soup creamy without the need of adding cheese.

Serve the bean and pasta soup with a drizzle of extra virgin olive oil and a a few turns of freshly ground black pepper.
STORAGE
pasta and beans soup can be stored in the fridge for a day in an airtight container.
VARIATIONS AND ADVICE:
If you prefer, you can replace the borlotti beans and use only cannellini beans for a more delicate taste.
You can use short dry pasta or fresh pasta such as maltagliati or pappardelle.
If you use canned beans instead of dried ones, it is not necessary to soak them overnight, but they will go directly to cook in the sauté.
Being pre-cooked, it will take just 5 minutes to cook before adding the pasta to the saucepan.
In this case, prepare ½ liter of vegetable broth to be used instead of the cooking water of the beans to be added for cooking the pasta or if it should shrink too much.
Follow my Instagram page
Read more recipes, back to home page
Some examples below Slow Cooker Italian RIBOLLITA
SEAFOOD PASTA recipe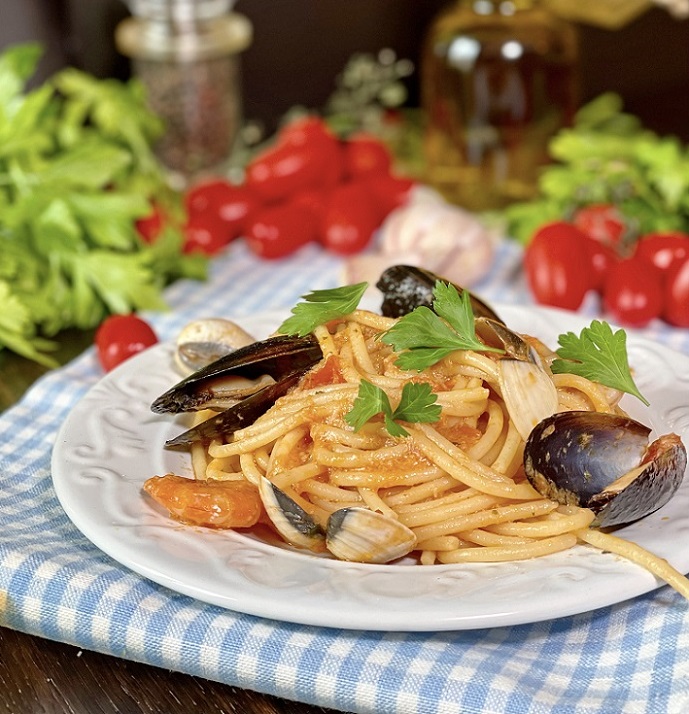 How to Make Four Cheese Gnocchi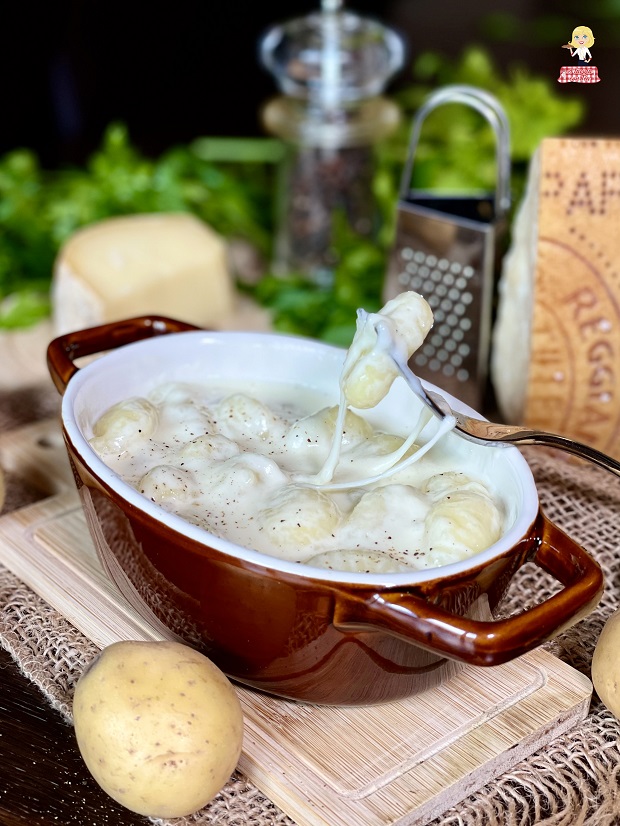 ORIGINAL BOLOGNESE recipe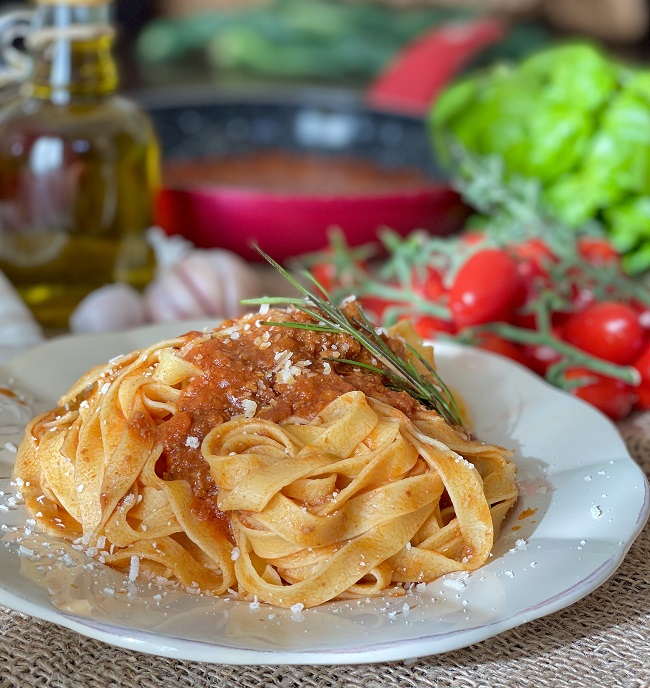 Easy CARBONARA