EASY CHRISTMAS DESSERT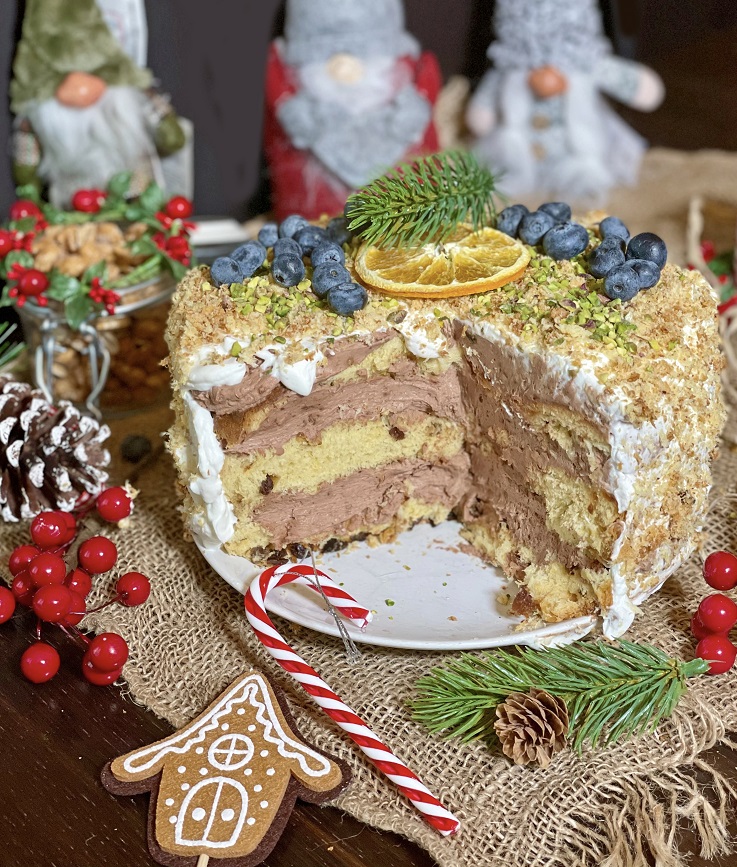 This EASY CHRISTMAS DESSERT called PANETTONE CAKE is an idea to transform the most classic Christmas cake and present it in a new and original way, filled with a delicious mascarpone, cream and chocolate cream.

A delicious dessert, simple and fast, because there is no Christmas without panettone but stuffed is tastier!

It is obtained by reshaping and slicing a traditional panettone then filling it with a cream based on spreadable cheese, chocolate and mascarpone, the outside is coated in the same way and the whole is finished with a decoration based on pistachio grains and fresh blueberries.

An easy idea to give a new face to the panettone and turn it into a dessert that will be very popular at Christmas with young and old.

The external decoration uses the scraps of the panettone but whatever your aesthetic choice is, the result will be worthy of a pastry chef. You can try it with shredded meringues, toasted flaked almonds or simply a chocolate glaze.

The stuffed this easy Christmas dessert PANETTONE CAKE is a simple, delicious but super fast dessert ideal for all festive occasions between Christmas and New Year. It is a delicious, simple and fast dessert.

If you love challenges, you can also prepare the classic panettone at home.

if you like my recipes I invite you to visit my Italian blog "A tavola con Tea" with more than 500 Italian recipes
Difficulty

Very easy

Cost

Cheap

Preparation time

20 Minutes

Cooking time

5 Minutes

Serving

6/8 portions

Cuisine

Italian
Ingredients
FOR THE FILLING:
cheese
(

1 CUP cream cheese

)
mascarpone
(

1 CUP mascarpone

)
sugar
(

½ CUP powdered sugar

)
chocolate drops
(

5 oz dark chocolate (50-55%)

)
double cream
(

¼ CUP fresh double cream

)
FOR DECORATION
panettone
(

panettone (scraps)

)
pistachio
(

q.s. chopped pistachio

)
Steps
PREPARATION OF FILLING CREAM
Put the cream cheese, mascarpone, cream and powdered sugar in a bowl.
Whip with an electric mixer until the mixture is homogeneous and creamy.
Meanwhile, break up the chocolate and melt in the microwave.
When it is completely melted, pour into the cream cheese while still hot using an electric mixer until it is perfectly incorporated.
CAKE BASE PREPARATION
Take panettone and using a knife cut the surface to obtain a flat surface. Do the same in the side edges.
It has to become a perfect cylinder.
Then divide the panettone with two horizontal cuts to obtain 3 equal discs of the same thickness.
PANETTONE CAKE PREPARATION
Place the first disc of panettone on a serving plate.
Transfer the filling cream to a pastry bag then cover the first disc with a generous layer of cream.
Arrange a second layer of panettone on top and cover with another layer of filling.
Finish with third and last layer.
Also cover this with cream both on the surface and on the sides of the cake (the thickness of the coating should be about 3-4 mm).
Use a spatula to make the surface smooth and homogeneous.
Cover the whole cake with the panettone which has remained reduced to crumbs, making them adhere to the external icing.
Lightly sprinkle the surface with chopped pistachios and decorate with blueberries or other red fruits to taste.
STORAGE
This cake can be kept in the refrigerator for up to 2 days.
NOTE
It is important for a good result that when you cut panettone you get a perfect cylinder (not like mine !!! 😊) I recommend using tall and narrow panettone.
For other recipes back ti the home page Some examples below EASY Profiteroles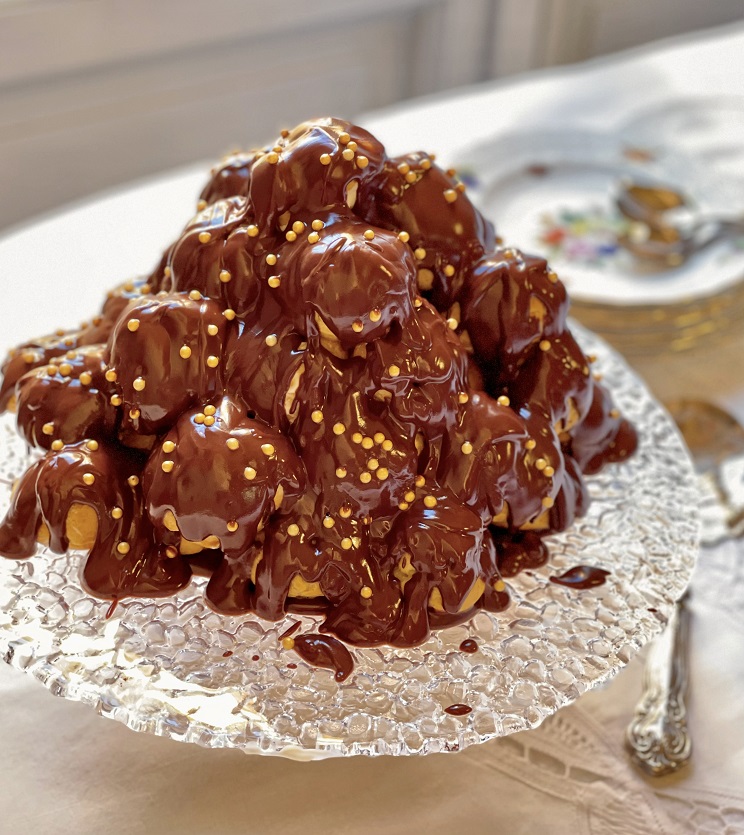 Homemade SICILIAN CANNOLI recipe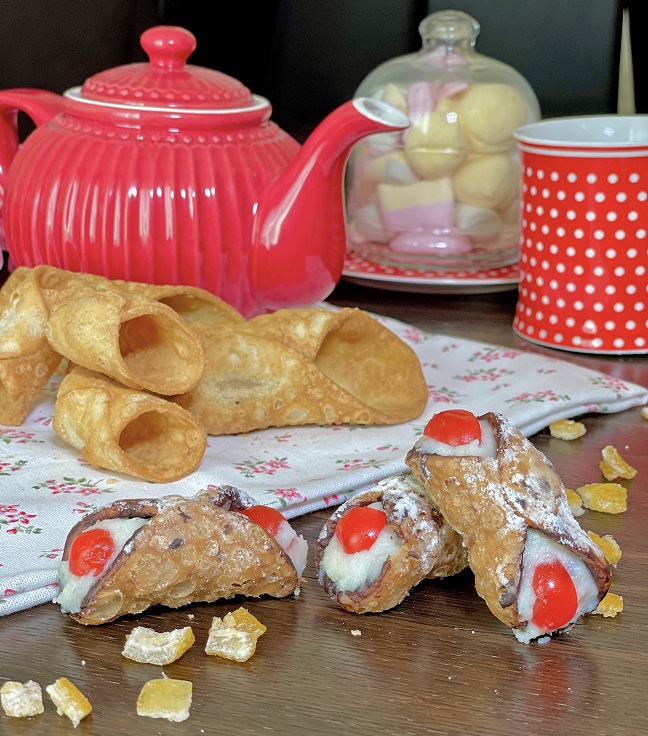 Easy ZUCCOTTO recipe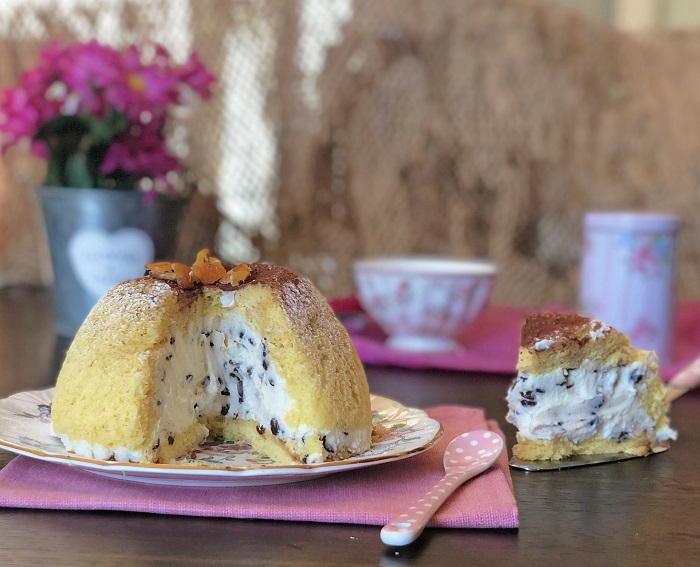 CHOCOLATE CAKE ROLL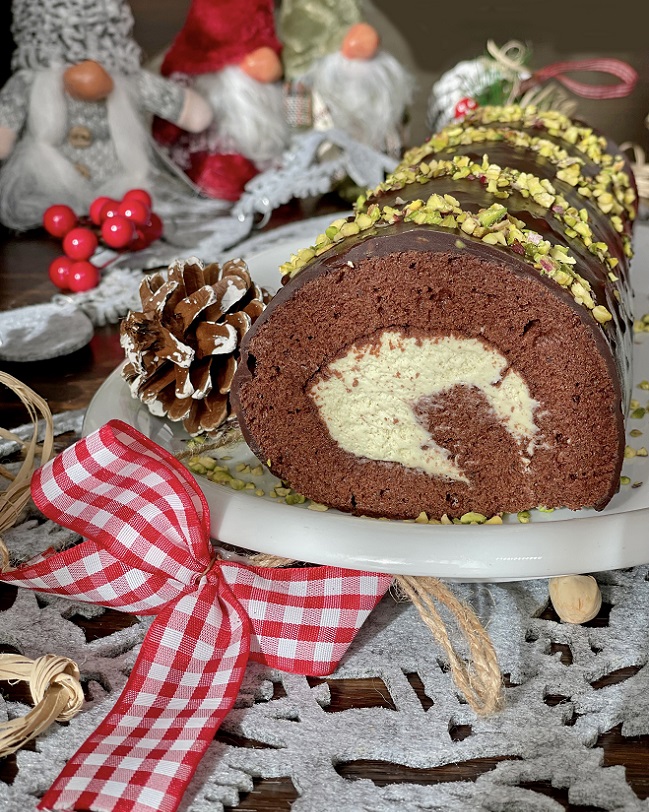 CHRISTMAS CAKE POPS