BEER-BRAISED PORK KNUCKLES


Pork shank with beer is a rich and tasty second dish widespread especially in the countries of Northern Europe

It is a poor cut of meat and therefore very cheap but no less tasty than other cuts considered more noble.

It is very simple to prepare but for its success it takes long marinating and cooking times which allow the connective tissue, of which the shin is rich, to soften.

Today's recipe calls for a prolonged marinating of the pork shank in beer and many spices, rosemary, thyme, nutmeg, which gives the meat flavor, aroma and a slight bitter aftertaste that pleasantly contrasts with the sweetness of the fat of the meat.

You can use a lager beer or, if you prefer a stronger and more intense flavor, a Belgian beer, remembering to choose one that tends to be slightly bitter.

This type of recipe is ideal to prepare during the colder season sprinkled with the cooking juices and accompanied by baked potatoes or sauerkraut.

A slightly unusual rustic dish that will leave your guests speechless!

if you like my recipes I invite you to visit my Italian blog "A tavola con Tea" with more than 500 Italian recipes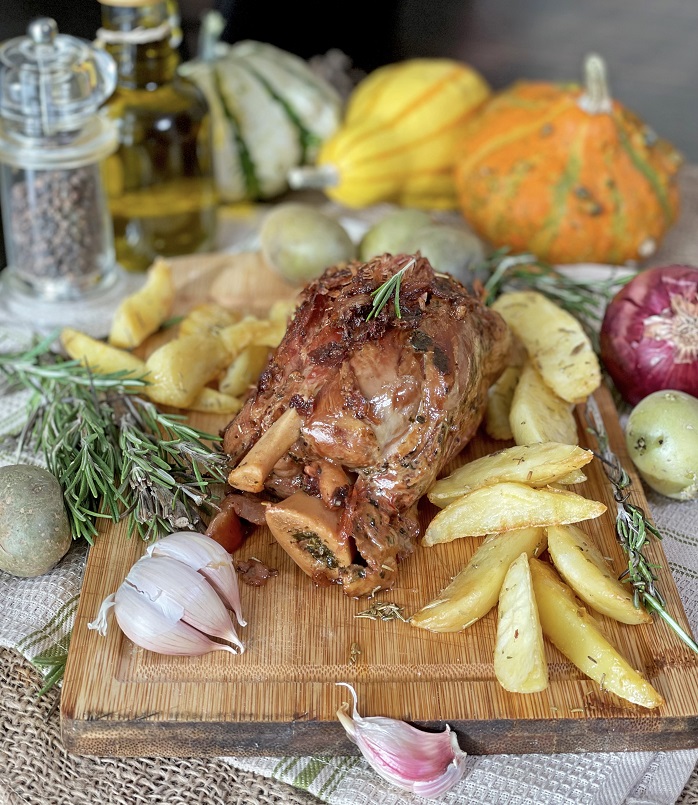 Difficulty

Very easy

Cost

Very cheap

Preparation time

25 Minutes

Cooking time

3 Hours 30 Minutes

Serving

3-4 PORTIONS

Cuisine

German
Ingredients
MAIN INGREDIENTS
pork knuckle
(

3 pounds Pork knuckle 1.25 kg

)
golden onion
(

2/3 pounds Golden onions 300 g

)
rosemary
(

1 sprig rosemary

)
unsalted butter
(

2 tablespoon

)
extra-virgin olive oil
(

3-4 tbs

)
Steps
MARINATION
Fix sprigs of rosemary and thyme with kitchen twine on pork shanks and season with pepper and nutmeg.
Put shanks in a bowl, add 2 cloves of garlic and sprinkle with 1 liter of beer.
Leave to marinate for 2-3 hours.
Drain the shanks and remove the garlic (keep the marinade aside).
STEP 1
Clean onions, slice not too thin and pour into a large pan with high sides together with a tablespoon of extra virgin olive oil.
Brown onions over medium-low heat with rosemary and bay leaf.
STEP 2
In another saucepan also suitable for the oven, pour 2-3 tablespoons of oil, put the shanks and seal the meat over medium-high heat.
Add cooked onions beforehand, pour 1/3 of the marinade over and leave almost everything to evaporate over medium heat.
STEP 3
Close the pot with the lid and continue cooking in the oven at 338 F for 3 hours. Sprinkle the shanks with the marinade and turn every so often.
Once cooked, transfer the pork shank to a plate and keep warm.
STEP 4
In the pot where you cooked the shank, remove the bay leaves and rosemary.
Blend the cooking juices with an immersion blender together with the cold butter into small pieces.
It must become a smooth and homogeneous sauce.
Now you can serve beer braised pork knuckle
ADVICE
Choose the beer well: in general it is recommended to use light and sweet beer, otherwise it is too bitter when cooking.
 You can also cook braised pork knuckle in beer just on the stove or in the slow cooker.
 If cooking on the stove the flame must be very low. You need to cook with the lid on for about 3.5 hours.
 To use the slow cooker, set to low and cook for 6.5 hours.
 Cooking times may vary depending on the weight of the shank.
STORAGE
You can keep beer braised pork knuckle in the fridge for up to 3 days
FOLLOW ME ON INSTAGRAM
FIND OTHER RECIPES, BACK TO THE HOME PAGE
SOME EXAMPLES BELOW EASY Profiteroles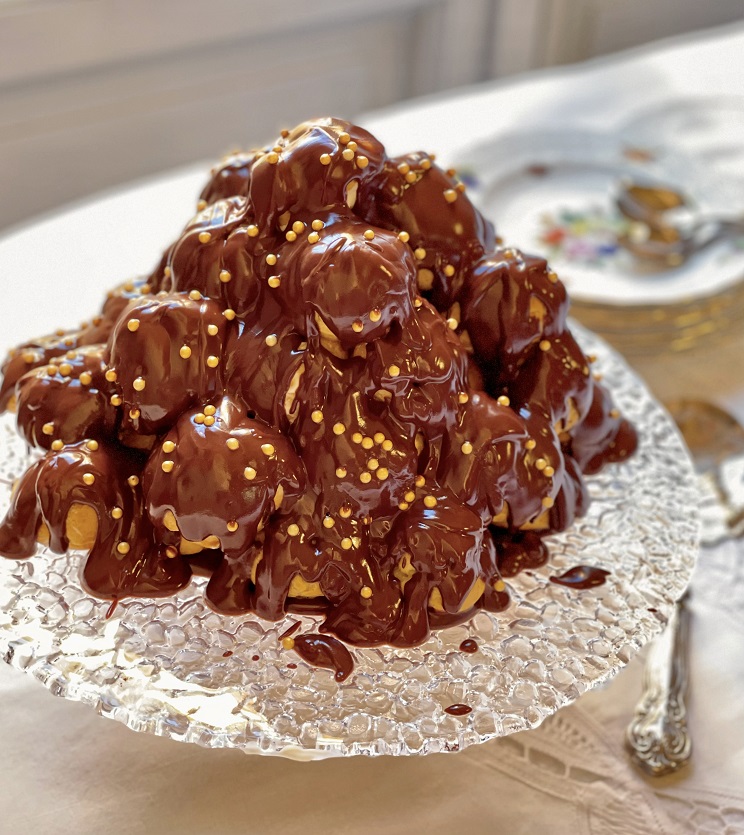 How to prepare hand made EASY PANETTONE
PANDOLCE a no rising italian Panettone
CHOCOLATE CAKE ROLL
CHRISTMAS CAKE POPS