CHOCOLATE CAKE ROLL


I love rolled cakes because not only are they greedy but also because they are very easy and can be prepared in no time.
I'm honest I would have eaten it while I was doing it, so I confess I smoked the first slice without worrying about resting times!
This chocolate roll with pistachio cream is a soft spiral of cocoa biscuit dough, filled with a delicious mascarpone and pistachio cream, covered with dark chocolate glaze.
A sweet that makes your mouth water just looking at it.
A must try!
I will reveal the trick to not break the cake when you roll it.
A real cascade of dark chocolate icing completes the cake.
What about an irresistible dessert to bring to the table to surprise relatives and friends.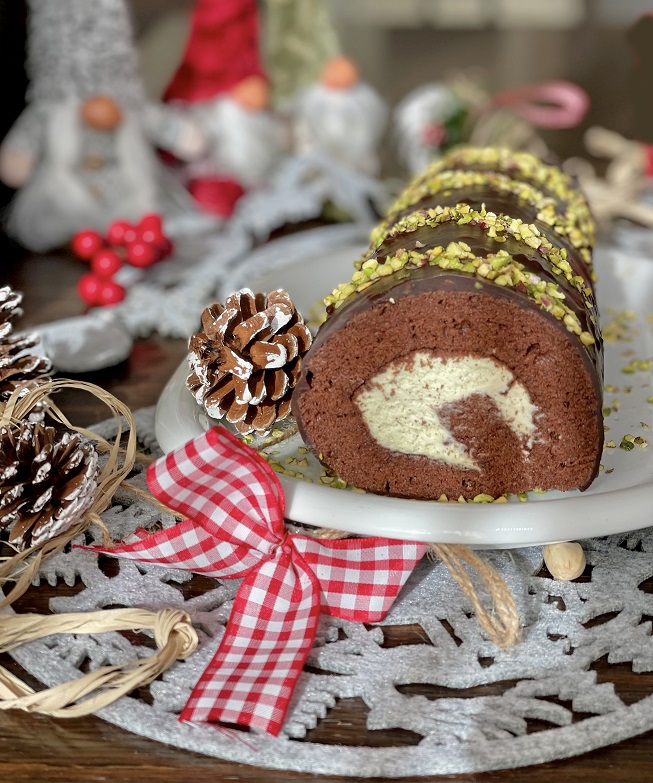 Difficulty

Easy

Cost

Medium

Preparation time

45 Minutes

Cooking time

20 Minutes

Serving

baking tray 12×16 inches

Cuisine

Italian
Ingredients
FOR THE ROLL
cake flour
(

2,5 ounces about 70 g

)
cocoa powder
(

1,5 ounces about 40 g

)
granulated sugar
(

5,5 ounces about 160 g

)
seed oil
(

2,4 ounces about 70 ml

)
FOR THE PISTACHIO CREAM
3
/
4
pound
mascarpone
(

about 380 g

)
7
ounces
single cream
(

better heavy cream about 200 ml

)
pistachios spreadable cream
(

4,5 about 120 g

)
FOR THE CHOCOLATE GLAZE
1
/
2
pound
dark chocolate
(

50% or more dark chocolate about 250 g

)
1
/
3
pound
unsalted butter
(

about 150 g

)
FOR GREEN DECORATION
2
tablespoons
pIstachios
(

finely chopped

)
759,47 Kcal
calories per serving
Power 759,47 (Kcal)
Carbohydrates 42,66 (g)

of which sugars 24,14 (g)

Proteins 13,22 (g)
Fat 62,08 (g)

of which saturated 27,95 (g)

of which unsaturated 17,69 (g)

Fibers 6,10 (g)
Sodium 89,17 (mg)
Tools
Steps
Preparation of chocolate roll
Separate the yolks from the whites then whip, with an electric mixer, egg whites together with 100 g of sugar.
In another bowl, whisk the egg yolks with 60 g of sugar until the mixture is light, puffy and fluffy.
Add seed oil to the whipped egg yolks and continue whipping with the mixer.
At this point, add egg whites, a little at a time, mix gently with a spatula from bottom to top so as not to disassemble the mixture.
Sift flour with cocoa then add everything to the mixture a little at a time, stirring gently.
Pour the mixture into a rectangular pan, then level with a spatula.
Cooking
Bake for about 18/20 minutes in a static oven preheated to 180 degrees.
VERY IMPORTANT STEP
When the roll is cooked, remove from the oven and wrap completely with cling film.
This is the trick to not breaking when you roll it up.
Prepare pistachio cream
Put all the ingredients (mascarpone, cream, piastacchio cream), cold from the refrigerator, in a bowl and whip with an electric mixer.
It must become a firm and firm compound.
When ready, transfer to a pastry bag and leave in the refrigerator until the last.
Preparation of chocolate glaze
You can melt chocolate with butter in the microwave or in a double boiler.
Roll composition with pistachio and chocolate
Take the chocolate biscuit dough base again, open cling film (do not remove it as it is needed later to roll it up).
Place on a work surface with the longest side in front of you.
Fill with pistachio and mascarpone cream leaving 2 cm free from the edges. Level the layer with a spatula.


With the help of the transparent film, roll the cookie dough on itself from the longest side.
Close cling film and seal the roll well by closing it like a candy to make it take a cylindrical shape.
Leave to rest in the refrigerator for at least 2/3 hours.
Roll decoration with pistachio and chocolate
After it has rested, take the roll from the refrigerator, remove the cling film and place on a wire rack.
Sprinkle with chocolate glaze. When the chocolate is still hot, create a decoration with pistachio grains, or with pistachio cream on the surface.
 
Let it rest so that the chocolate solidifies.
Before serving it, cut a thin slice from both ends so that it becomes more regular and aesthetically more beautiful.
Enjoy your meal!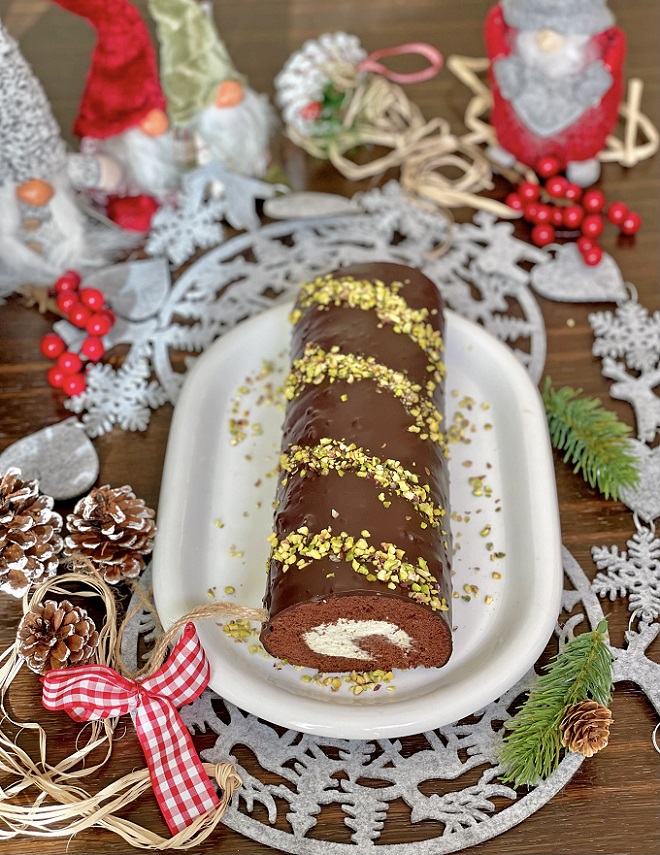 NOTE
It is possible to enrich the mascarpone and pistachio cream ganache with chocolate chips or pistachio grains to create a delicious contrast of textures.
Pistachio cream is now found almost everywhere. It is bought in shops that sell pastry products as well as in the best supermarkets. I have chosen to use Pistì pistachio cream.
STORAGE
Once ready, the pistachio and chocolate roll can be stored for about 3 days in the refrigerator.
It is possible to freeze the cocoa biscuit dough base.
Follow my Instagram page by click here
see also the recipes below
How to prepare hand made EASY PANETTONE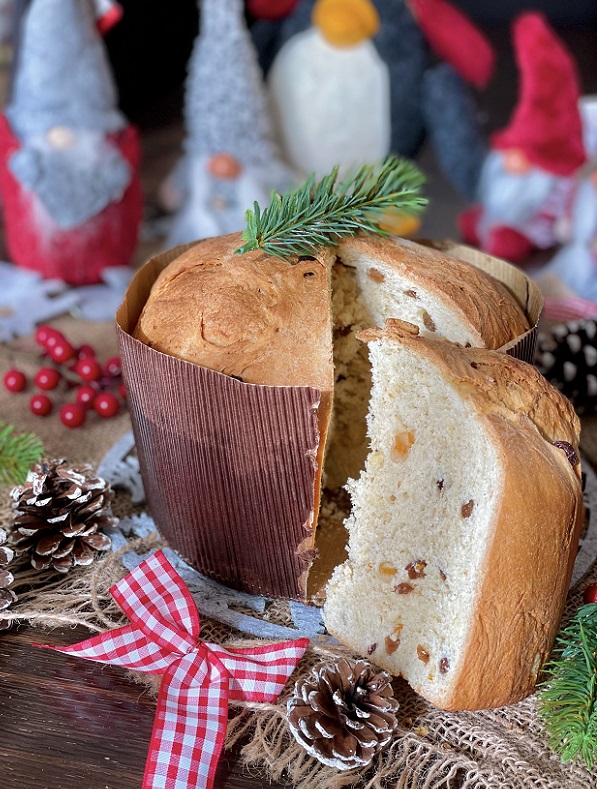 Recipe TIRAMISU cake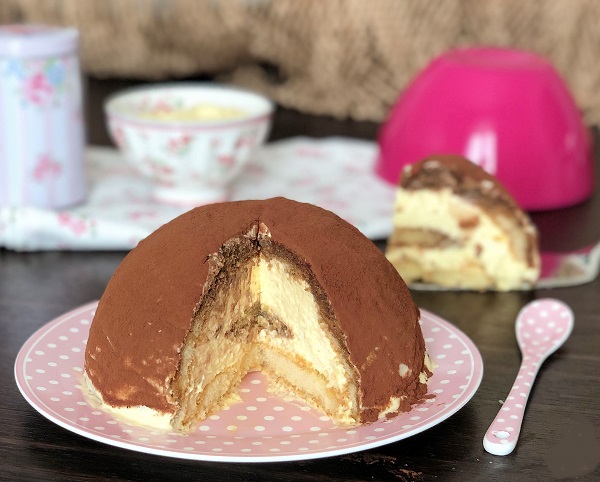 KETO Pumpkin CAKE