PANDOLCE a no rising italian Panettone


PANDOLCE a no rising italian Panettone
Christmas time is my favorite time of the year! It's not about the presents for me, it's about the baking!

The scent that fills your house while you are baking is lovely and festive. 

In my stunning region, Liguria, we make Pandolce during Christmas time.

Pandolce Genovese is a typical holiday filled with sweet raisins and pine nuts, delicious on Christmas morning.

This slightly sweet fruit-and-pinenut-studded bread is a dense bread and in my opinion, much better than a fruitcake. I made two loaves instead of one very big one. 

It is not as buttery as panettone or pandoro and, most importantly, it does not need to rise: as soon as you have finished kneading you can immediately put in the oven .

There is another version of pandolce: when you use yeast for this recipe it is called "Pandolce Alto".

Today we prepare my favourite and easier version, using baking powder instead of yeast, called Pandolce Basso.

In our family we use an ancient recipe handed down to us by our grandmother and I must say that the result is excellent!

Every year I can't wait for Christmas just to smell that fantastic scent that hovers around the house when I cook it and eat a slice of it.

Without "him" it would not be Christmas for me.

A kind of industrial production starts at my house in December, I even managed to prepare 100, since I also use Pandolce as a Christmas gift.

In December my son used to tell me: mom you "smell" of pandolce!

But no more chatter, turn on the oven and let's start.

if you like my recipes I invite you to visit my Italian blog "A tavola con Tea" with more than 500 Italian recipes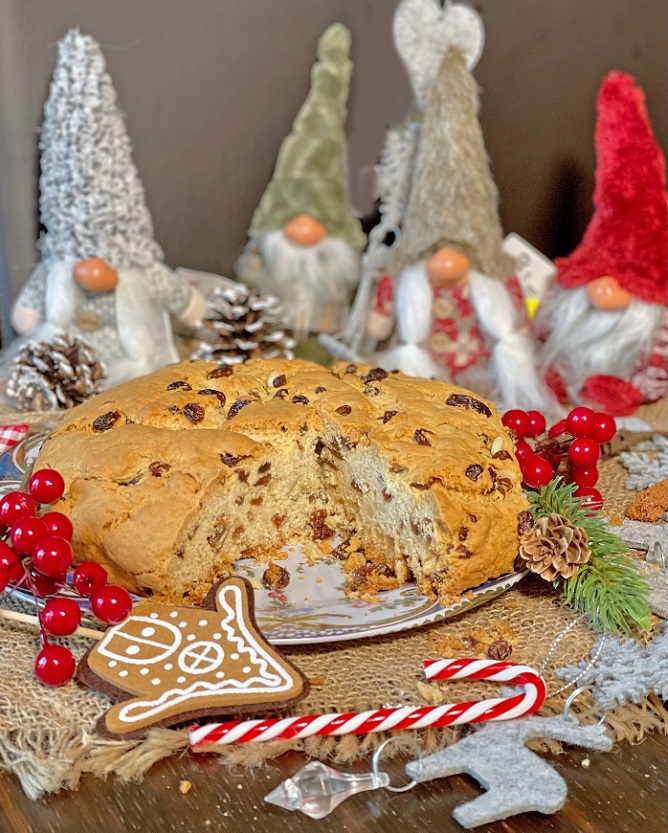 Difficulty

Easy

Cost

Medium

Preparation time

30 Minutes

Cooking time

1 Hour

Serving

10/12

Cooking method

Oven

Cuisine

Italian
Ingredients
high gluten flour
(

1 e 1/3 pound about 600 g

)
cake flour
(

2/3 pound about 300 g

)
unsalted butter
(

2/3 pound about 300 g

)
granulated sugar
(

2/3 pound about 300 g

)
raisin
(

1 1/5 pound about 550 g

)
orange zests
(

3,5 ounces candied fruit cut into cubes about 100 g

)
pine nut
(

2 ounces about 60 g

)
honey
(

2 ounces about 60 g

)
orange flavouring
(

1 teaspoon

)
Steps
step 1
Sift the two flours together with the yeast inside the bowl of the mixer.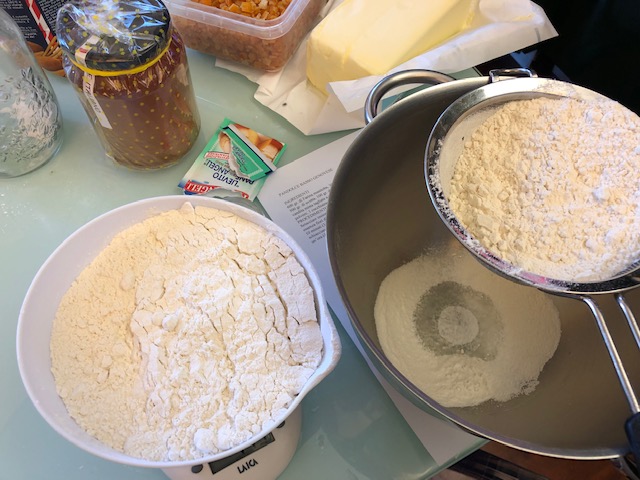 Add the sugar and butter cut into chunks at room temperature, eggs, honey, orange essence and a pinch of salt.

Knead everything by hand for at least 10 minutes (3 minutes if using the mixer).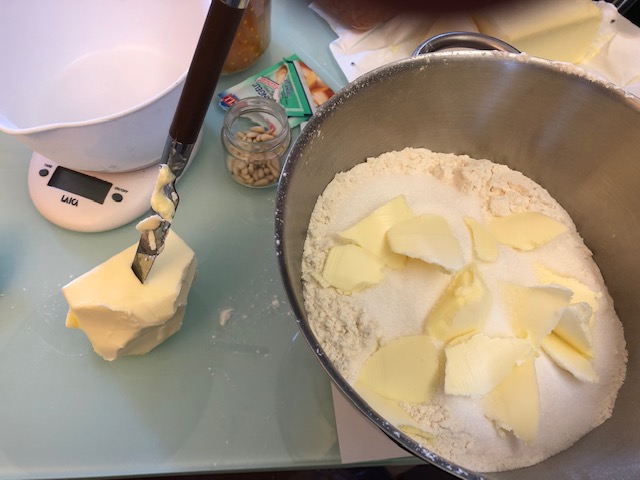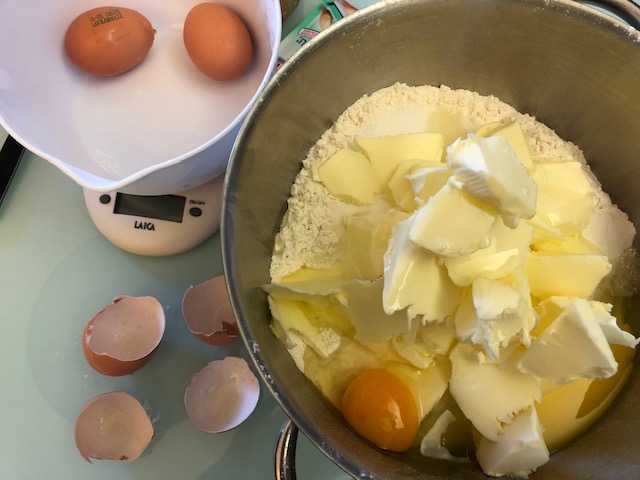 step 2
Add the raisins, orange peel and pine nuts and knead again until a homogeneous mixture is created.

The dough is ready to be baked.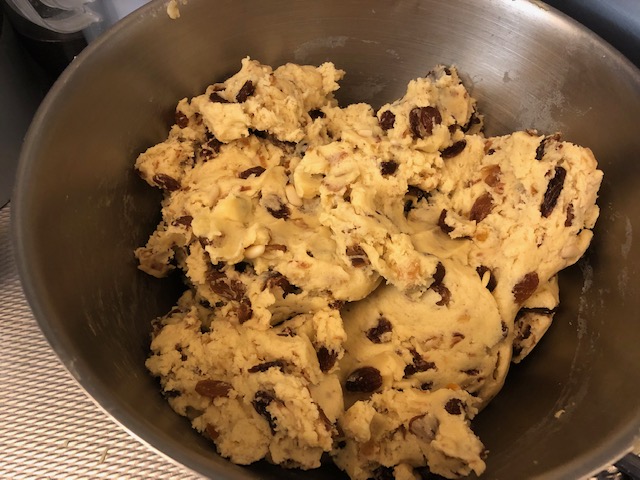 step 3
Arrange it on a baking sheet covered with parchment paper and create the typical triangle cut on the surface with a knife.

Bake in a preheated oven at 170 degrees for about 55/60 minutes for 1.2 kg pandolci or for about 45/50 minutes for 800 gr pandolci.
Today I divided the dough in two, obtaining two pandolci of about 1.2 kg each which are sufficient for 10/12 people.

It is always advisable to carry out the toothpick test at the end of the indicated time to make sure that it is actually cooked even inside your pandolce.
step 4
If the stick is still wet, cover it with aluminum foil to prevent it from burning on the surface and continue cooking for another 5/10 minutes.
Once cooked, remove it from the oven and let it cool, preferably on a wire rack.
NOTE
The dough you get with this dose weighs about 2.4 kilograms.
You can choose what size to do before baking depending on how many you are.
If you divide the dough into two, bake two pandolci of about 1.2 kg each, sufficient for 10/12 people, or divide into three creating pandolci of about 800 grams each, sufficient for 6/8 people.
I often use them for Christmas dinners as a place marker and give them to my guests, in this case 80 grams of dough are enough for each sweet cake (cooking time about 20 minutes).
To you the choice! Just remember that cooking times change depending on the weight.
Follow my Instagram page
Back to the home page to discover other recipes How to prepare hand made EASY PANETTONE
CHRISTMAS CAKE POPS
CHOCOLATE CAKE ROLL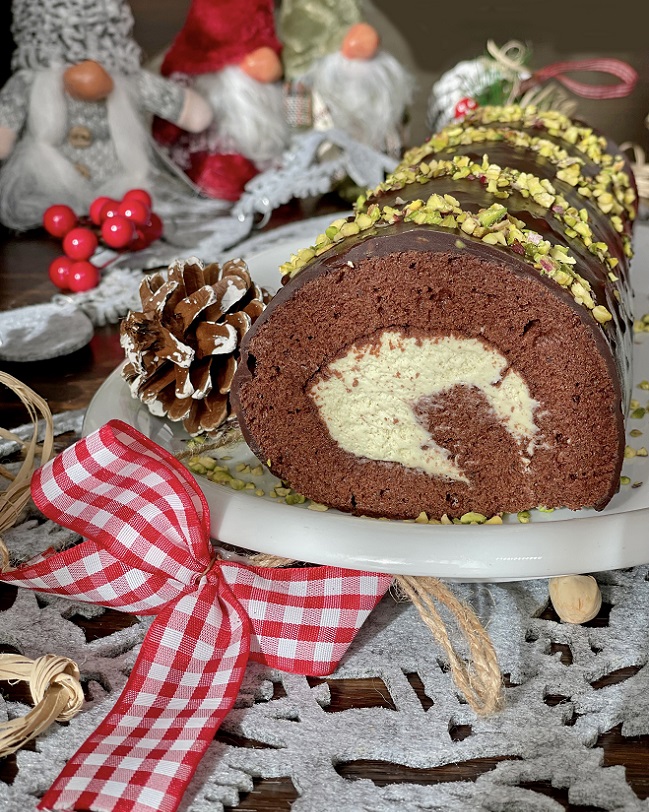 Homemade SICILIAN CANNOLI recipe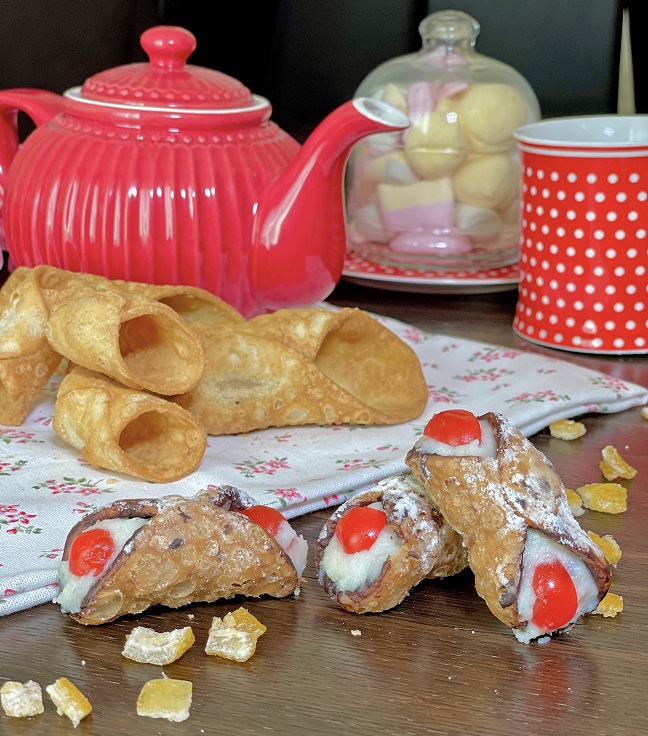 Recipe TIRAMISU cake