EASY Profiteroles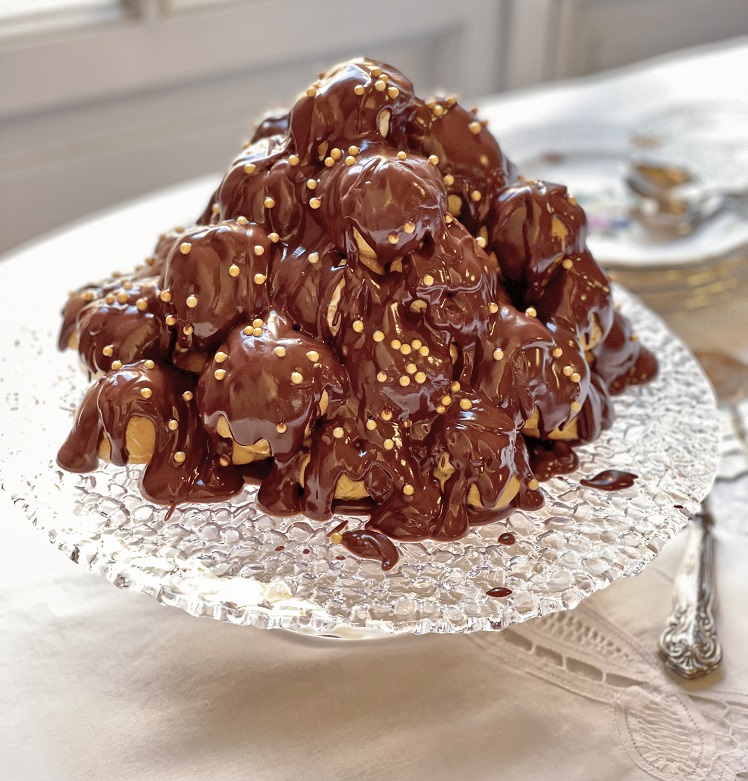 A rich and creamy topping of custard and whipped cream inside light, airy, crunchy and perfectly cooked choux pastry shells, and then topped with a delicious chocolate sauce on top.

And if you are scared to prepare the cream puffs you can always buy them ready to be stuffed.

I thought about making these Chocolate Profiteroles because they are perfect as a Christmas cake.

Small choux pastry filled with sweet cream and creamy custard topped with a delicious chocolate sauce. It's simple, classic, and delightfully addictive.

Cream puffs have been my passion since childhood. My favorites were the ones with the sweeter filling of the classic custard.

Today, however, it is the turn of the classic chocolate profiterole to shine!

For this chocolate profiteroles (cream puffs) recipe, I used choux pastry shells that were about 2.5 inches in diameter. I get 50 shells total, with this recipe.

The chocolate sauce sprinkled on these chocolate profiteroles is also the perfect pairing because it's not too sweet.

I love pouring the hot chocolate sauce over the profiteroles just before digging them, so I always serve the profiteroles and the sauce separately. And I also like to pour in plenty! Honestly,

I can hardly trust anyone who doesn't want a delicious chocolate sauce on their profiteroles!

if you like my recipes I invite you to visit my Italian blog "A tavola con Tea" with more than 500 Italian recipes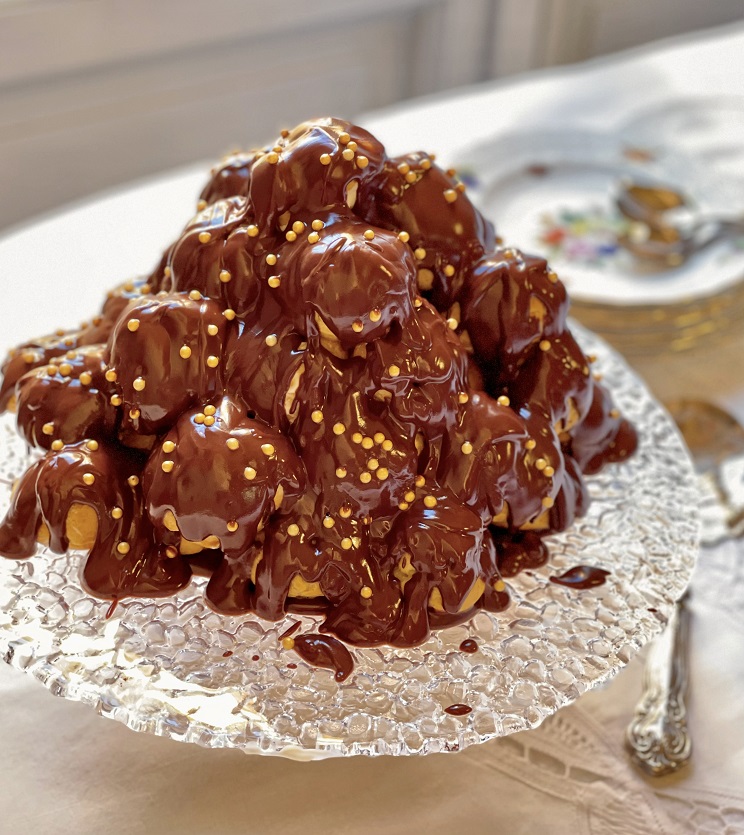 Difficulty

Easy

Cost

Medium

Preparation time

45 Minutes

Rest time

20 Minutes

Cooking time

25 Minutes

Serving

10/12

Cuisine

French
Ingredients
to realize this profiteroles cake I used 50 ready-made shells
CHANTILLY CREAM
2
ounces
sugar
(

powdered sugar

)
CHOCOLATE COVERAGE
1
/
3
cup
fresh double cream
Steps
Profiteroles preparation
If you prefer to prepare the profiteroles at home instead of buying the ready-made ones, follow this recipe
Prepare chocolate glaze
To make the chocolate sauce, chop the chocolate, then pour the water and sugar into a saucepan and bring to the boil.
As soon as it starts to boil, add the cream, bring it to the boil again and finally add 250 g of dark chocolate.
 
Mix with a whisk and as soon as it is blended add the remaining chocolate (200 g).
When it starts boiling again, transfer to a bowl, mix and let it cool until it reaches a thick but still semi-liquid consistency.
Prepare CHANTILLY CREAM
Pour cold cream from the refrigerator into a bowl and start whipping with the electric mixer.

As soon as it begins to have a thicker consistency, add 25 g of powdered sugar and the seeds of the vanilla bean.

Continue to whip and after 2 minutes also add the remaining part of icing sugar (25 g). Continue whipping until you reach the consistency of whipped cream firmly.
Compose the PROFITEROLES cake
Transfer the Chantilly cream into a pastry bag with a smooth nozzle then take the cream puffs and pierce the base using the tip of a knife.

Stuff the cream puffs and place on a tray. When they are all filled, put them to harden in the refrigerator for 10 minutes.

Take the cream puffs again, dip one at a time in the chocolate sauce and then place on a rack to drain the excess chocolate.
When they are all covered, start placing them in a circle on a plate.
Create several sloping floors to form a pyramid.

Pour a generous layer of chocolate glaze on top.
Decorate the profiteroles cake with colored sugar dragees or wisps of cream.
Refrigerate until ready to serve.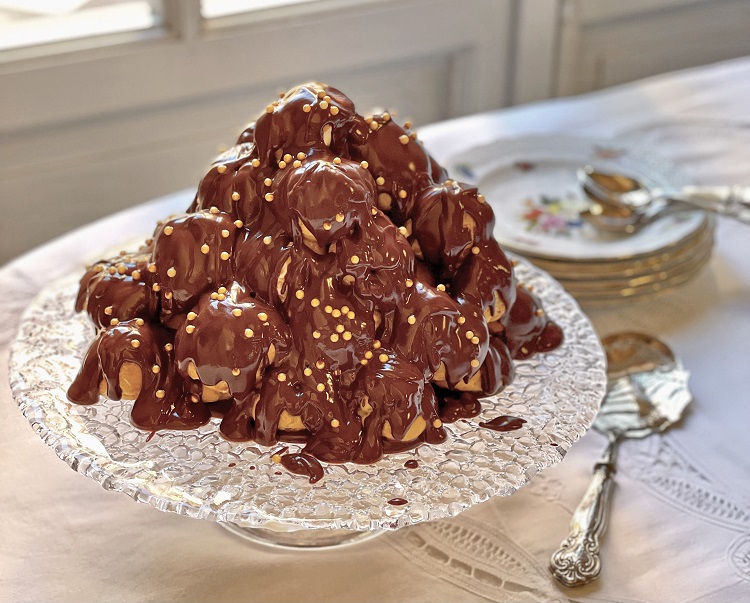 STORAGE
You can keep the cream puffs if they are not stuffed in a tin box for a week.
If they are stuffed, however, they can be kept in the refrigerator for a maximum of 2 days.
NOTE
Make an 'x' on the bottom of the choux pastry to make it easier to pipe in the pastry cream and fill until they are almost full.
It is best to fill the crates as close as possible when serving, to prevent them from becoming too soggy.
Dip them in the chocolate sauce or pour the hot chocolate sauce over the profiteroles just before serving.
This is how I check to see if the dough is ready. The "spoon" test – a spoon can stick upright in the dough.
The choux pastry dough should be glossy and pipeable.
for the chocolate profiteroles
Follow my Instagram Page
to look at other recipes, go back to the home page some examples can be found below CHOCOLATE CAKE ROLL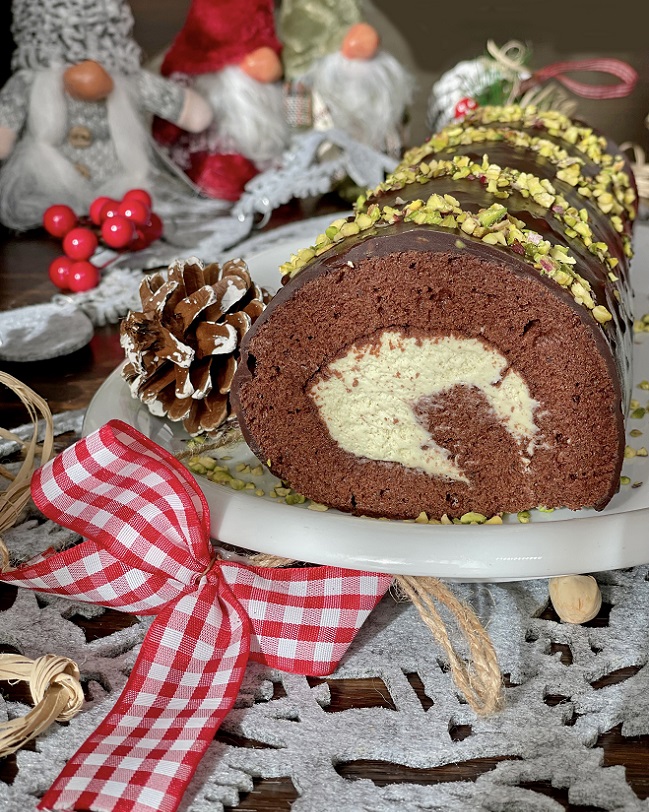 PANDOLCE a no rising italian Panettone
Easy ZUCCOTTO recipe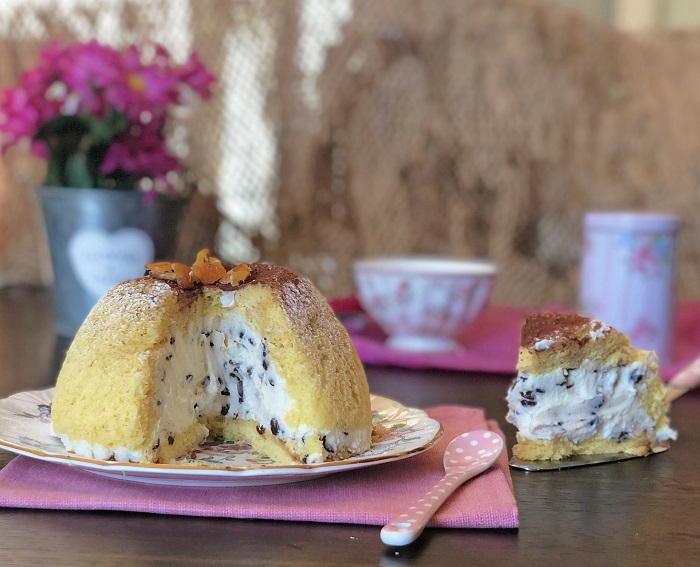 Homemade SICILIAN CANNOLI recipe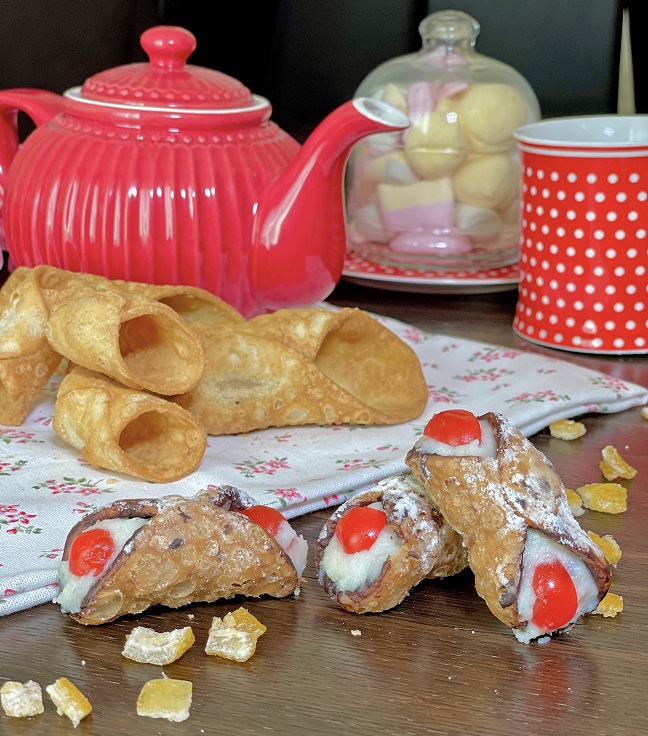 Italian NUTELLA Crumb CAKE