Spinach & cheese CANNELLONI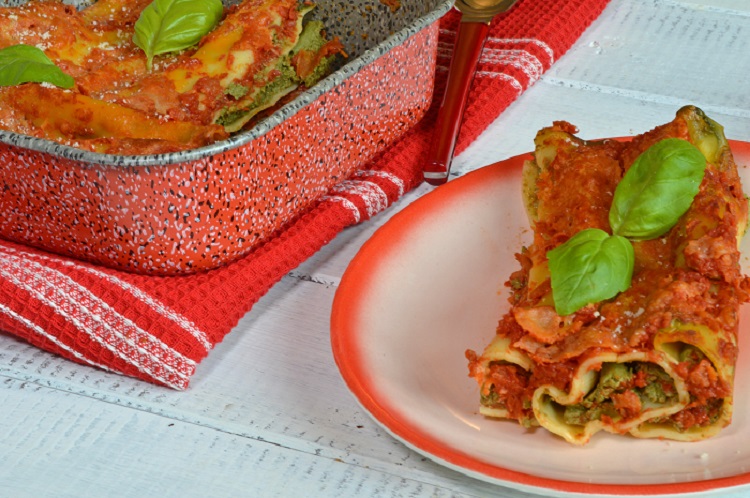 A juicy spinach and ricotta filling inside cannelloni pasta tubes, topped with a simple homemade tomato basil sauce and melted cheese.

This is one of my meals that I prepare to give to friends and a great one to prepare for dinners.

I love cannelloni and I make them often during most of the year.

Cannelloni are a dry tube-shaped pasta. It is stuffed with filling, covered with sauce and cheese and then baked in the oven. It does not need to be cooked before filling, it softens when cooked in the oven.

The most common variety is a spinach and ricotta filling topped with a tomato sauce which is the version I share today.

The spinach and ricotta filling is creamy, has the perfect ratio of spinach and ricotta and made tastier with the addition of Parmesan and cheese. It tastes so good that I can eat it in spoonfuls straight from the bowl!

Spinach & cheese CANNELLONI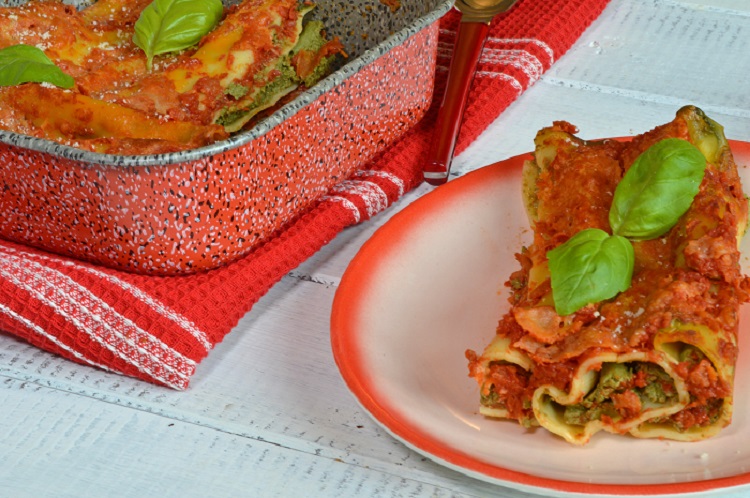 Difficulty

Easy

Cost

Cheap

Preparation time

20 Minutes

Cooking time

35 Minutes

Serving

4/6 PORTION

Cooking method

Oven

Cuisine

Italian
555,16 Kcal
calories per serving
Power 555,16 (Kcal)
Carbohydrates 40,61 (g)

of which sugars 6,67 (g)

Proteins 28,97 (g)
Fat 31,80 (g)

of which saturated 15,30 (g)

of which unsaturated 7,71 (g)

Fibers 6,18 (g)
Sodium 908,09 (mg)
Ingredients
14

ounces

spinach

(cooked fresh or frozen)

25

ounces

plum tomatoes

(750 g)

4

tablespoons

extra-virgin olive oil

9

ounces

ricotta cheese

(250 g)

pasta

(cannelloni about 14 tubes)

1

pinch

black pepper

(powder)
Preparation
STEP 1
Preheat the oven to 180 ° C / 350 ° F / gas 4. Place the spinach and a drizzle of olive oil in a large skillet over low heat.

Season with sea salt and black pepper, cover and leave to sweat.

Stir occasionally until the spinach is cooked through. Place in a bowl and set aside to cool a little.
STEP 2
Dice the onion.

In the same pan, heat a drizzle of olive oil and gently sweat the onion until soft.

Add the tomatoes, whole garlic and basil. Let it simmer for 20 minutes until the sauce has thickened. Season with salt.
STEP 3
Squeeze the moisture from the spinach into the bowl. Put the spinach on a cutting board so you can chop it up. Return the spinach to the liquid in the bowl.

Mix the ricotta, egg, Parmesan and add spinach.
STEP 4
Fill a pastry bag with the spinach mixture.

Pour the mixture into the cannelloni tubes and place them in a 20 cm x 25 cm baking dish.

Spread the tomato sauce on the cannelloni. Slice the mozzarella and place the slices on top of the cannelloni, sprinkled with extra virgin olive oil.
STEP 5
Place in the oven and bake for 35-40 minutes or until the top is golden.

Remove from the oven and leave to rest for a few minutes before serving, sprinkling with basil leaves.
NOTE
What's the difference between cannelloni and manicotti?
Manicotti is also a dry paste tube. It's the Italian-American version of cannelloni.  The difference is that manicotti is larger with ridges, whereas cannelloni is smooth.
SUGGESTIONS
Spinach: Use frozen for convenience (defrost, remove excess water before use) or fresh if you have plenty of it;
Cottage cheese: Make sure you use a full-fat one
Grated cheese: Parmesan and flavored cheese such as cheddar are suitable.
Egg: used for binding but can be skipped