ORIGINAL Italian LASAGNA recipe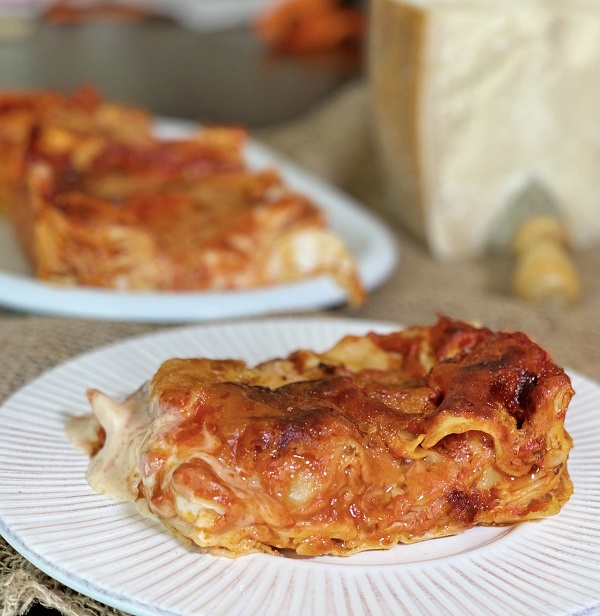 These lasagna are the legendary lasagna with meat sauce that my grandmother prepared on Sundays with a mountain of sauce, béchamel and a generous grating of Parmesan cheese.

Every family in Italy jealously guards a recipe, handed down from mother to son. If you fancy traditional cooking, here's my grandmother's original recipe!

It is very easy and result is a pasta pie that no one can resist.

The ingredients are: slow cooking ragù, prepared with mixed ground beef and pork, béchamel and parmesan.

You can also enrich it with mozzarella or cooked ham.

ORIGINAL Italian LASAGNA recipe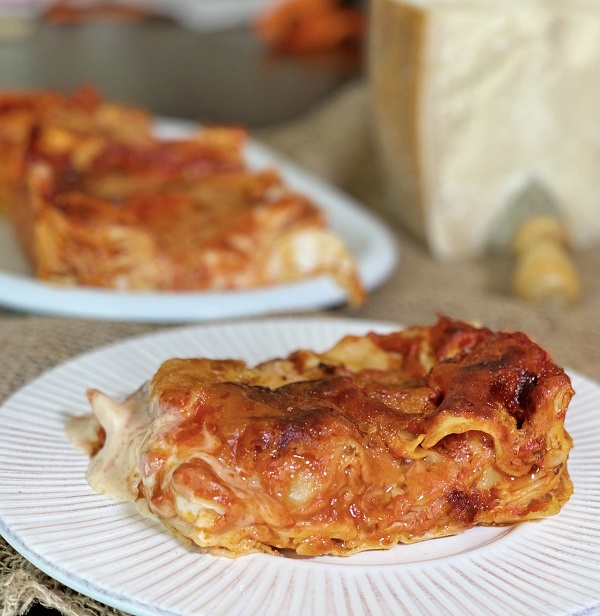 Difficulty

Medium

Cost

Medium

Preparation time

35 Minutes

Cooking time

2 Hours

Serving

4 portions

Cooking method

Oven

Cuisine

Italian
193,27 Kcal
calories per serving
Power 193,27 (Kcal)
Carbohydrates 11,21 (g)

of which sugars 2,76 (g)

Proteins 11,01 (g)
Fat 11,26 (g)

of which saturated 4,83 (g)

of which unsaturated 5,60 (g)

Fibers 1,47 (g)
Sodium 1.160,12 (mg)
Ingredients
for lasagna
16

lasagna

(dry lasagna noodles)

4

ounces

cheese

(freshly grated Parmesan cheese)
for ragù sauce
9

ounces

minced beef meat

(250 g)

9

ounces

pork meat

(minced 250 g)

18

ounces

tomato puree

(500 g)

3

ounces

tomato puree

(concentrated)
for besciamella sauce
4

tablespoons

butter

(50 g)

1

/

2

cup

flour

(all-purpose flour 50 g)
Preparation
PREPARE THE MEAT RAGU
Chop celery, carrot and onion in the food processor.

Put 3 tablespoons of extra virgin olive oil in a non-stick pan, when it is hot add the minced meat.

Fry for a few minutes then add chopped vegetables, rosemary, garlic.

Cook over high heat until the meat is well browned then blend with the wine.

Add the tomato puree, tomato paste, a spoonful of flour, salt and mix.

Finally add 500 ml of water, lower the heat to low and cook with the lid on for about 2 hours.
PREPARE THE BECHAMEL
To prepare the bechamel at home

Heat the milk in a saucepan without boiling.

In a separate saucepan, cut the butter into cubes and melt.

As soon as it has melted, remove from heat and add flour little by little.

Be careful that lumps do not form.

Return the saucepan to low heat and add warm milk, salt and nutmeg.

Stir with wooden spoon until thick and smooth.
PREPARE LASAGNE
Pour a fine layer of besciamella on the bottom of your casserole dish.

Cover it with a layer of ragu.

Place your pasta rectangles side-by-side on top of the ragu until you have covered it completely. Don't allow them to overlap too much.

Repeat the process in the same order until you reach 4 or 5 layers of pasta. On the very last layer of pasta place a slightly thicker layer of bechamel and ragù.

Sprinkle some parmesan cheese on top.
COOK LASAGNA
Place the casserole in a pre-heated oven at 200° Celcius (390 Fahrenheit) for about 25 minutes. You will know  the lasagna is ready when you can see a golden crust around the outside edges on the top layer.

Let your lasagna rest five minutes before cutting and serving.
NOTE
I prefer fresh lasagna pasta sheets which are found in the refrigerator section of most grocery stores. If you can't find you can use dried instant noodles.
No Cook or Instant Noodles can be used without pre-boiling (check the packet instructions first). You can assemble as normal. To ensure the pasta has enough liquid to cook through while the lasagna is baking, we normally add about 1/2 cup of water to our sauce when using instant noodles.