Sicilian RISOTTO with AUBERGINE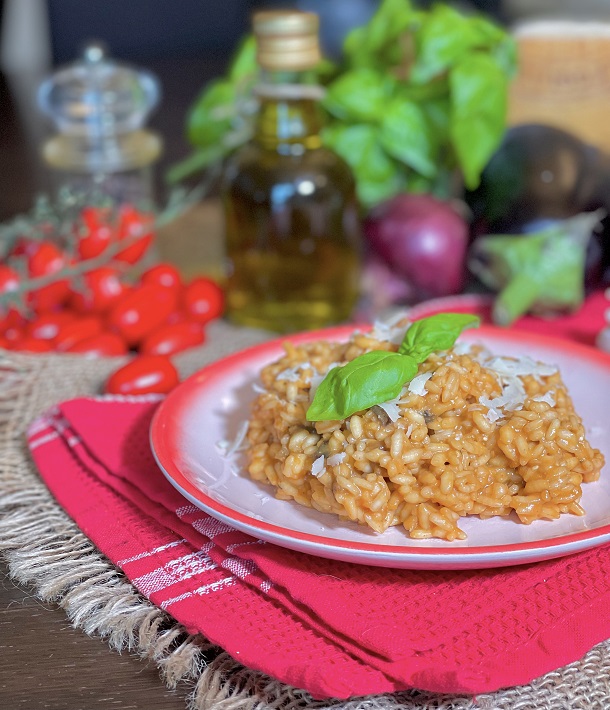 The Sicilian risotto with eggplant "alla NORMA" is one of the most loved traditional Sicilian first courses, delicate and fragrant, a mix of Mediterranean flavors.

It is a reinterpretation of the famous Pasta alla Norma prepared with fried aubergines, tomato sauce and salted ricotta, ideal if you are looking for a light recipe (aubergines can also be cooked in the oven), but at the same time tasty.

My origins are Sicilian and I love this sauce with a tasty and unmistakable taste that my grandmother used to prepare for me.

History says that this dish was born in homage to "La Norma", the famous work of the Catania composer Vincenzo Bellini.

A simple preparation: aubergines, tomato sauce, fresh basil and a grated ricotta salata directly on a serving dish, a riot of taste and flavors.

Sicilian RISOTTO with AUBERGINE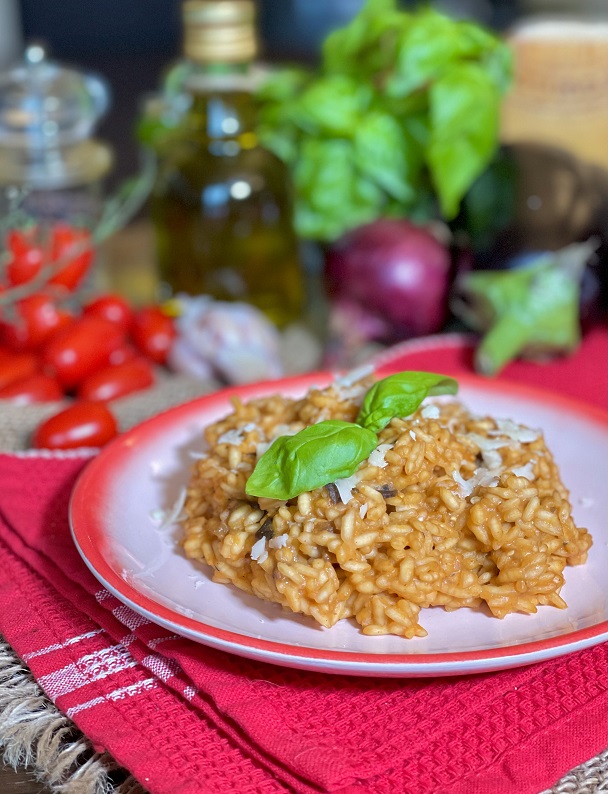 Difficulty

Easy

Cost

Cheap

Preparation time

20 Minutes

Cooking time

25 Minutes

Serving

4 portions

Cuisine

Italian
766,41 Kcal
calories per serving
Power 766,41 (Kcal)
Carbohydrates 93,00 (g)

of which sugars 9,24 (g)

Proteins 19,74 (g)
Fat 35,20 (g)

of which saturated 9,29 (g)

of which unsaturated 3,45 (g)

Fibers 8,60 (g)
Sodium 1.411,06 (mg)
Ingredients
for the risotto
carnaroli rice

(12 oz about 350 g)

tomato puree

(1,1 lb – 500 g )

vegetable broth

(½ liter )

3

tablespoons

extra-virgin olive oil
for the aubergines
eggplants, pan-fried without fat and salt

(1,1 lb about 500 g )

2

tablespoons

extra-virgin olive oil

basil

(7/8 leaves of fresh basil for the sauce + more to decorate)
to whisk risotto
7

ounces

ricotta cheese

(200 g of ricotta salata cheese)

2

tablespoons

extra-virgin olive oil

3

tablespoons

parmesan cheese

(grated Parmesan )
Preparation
PREPARATION OF VEGETABLE BROTH
Put carrots, celery, onion, salt, peppercorns and cold water in a large pot.

Turn on the flame and bring to a boil.

Lower the heat and let it boil for an hour.

At the end of cooking, filter and keep warm.
COOKING AUBERGINES
Wash and trim the aubergines.

Cut into slices first and then into approximately 1/2 inch cubes.

Put two tablespoons of oil, a clove of garlic and a few basil leaves in a non-stick pan.

Add the aubergines, mix and cook for about 10 minutes over high heat.

When golden, transfer the aubergines to a plate and set aside.
RISOTTO PREPARATION
In a non-stick pan, heat a drizzle of oil, add the rice and toast over medium heat for 2-3 minutes.

Once soon add the tomato puree and mix.

Lower the heat and after 5 minutes add 1 ladle of hot vegetable broth.

Continue adding the broth and stir until the rice is cooked.

 After cooking the regular salt rice.
CREAMING RICE
Turn off the heat and whisk adding grated Parmesan cheese, half grated salted ricotta, a drizzle of oil, half aubergines.

Stir to mix all the ingredients well.

Serve in serving dishes adding the remaining aubergines, a few basil leaves and the remaining salted ricotta.
STORAGE
Serve the risotto with aubergines alla Norma just made.
Alternatively, you can keep it for a maximum of one or two days in the refrigerator.
VARIATIONS
You can bake eggplants in the oven if you don't want to fry.
Preheat the oven to 200°C/ 392 F, then boil a kettle
Trim the green stalks off the aubergines and cut into bite-sized pieces, then add the chopped aubergine to a baking tray (use non-stick baking paper) with a generous drizzle of olive oil and a pinch of salt
Give everything a good mix up and put the tray in the oven for 20-25 min or until softened
if you love Italian dishes, check out these recipes too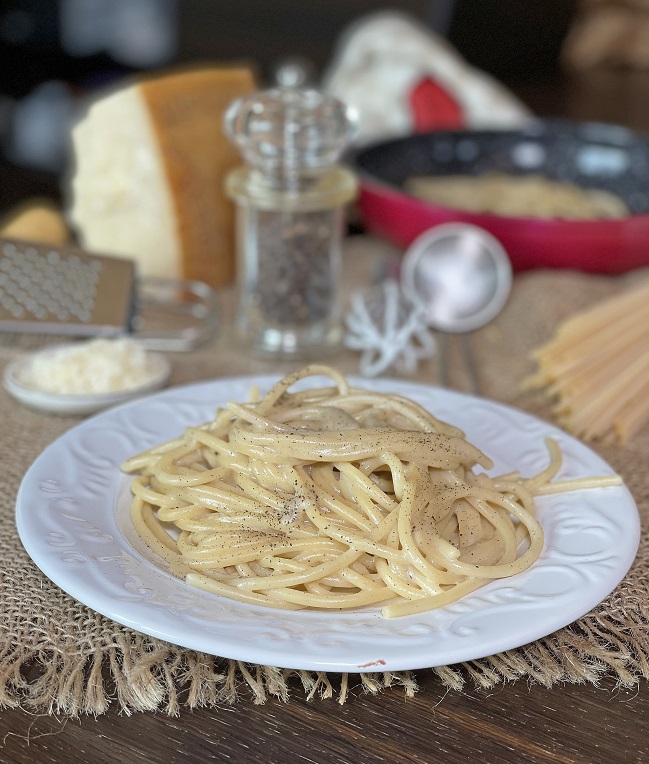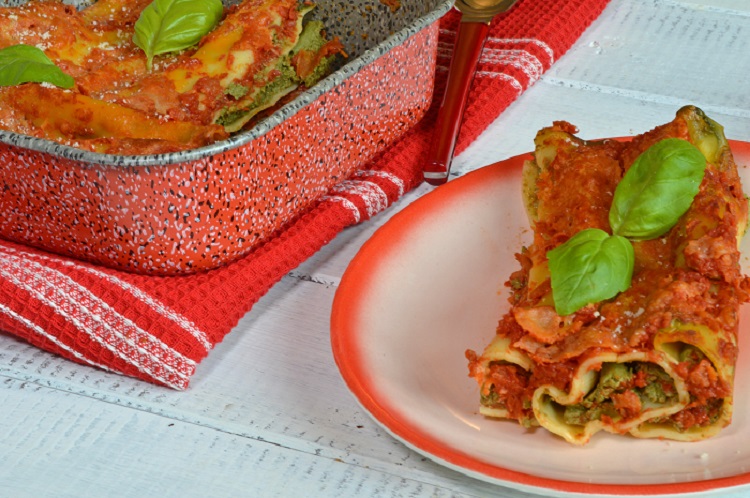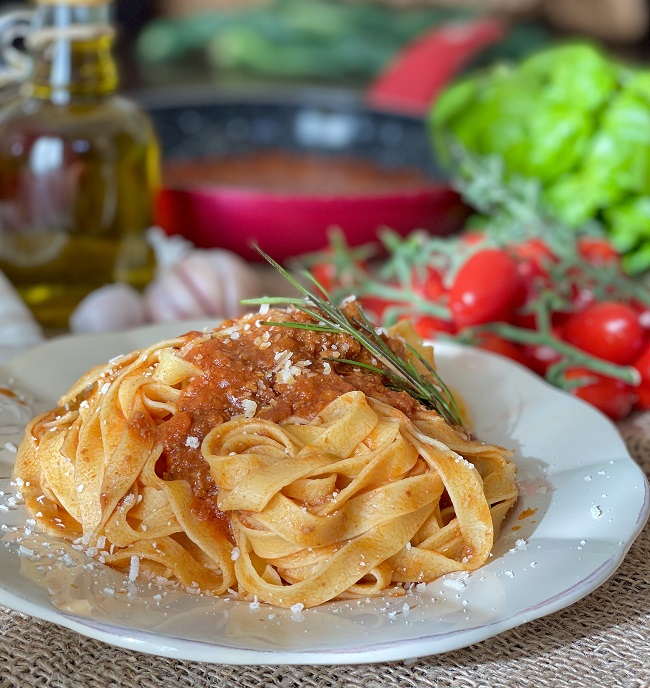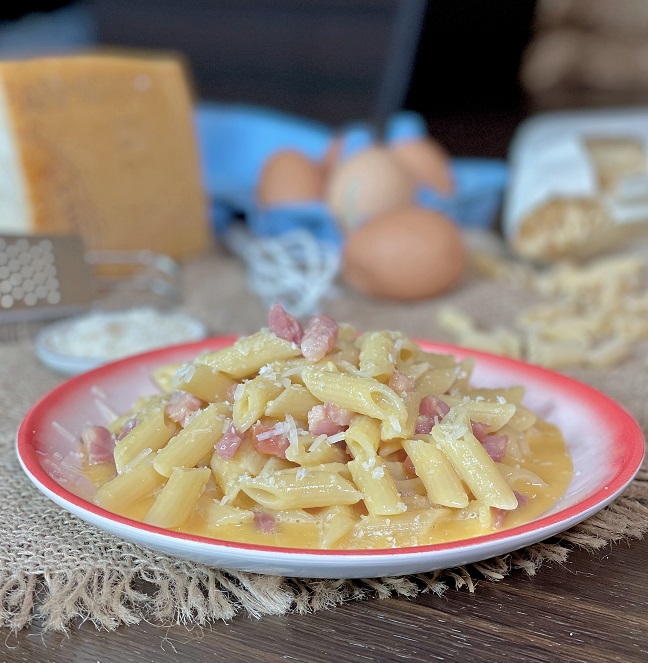 Homemade HAM and CHEESE MANICOTTI with crepes