How to Make Creamy CHEESE Gnocchi


This is my family's favorite dish and we order it every time go to the mountains.

We love them: super CREAMY and CHEESY, no one could resist.

So I didn't miss the opportunity to ask for the recipe in the restaurant we usually go to called "Tana dell'orso" (Bear Den).

You'll never believe chef's surname .. he is called Creamy!!!!

No one better than him could prepare these fabulous gnocchi that in Italy we call "GNOCCHI ALLA BAVA" or creamy cheese gnocchi.

Try them, you will love too.

Read the recipe to find out how to prepare creamy cheese gnocchi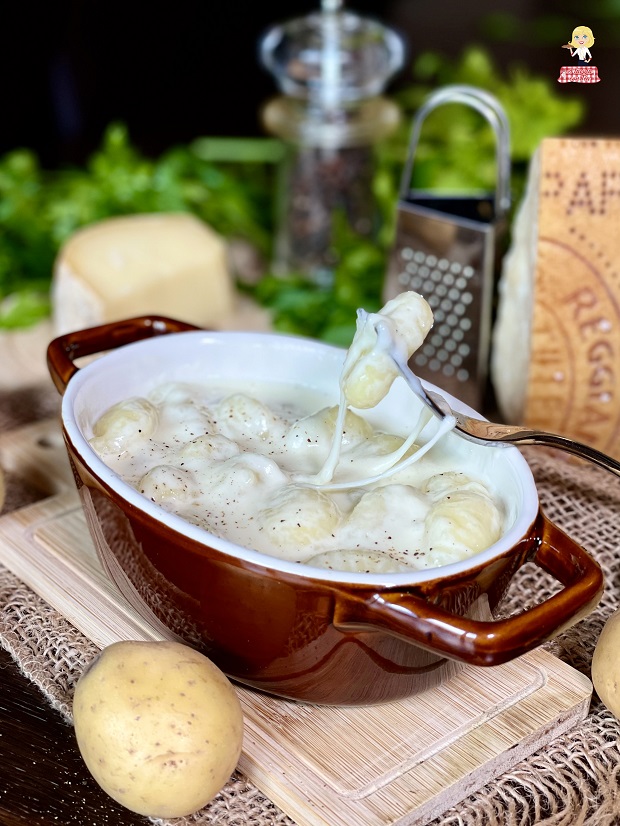 Difficulty

Easy

Cost

Cheap

Preparation time

40 Minutes

Cooking time

45 Minutes

Serving

4 portions

Cuisine

Italian
1.107,23 Kcal
calories per serving
Power 1.107,23 (Kcal)
Carbohydrates 99,76 (g)

of which sugars 5,99 (g)

Proteins 42,97 (g)
Fat 61,18 (g)

of which saturated 23,97 (g)

of which unsaturated 13,21 (g)

Fibers 7,61 (g)
Sodium 1.406,94 (mg)
Ingredients
For gnocchi
all purpose (AP) flour

(2 ½ cups (300 g) )
For creamy CHEESE SAUCE
mozzarella

(3,5 onces (100 g) )

parmesan cheese

(3,5 onces (100 g))

provolone

(3,5 onces (100 g))

blue cheese

(5 ounces italian gorgonzola (150))

black pepper

( a minced one)
Preparation
Homemade GNOCCHI
Boil the potatoes in plenty of water without peeling them.

Remove the peel when they are still hot, then pass them in the potato masher.

Let them cool

Mix the potatoes with the flour, butter and salt.

Knead quickly to get a firm mixture.

Taking a little dough at a time, form small loaves.

Cut the loaves into pieces about 2 centimeters long.

If you want the typical lines of gnocchi, you can use a fork or the special rigagnocchi tool.

Pass them in the re-milled semolina to prevent them from sticking together.
FOR CHEESE SAUCE
Cut the Gorgonzola into small pieces.

Do the same with Provolone and Mozzarella.

Grate the Parmesan.

In a saucepan heat the cream, then pour all the cheeses and cook over low heat for 20 minutes.

Stir often so as not to form lumps.
Homemade GNOCCHI with Creamy CHEESE SAUCE
Once the Creamy CHEESE sauce is ready, you can boil the gnocchi in plenty of water.

As soon as they rise to the surface, drain and pour into the pan with the 4 cheese sauce.

Mix gently so as not to break the gnocchi.

If you want you can sprinkle with ground black pepper.

CREAMY CHEESE gnocchi should be eaten immediately
STORAGE
CREAMY CHEESE gnocchi should be eaten immediately
Freezing is not recommended.
NOTE
If you want, you can brown the creamy cheese gnocchi in the oven.
After having cooked them, put them in a pan and sprinkle with more cheese (Parmesan, Fontina, etc ..) Add a few flakes of butter.
Bake at 200 ° for a few minutes, an irresistible crust of cheese will form