This easy recipe for an apple tarte tatin lets you make the classic inverted apple pie that oozes caramelized sugar.

La Tarte Tatin is a French classic, but it is still present in Italian cuisine and the recipe has often been elaborate.

One of the most famous Italian pastry chefs, known all over the world, Iginio Massari prepares his special version.

This recipe today offers it to you.

It starts with sugar that cooks in the pan until it's caramelized, and then the apples are added and cooked until they are meltingly tender.

The apple filling is then topped with pastry and the pan goes into the oven. The tarte is then inverted (to the delight of everyone watching) and served.

Tender and studded with caramel-glazed apple halves, this cake is the best apple cake.

Use a cast-iron skillet to caramelize the apples and bake the cake all in one vessel, a win-win.

How make TARTE TATIN  
Difficulty

Easy

Cost

Cheap

Preparation time

15 Minutes

Cooking time

1 Hour

Serving

8 portions

Cuisine

French
446,83 Kcal
calories per serving
Power 446,83 (Kcal)
Carbohydrates 61,86 (g)

of which sugars 61,11 (g)

Proteins 2,71 (g)
Fat 21,23 (g)

of which saturated 13,55 (g)

of which unsaturated 7,35 (g)

Fibers 4,65 (g)
Sodium 102,23 (mg)
Ingredients
for the base
7

ounces

pastry flour

(about 200 g)

3.5

ounces

butter

(about 100 g)

2

ounces

water

(about 60 ml)

2

/

3

tablespoon

sugar

(about 10 g)
for the stuffing
3.5

ounces

butter

(about 100 g)

7

ounces

sugar

(about 200 g)

apple

(2 2/3 pounds about 1,200 kg)

lemon

(grated zest of an organic lemon)
Preparation
PREPARE PASTA BRISE
Sift flour onto a work surface.

Create a fountain and put sugar and salt in the center.

Add cold butter into cubes and start melting with flour.

Add water a little at a time.

Knead until the dough is firm and compact.

Let it rest, wrapped in plastic wrap, in the fridge for a whole night.
PREPARE FILLED WITH APPLES
Peel the apples and cut into quarters.

In a 10-inch heavy-bottomed non-stick or cast iron skillet, mix together the sugar and a dash of water.

Allow the sugar to caramelize without stirring but only by swirling the saucepan

Wait about 3-5 minutes until it has completely melted and until you have obtained a nutty color.

Line the bottom of a pan with parchment paper.

Add butter cut into small pieces to the saucepan with the sugar and swirl the pan again to melt.
Once the butter has melted completely and pour in a buttered mold.

Arrange the apples in an orderly manner.

Take apples and arrange inside the mold: the round part must be under, the apple pieces must be very close to each other.

The entire surface of the mold must be covered.

Sprinkle with a little sugar, the lemon zest and a few flakes of butter.
FINAL PART
Take the shortcrust pastry, place on a floured work surface and roll out with a rolling pin until you get a thickness of about 4 mm.

Transfer over the apples.

Fold the dough inwards to create the edge.

Eliminate excess pasta.

Bake in a preheated static oven at 180 ° for about 35-40 minutes.

Once cooked, remove from the oven and allow to cool slightly before unmolding.

Turn over onto a plate and serve perhaps accompanied by a scoop of cream ice cream.
STORAGE
We recommend having the freshly prepared tarte tatin.
Freezing is not recommended.
NOTE
Tarte tatin is made with rennet apples, but Chantecler apples are also great.
Choose a firm apple that stands up to baking without collapsing, such as Braeburn, Cortland, Golden  Delicious, or a combination.
Shortcrust pastry can be used instead of shortcrust pastry.
The puff pastry is too thin to support the weight of the apples.
below other recipes of Italian desserts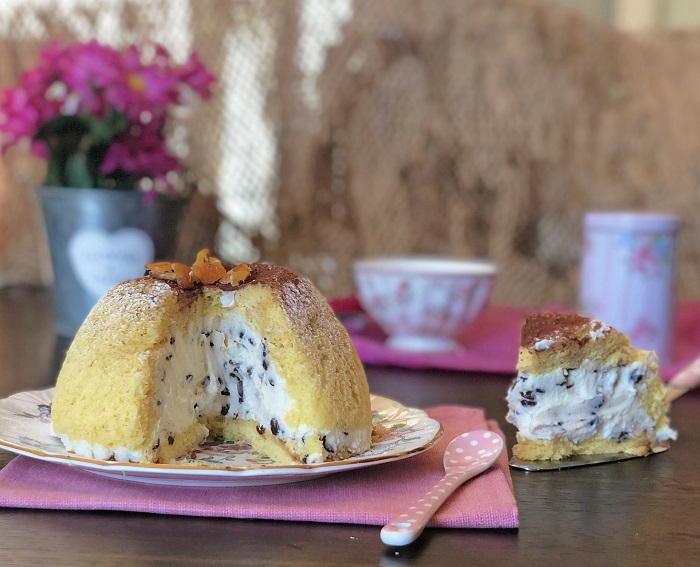 Homemade SICILIAN CANNOLI recipe