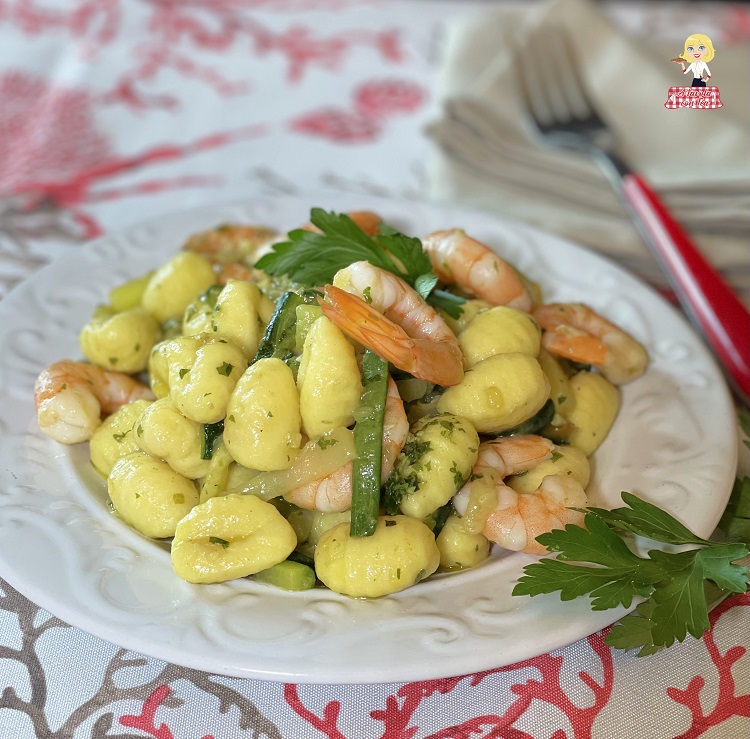 An original and tasty first course with fish and vegetables, perfect for special occasions but also for everyday dinner.
Tasty and genuine recipe, simple to prepare, balanced and low in fat.
Prepare shrimp and zucchini gnocchi is very easy and takes less than 30 minutes.
First, cook the zucchini, cut into julienne strips, in a pan with oil and salt, then finish cooking with vegetable broth. Add prawns in the same pan, deglaze with white wine to flavor the sauce. Cook dumplings and pour into pan with sauce, stir, cook for 1 minute and serve with chopped fresh parsley.
A simple dish, with few ingredients with a delicate but tasty taste.
You can also prepare this recipe with frozen prawns and replace gnocchi with another type of pasta such as penne or even spaghetti.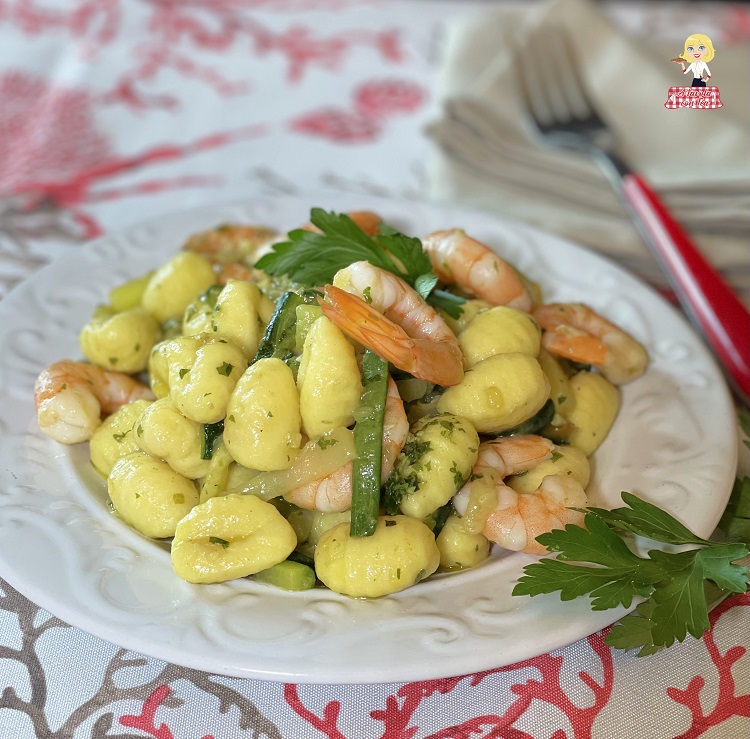 Difficulty

Very easy

Cost

Medium

Preparation time

10 Minutes

Cooking time

15 Minutes

Serving

2

Cuisine

Italian
Ingredients
3
/
4
lb
zucchini squash (dark green), pan grilled, no salt
2
tablespoons
extra-virgin olive oil
1
tablespoon
parsley
(

fresh chopped

)
597,17 Kcal
calories per serving
Power 597,17 (Kcal)
Carbohydrates 47,51 (g)

of which sugars 13,63 (g)

Proteins 22,86 (g)
Fat 31,89 (g)

of which saturated 10,36 (g)

of which unsaturated 3,75 (g)

Fibers 5,46 (g)
Sodium 1.993,65 (mg)
METHOD
STEP 1
Put a pot on the fire with plenty of salted water to cook the gnocchi.
Wash zucchini and cut into julienne strips.
Put oil in a non-stick pan, heat then add zucchini and a pinch of salt, cook for 2 minutes.
Add a ladleful of vegetable broth, finish cooking the zucchini (about 10 minutes).
STEP 2
When the water boils, cook the gnocchi, follow the cooking times indicated on the package (usually gnocchi are cooked when they float to the surface, about 4 – 5 minutes).
Meanwhile, add shrimp and 1 tablespoon oil to skillet with zucchini.
Cook for 1 minute, add white wine, deglaze, and finish cooking for another 2 minutes.
Adjust salt and pepper.
STEP 3
Drain the gnocchi directly into the pan with the sauce, add 1 tablespoon of the pasta cooking water.
Gently mix to flavor and continue cooking for a few seconds. If the cooking base is too dry, add a spoonful of water.
Serve immediately, sprinkling some fresh minced parsley on the surface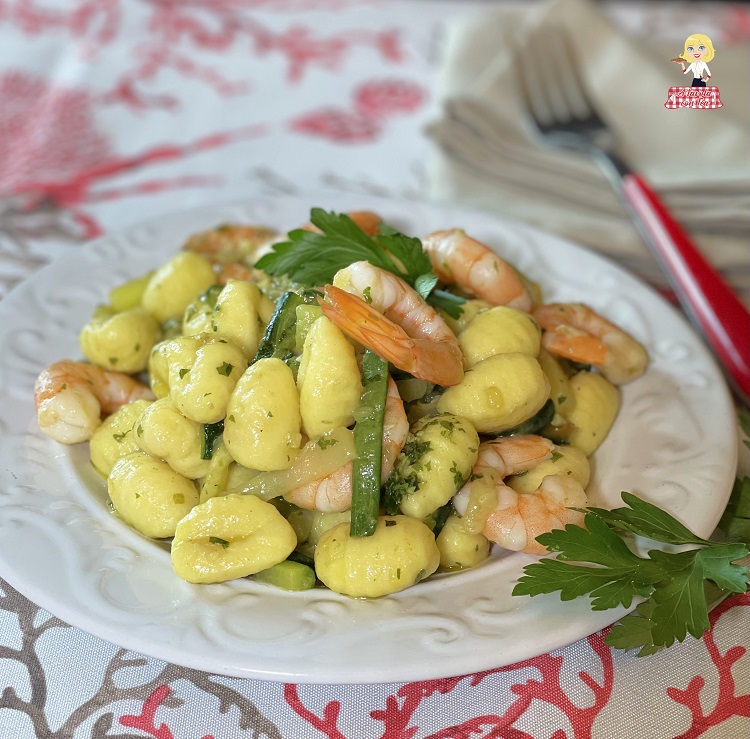 NOTE
You can use fresh shrimp or frozen shrimp: if you use frozen prawns, defrost them at room temperature before using them. You can defrost shrimp by placing a storage bag in boiling water for about 5 minutes.
I advise you to put prawns in the pasta already peeled.
For a creamier sauce put a small part of the zucchini in the blender together with 2 – 3 tablespoons of broth or water, blend and then add to the gnocchi.
STORAGE
Zucchini and shrimp gnocchi should be eaten as soon as they are ready, alternatively you can keep them in the fridge for a maximum of 1 day in an airtight container.
other pasta recipes