Bolognese pasta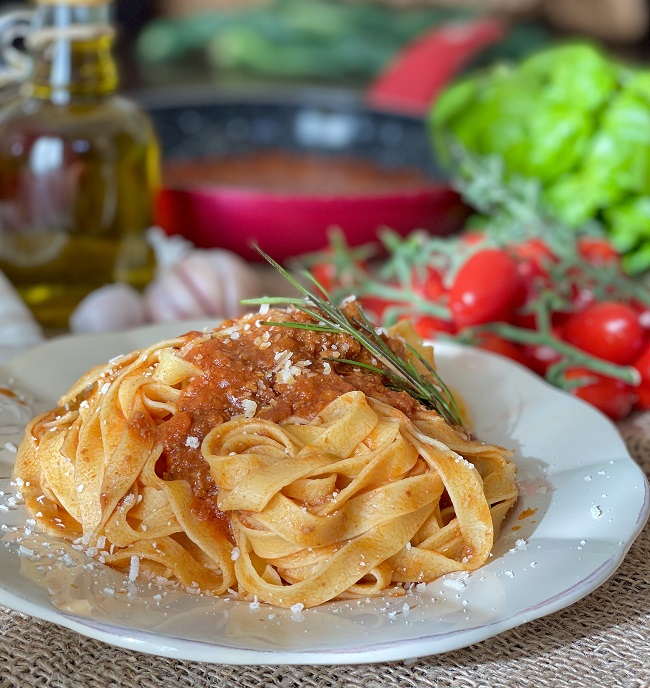 One thing that can never be missing in my house is the Grandma Bolognese pasta recipe.

Since I was a child I have grown up on bread and Bolognese sauce: not "pasta and sauce" but bread and Bolognese!

In fact, my favorite way to enjoy it was to eat it on top of bread.

Today's recipe is a family recipe that has been handed down for generations.

All my friends when they taste my Bolognese sauce say it is amazing, thick, creamy, enveloping and tasty.

It is excellent with any type of pasta: tagliatelle, pappardelle, ravioli, perfect for baked lasagna.

Or you can do like me: bread and Bolognese sauce: a real pleasure for the palate!

It is a very simple recipe, you just need to be patient with the cooking times, but you will be rewarded. Now just chat the Grandma Bolognese recipe is waiting for us!

Difficulty

Very easy

Cost

Medium

Preparation time

10 Minutes

Cooking time

3 Hours

Serving

about 15 portions

Cuisine

Italian
130,32 Kcal
calories per serving
Power 130,32 (Kcal)
Carbohydrates 6,40 (g)

of which sugars 1,88 (g)

Proteins 9,16 (g)
Fat 7,26 (g)

of which saturated 2,31 (g)

of which unsaturated 2,63 (g)

Fibers 1,38 (g)
Sodium 216,66 (mg)
Ingredients
2

tablespoons

extra-virgin olive oil
Preparation
STEP 1
Prepare the vegetables

Clean the onion, celery, carrot and garlic clove and chop them in a blender with the rosemary.
STEP 2
Meanwhile, in a non-stick pan, brown the minced meat with two tablespoons of extra virgin olive oil over medium heat for 10 minutes.

Pour the red wine into the pot and cook over high heat.
STEP 3
Add the chopped greens, bay leaf and cloves.

Continue to brown the meat over medium heat for 15 minutes.
STEP 4
Put a tablespoon of flour, 2 tubes of tomato paste, 1 jar of peeled tomatoes, 2 vegetable cubes and 1 liter of water, mix well with a spoon.

Lower the heat to low and cook with the lid on for at least 3 hours.

Stir every now and then.

You know it's ready when oil circles form on the surface.

Now you can use Bolognese sauce to dress your favorite pasta shape
NOTE
With these ingredients Bolognese seasons 15 portions of pasta.
I don't recommend cooking smaller quantities, the final result would change.
If you do not use the full dose you can keep in the fridge in a closed jar for 3/4 days or freeze.
below other typical Italian recipes
ORIGINAL Italian LASAGNA recipe