AMATRICIANA
Bring Rome to your plate with this traditional Amatriciana recipe.
A few simple ingredients are enough to create a pasta dish full of flavors thanks to the perfect combination of tomato and "guanciale".
AMATRICIANA sauce is a typical condiment of Roman cuisine whose recipe has always caused strong discussions due to its different interpretation in the proportions and use of the ingredients that compose it.
From the thickness of the strips of "guanciale", to the way of frying it, to the use or not of white wine to blend it, to then get to the use of an initial onion sauté up and even the choice of the pasta format.
Therefore, presenting the recipe for pasta all'amatriciana is not such a simple matter.
Today we will cook classic AMATRICIANA prepared with peeled tomatoes, "guanciale" in strips, pecorino cheese and dry white wine.
But feel free to choose your favorite version and add, if you like, onion, garlic, or substitute bacon for the guanciale.
Difficulty

Very easy

Cost

Very cheap

Preparation time

15 Minutes

Cooking time

20 Minutes

Serving

4

Cuisine

Italian
Ingredients
pasta
(

1 pound dried bucatini, spaghetti, other formats about 360 g

)
canned tomato
(

1 ½ pounds canned tomatoes, preferably imported Italian about 400 g

)
bacon
(

½ pound of guanciale or bacon about 150 g

)
pecorino cheese
(

½ cup freshly grated pecorino, romano or Parmesan cheese about 100 g

)
pepper
(

freshly ground black pepper q.s.

)
Steps
STEP 1
take "guanciale" or bacon, remove rind and cut into slices about 1 cm thick. Then cut slices into strips (about ½ cm).
Put a non-stick pan on the stove without oil, heat and, when it is hot, cook "guanciale" or bacon without adding oil.
STEP 2
Sauté bacon until its fat becomes transparent and chopped.
Deglaze with white wine and raise the heat to evaporate.
Drain the "guanciale" cooking fat and transfer to a plate.
STEP 3
Pour chopped tomatoes into the pan with guanciale sauce.
Cook for about 10 minutes.
Taste, season with salt and add strips of bacon put aside beforehand.
Mix well and cook for another 1-2 minutes.
In the meantime you will have put the pasta to cook.
Drain lightly al dente and then pour into the pan with the sauce.
STEP 4
Quickly toss the pasta to mix well.
If the cooking base is too dry, add a tablespoon of the pasta cooking water.
Finally, sprinkle with plenty of grated pecorino and a grind of black pepper.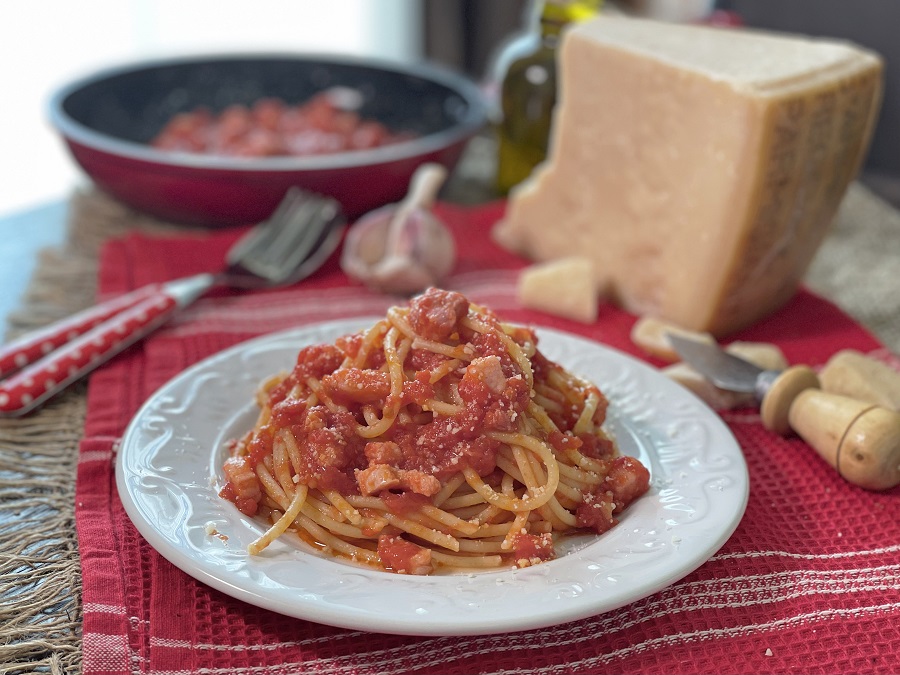 STORAGE
Pasta alla Amatriciana should be consumed immediately.
The sauce can be stored in the refrigerator in a container for up to 3 days, or you can freeze it.
NOTE
To be honest in Italy the variations of this recipe would not be allowed …
But if you don't find "guanciale" you can use pancetta.
The pasta format should be bucatini, but spaghetti or other types of pasta are also good.
There are people who like to add garlic or onion to the sauté or use fresh tomatoes instead of peeled tomatoes.
Feel free to choose your favorite version!
FOLLOW MY INSTAGRAM PAGE