I don't like peanut brittle, I'm not sure why … because I love all the rest of the peanuts, but for some reason, I don't like the peanut brittle, Instead, I love this almond brittle recipe.

First, it's super easy to make – you don't have to have any candy thermometer, special skillet, or secret recipe and then it only takes four ingredients.

Finally, it's fastST. In less than 15 minutes, you can have this almond treat ready to munch in front of your favorite movie.

Find out how to make almond brittle easily with this simple recipe.

You only need 4 ingredients to create this sweet treat or homemade food gift.

The crunchy snap of a fragment of crunchy is a noise we all know and love. Almond crunch is the more traditional choice but you can use this recipe also uses with peanuts or walnuts.

These sweets are great gifts for gourmets, just wrap them in cellophane and a nice ribbon.

Be very careful while making the caramel, prepare all weighed and measured ingredients in advance as this requires attention and quick and practical work.

Plus, you only need 4 ingredients and 15 minutes to make them.
ALMOND BRITTLE recipe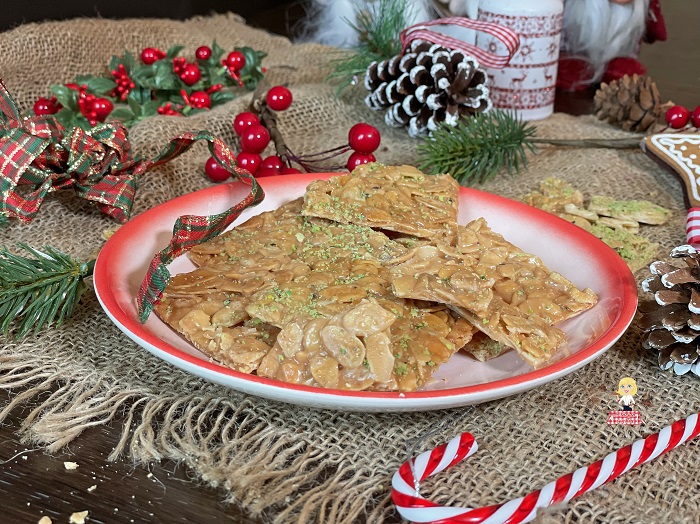 Difficulty

Very easy

Cost

Cheap

Preparation time

10 Minutes

Cooking time

5 Minutes

Serving

6/8 portions

Cuisine

Italian
Ingredients
2
/
3
cup
almond
(

sliced almonds about 300 g

)
1
/
3
cup
sugar
(

about 100 g

)
lemon juice
(

a few drops

)
1
/
3
cup
honey
(

about 100 g

)
Steps
STEP 1
Pour the sliced ​​almonds into a baking tray covered with parchment paper and toast them in a preheated oven at 356 degrees, it only takes a few seconds (be careful that they do not burn).

Line an 8 "x 8" baking sheet with aluminum foil and grease with a pastry brush.
STEP 2
Place sugar, honey, and lemon juice drops in a medium saucepan and heat over medium-high heat, stirring constantly.






Continue cooking and stir until the mixture is golden. For those with a cooking thermometer, the caramel should reach 266 F.
STEP 3
Add the toasted almonds, still hot, to the caramel, remove the pan from the heat and stir with a spoon.

Pour the mixture into the greased pan, distributing and trying to level it. Beware that it is hot!
STEP 4
Allow to cool to room temperature until it is firm.

Turn the pan upside down, remove the aluminum foil and break it into bites.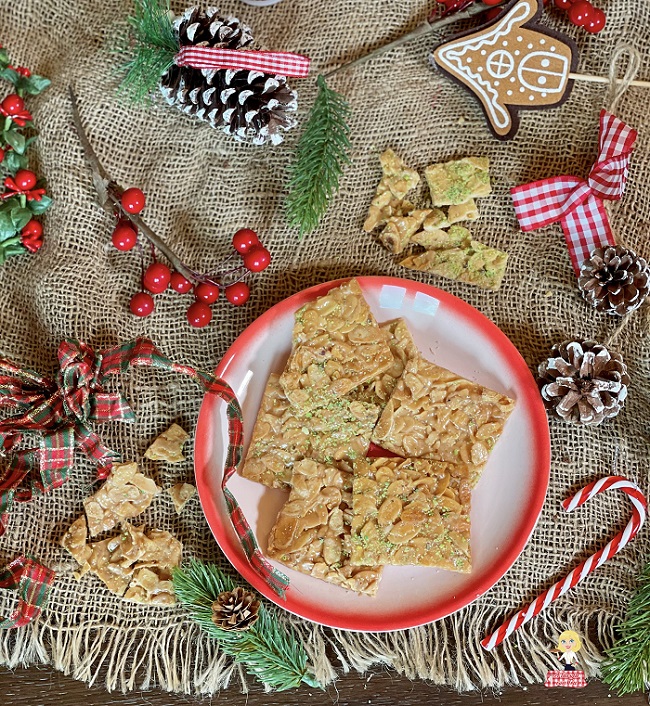 STORAGE
To optimally preserve the almond crunch, cover it with cling film or better still with baking paper and place it in an airtight box. Keep it in a cool and dry place because it fears both heat and humidity.
NOTE
I used sliced ​​almonds because I prefer thinner crunchy but nothing prevents you from using whole almonds already peeled or even with the peel (in this case you have to remove them by blanching them).
You can obviously prepare the brittle with any other type of dried fruit such as peanuts, hazelnuts, pistachios, or mixed dried fruit. Lemon juice is important because it helps not to crystallize the sugar.
Follow me on Instagram