Frappuccino recipe. Frappuccino is a milkshake made with cappuccino, the most popular drink in Starbucks coffee shops. You're probably familiar with it as it's a very popular drink, but you didn't know how to make it at home. Now with this recipe it's definitely easier!
This healthy homemade Frappuccino is the perfect refreshing coffee drink and easy to prepare in the blender!
I love to enjoy a healthy blended coffee drink on a hot day and this healthy homemade frappuccino is my favourite way to enjoy a moment of relaxation.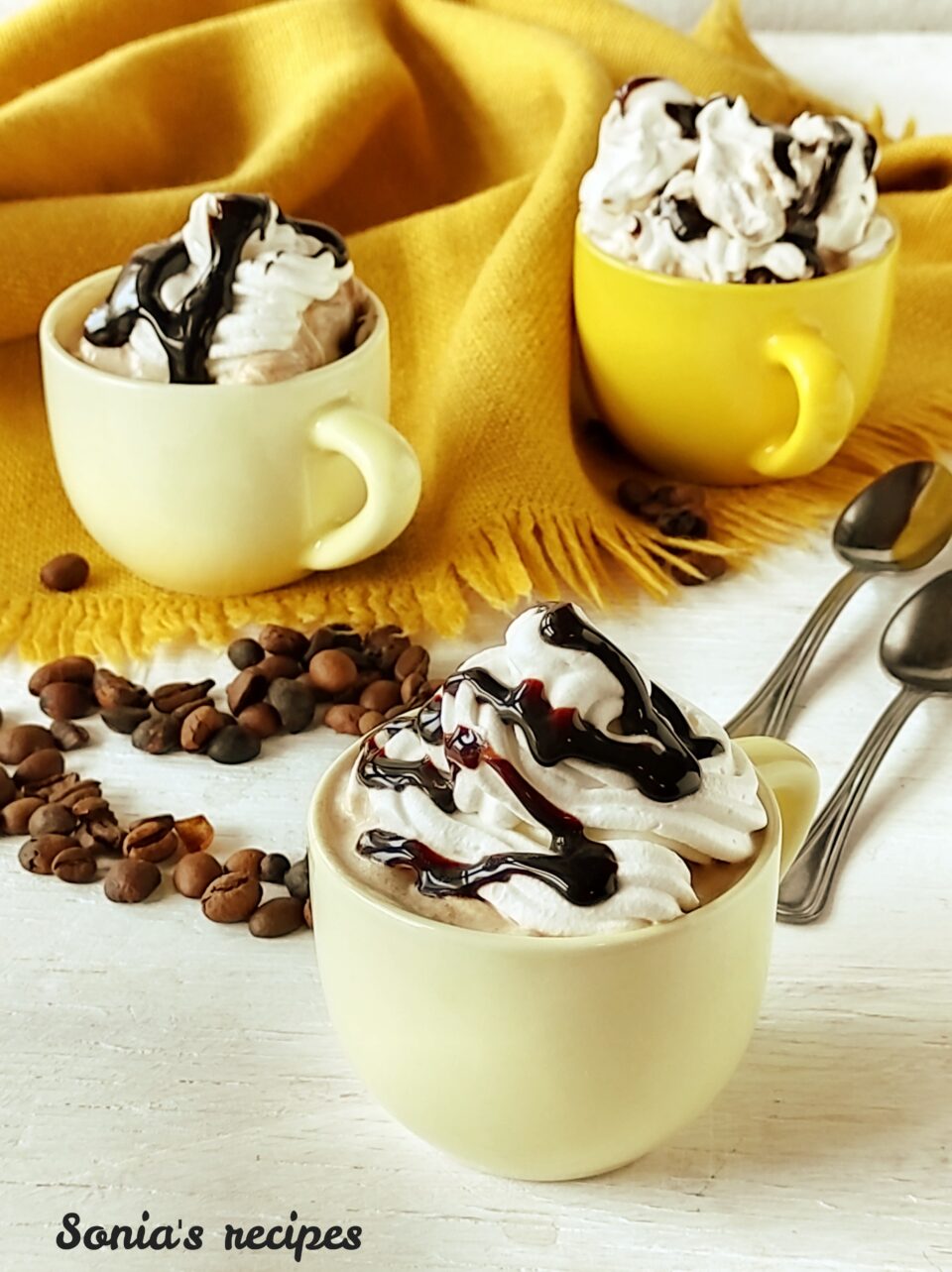 Difficulty

Very easy

Cost

Very cheap

Preparation time

10 Minutes

Serving

2 people

Cuisine

International
Ingredients Frappuccino recipe
1
tablespoon
caster sugar
(

15 g

)
3
tablespoons
cream
(

50 g

)
4
tablespoons
topping
(

chocolate-flavoured 50 g

)
Steps Frappuccino recipe
To prepare the frappuccino you first need to prepare the ice cubes if you don't already have them in the freezer because they will take at least 6 to 8 hours to freeze.
As soon as the ice cubes are ready, prepare the espresso with your machine.
You can use any type of coffee, as long as you take the right amount and leave it to cool in the fridge.
When the coffee is well chilled, pour it together with the ice cubes, milk, sugar and half of the dose of chocolate topping into the blender, running it for 30 seconds or at least until the mixture is smooth and homogeneous.
Whip the cream firmly with an electric beater at maximum speed.
Pour the coffee into two glasses decorated with cream and with the remaining chocolate topping.
Serve immediately.
Frappuccino is absolutely one of my favourite coffee drinks that I order when I go to the coffee shop.
Frappuccino is a delicious drink that you can easily make at home! With just a few ingredients, this frappuccino recipe will be a favourite!
If you like my recipes you can follow my faceboke page
You can follow me on pinterest by clicking 
If you prefer my instagram channel click
YouTube channel Here
Have you made this recipe? We'd love to hear from you. Leave us a comment below.
(Visited 845 times, 1 visits today)