Fried donuts easy recipe. Doughnuts are an easy to make leavened dessert. A tasty soft snack to bring to the table for young and old alike.
I've never met anyone who could resist a fried donut, with a crispy, sugary crust! These jelly doughnuts are fluffy, golden and simple to make. They can be filled with your choice of cream or jam after baking. It's a longer process to make homemade donuts, but it's so worth it! You'll be a hit with your family and friends when you serve this great dessert!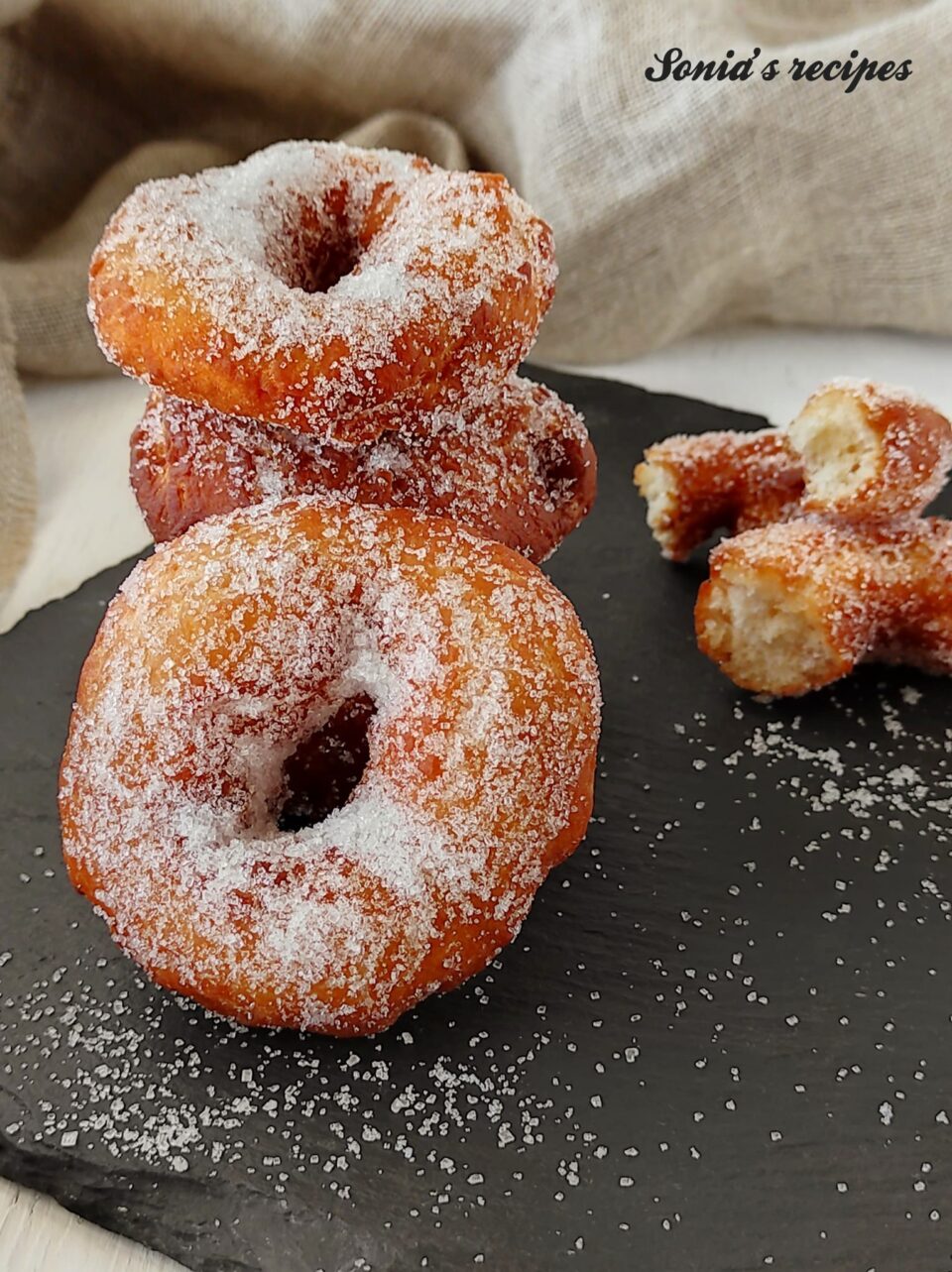 Difficulty

Very easy

Cost

Cheap

Cooking time

5 Minutes

Serving

10 pieces

Cooking method

Frying

Cuisine

International
Ingredients Fried donuts easy recipe
1
tablespoon
Yeast Extract or dry yeast
(

10 g

)
1
/
4
cup
granulated sugar
(

50 g

)
1
/
4
cup
sunflower oil
(

50 ml

)
1
/
4
cup
water
(

50 ml lukewarm

)
Steps Fried donuts easy recipe
In the bowl of the planetary mixer, pour in the flour.
Dissolve yeast in warm water and add to flour.
Add one egg, the salt and half the sugar.
Start the machine.
As soon as the dough begins to form, add the other egg and the remaining sugar, then the oil.
Allow the machine to work for at least 10 minutes. You can also knead by hand very vigorously!
The dough should be smooth and homogeneous.
Once the dough is ready, cover the bowl with plastic wrap.
Let rise until doubled in a warm place.
Turn the dough out onto a floured work surface, and form small balls of about 0.10 pounds ( 40/50 g ) of dough and cover again until doubled in a warm place.
Bake Fried Donuts
Take each ball and pierce it in the center giving the shape of a doughnut.
Heat the oil to 338 °F (170 °F), fry the doughnuts in steel pan one or two at a time, turn them with a slotted spoon cook about 3 /5 minutes keeping them often turned not to blacken, remove on paper towels, Immediately dip the doughnuts into the granulated sugar, making sure that the doughnuts are well coated.
Finish all the doughnuts always checking the temperature of the oil otherwise if the oil is too hot the doughnuts will turn black and inside will be raw, if the oil is too cold the doughnuts will be too greasy.
If you like my recipes you can follow my faceboke page
You can follow me on pinterest by clicking 
If you prefer my instagram channel click
Have you made this recipe? We'd love to hear from you. Leave us a comment below.
(Visited 13,543 times, 5 visits today)