Homemade Pumpkin and Sausage Ravioli. Ravioli is a classic Italian food recipe. Although pumpkin is usually the flavor of fall, this is a great recipe that can be made year round. It's easy to make and takes very little time.
I love pumpkin. As a result I always buy a lot of it I end up freezing it so I can use it throughout the year. Which of course means my family ends up eating a lot of pumpkin.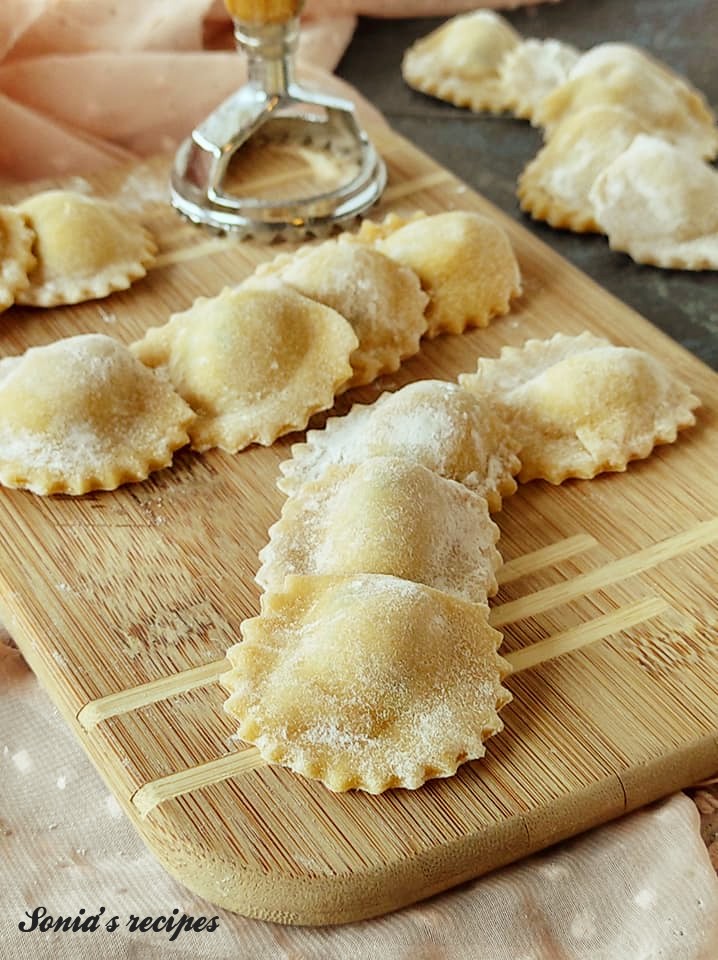 Difficulty

Easy

Cost

Cheap

Cooking time

5 Minutes

Serving

4 people

Cooking method

Boiling

Cuisine

Italian
Ingredients Homemade Pumpkin and Sausage Ravioli
For the filling
10
ounces
pumpkin
(

300 g

)
0.7
pounds
cream cheese
(

300 g

)
2
1
/
2
ounces
breadcrumbs
(

70 g

)
2
1
/
2
ounces
parmesan cheese
(

70 g

)
Tools Homemade Pumpkin and Sausage Ravioli
Steps Homemade Pumpkin and Sausage Ravioli
For the pasta
Pour the 00 flour on a work surface form a central space, put inside the central space the eggs, oil and salt and beat them with a fork.
Start to knead with your fingers until it will be a bit 'granular, and then knead with your hands, beating it on the pastry board a little' floured.
Knead until the dough is smooth and homogeneous, form a loaf and wrap it in plastic wrap for 30 minutes in the refrigerator.
For the filling
If using fresh or frozen pumpkin, wash it and remove the skin, cook it for 10 minutes in lightly salted water, then drain it and mash it with a fork eliminating all the water.
( It is possible to use canned pumpkin )
Put the pumpkin in a bowl and add it to the sausage without the skin, cream cheese (it is possible to use ricotta cheese), parmesan cheese and breadcrumbs, salt and pepper, mix all the ingredients and make a very compact and moist dough.
Take the roll of dough and divide it into small balls, roll out each piece with a rolling pin or a machine to make sheets.
For each pastry sheet, distribute 1 teaspoon of filling with a 0.78 inch ( 2 cm ) spacing, fold the pastry sheet in half to cover the filling. Press with your fingers to seal around the filling.
Cut out individual ravioli with a sharp knife or pastry cutter, crushing any air bubbles, transfer to a floured baking sheet. The ravioli are now ready to cook, or they can be frozen first on the baking sheet, then taken back to be placed in special freezer bags.
For cooking:
Heat plenty of salted water and insert ravioli as soon as water comes to a boil, cook for a few minutes.
In a small saucepan melt the butter and fry the pancetta and sage until golden brown, then pour over the hot ravioli.
Serve the ravioli hot and with the addition of parmesan cheese to taste.
This recipe could easily have a different accompaniment, for example a pairing with Bolognese Sauce Recipe
Pasta dishes
If you like my recipes you can follow my faceboke page
You can follow me on pinterest by clicking 
If you prefer my instagram channel click
Have you made this recipe? We'd love to hear from you. Leave us a comment below.
(Visited 2,754 times, 4 visits today)