Easy lasagna recipe. Homemade lasagna is a classic in Italian cuisine.
Every person will be able to cook it with this simple recipe .
Tender sheets of pasta, a filling of mozzarella, ricotta and a rich tomato sauce with meat make the perfect dish!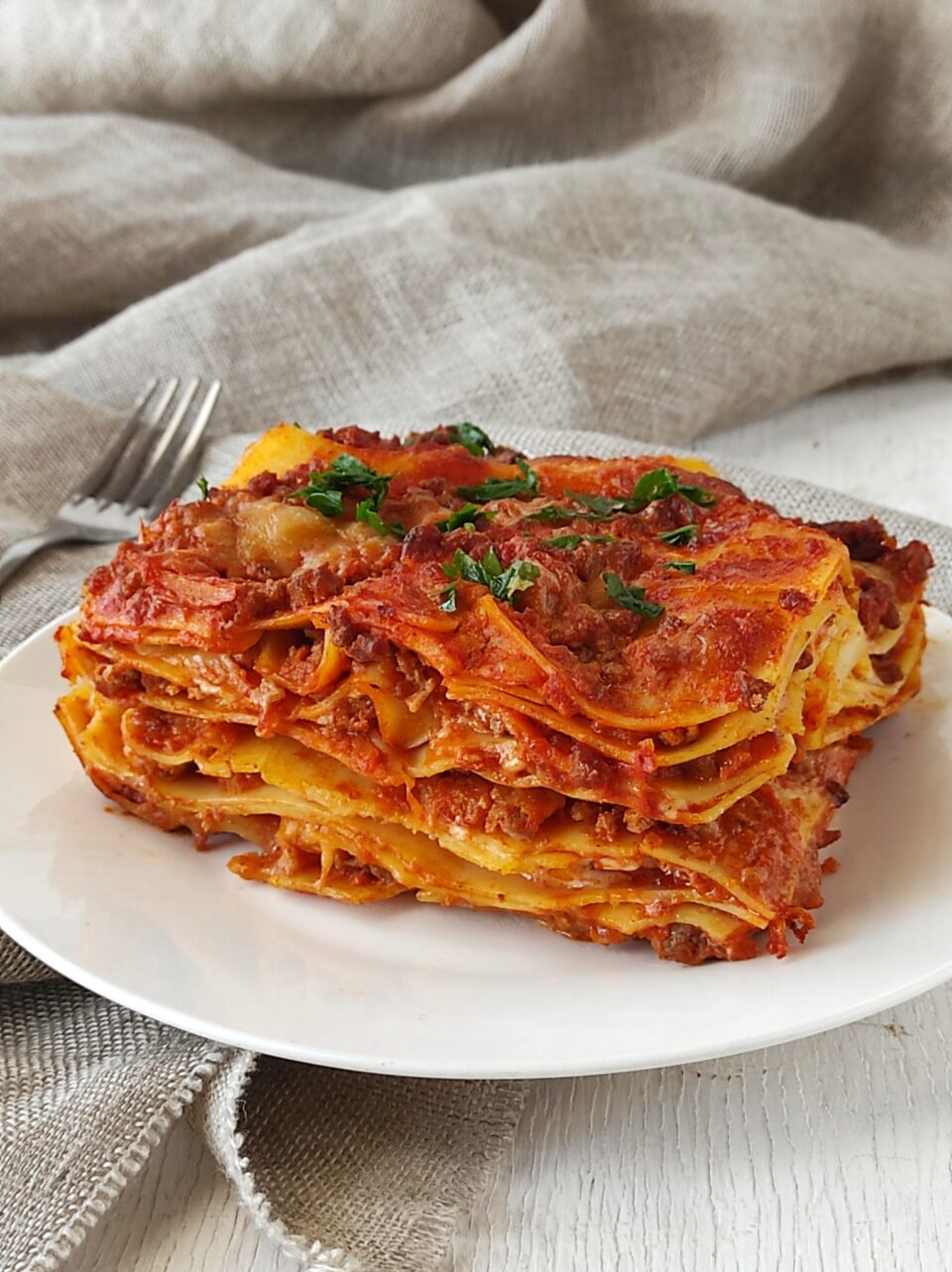 Difficulty

Easy

Cost

Cheap

Serving

4 people

Cooking method

Oven

Cuisine

Italian
Ingredients Easy lasagna recipe
1
pound ground beef chuck
(

450 g

)
2
cups
tomato paste
(

500 g

)
2
cups homemade chicken stock
(

400 ml

)
For the filling
2
cups
ricotta cheese
(

250 g

)
1
cup
parmesan cheese
(

100 g

)
2
cups
mozzarella
(

220 g

)
egg pasta
1
tablespoon
water
(

as needed

)
Tools Easy lasagna recipe
Steps Easy lasagna recipe
Bolognese Sauce
Pulse onion, celery, and carrot in a food processor until very finely chopped. Transfer to a small bowl.
Heat oil in a large pot over medium heat, cook bacon, until bacon has released some of its fat, Add chopped onions celery and carrots to pot and cook, stirring occasionally, until vegetables are very soft 6-8 minutes. stirring occasionally.
Chop meat into very small pieces and add to pot; salt lightly. Cook for 15 minutes.
Reduce heat to medium-low and cook, mashing beef with a wooden spoon. Add the tomato paste, and nutmeg and cook, stirring occasionally and continuing to press down on the meat, until the tomato paste is slightly darkened, about 5 minutes.
Pour the hot broth into the pot, add a pinch of salt. Reduce the heat to low and cook covered, stirring occasionally, until the meat is very, very tender, about two hours. If the liquid reduces before the meat is completely tender, add another ½ cup of broth and continue cooking. Taste the sauce and adjust the seasoning with salt.

Directions for egg pasta
Place flour on a marble or wooden work surface. Make a well in the center and crack in eggs; add salt. Gently beat eggs using a fork, incorporating surrounding flour, until mixture is runny. Bring remaining flour into the mixture using a bench scraper until dough forms a ball. Mix in water, 1 tablespoon at a time, if dough feels too stiff.
Knead dough with your hands by flattening, stretching it, and folding the top towards the center. Turn 45 degrees and repeat until dough is soft and smooth, about 10 minutes.
Shape dough into a ball. Place in a bowl and cover with plastic wrap. Refrigerate until firm, 30 minutes to 1 hour.
Divide dough into 3 equal portions. Take one piece and flatten it a bit with your hands. Dust a work surface with flour and roll dough out using a rolling pin 5 to 6 times. Turn dough 45 degrees and roll out again, 5 to 6 times. Keep rolling and turning in the same way until dough is evenly very thin. When you hold up the dough, you should be able to see your fingers through it.
Cut pasta dough into rectangular sheets to fit your baking dish using a pastry wheel or a knife. Transfer lasagna sheets to a floured kitchen towel and let air-dry for about 30 minutes before assembling.
Compose the Easy lasagna recipe
Boil lasagna noodles in lightly salted water.
In the bolognese sauce mix in the ricotta cheese.

In a glass baking dish create layers of cooked pasta, shredded mozzarella, meat sauce and parmesan cheese.
Bake for 30 minutes covered with baking paper at 428° F ( 220° C ).
Remove baking paper and bake for an additional 30 minutes.
Serve the lasagna hot
Although the Italian recipe is a bit more complex ( find the LASAGNA recipe here ) we have cooked a simpler one for ease of preparation.
Easy to prepare lasagna with a huge flavor. This dish can be prepared in advance you can freeze, both before and after cooking!
If you like my recipes you can follow my faceboke page

You can follow me on pinterest by clicking  HERE

If you prefer my instagram channel click
Here
(Visited 3,713 times, 1 visits today)