SWEET CARNIVAL TREATS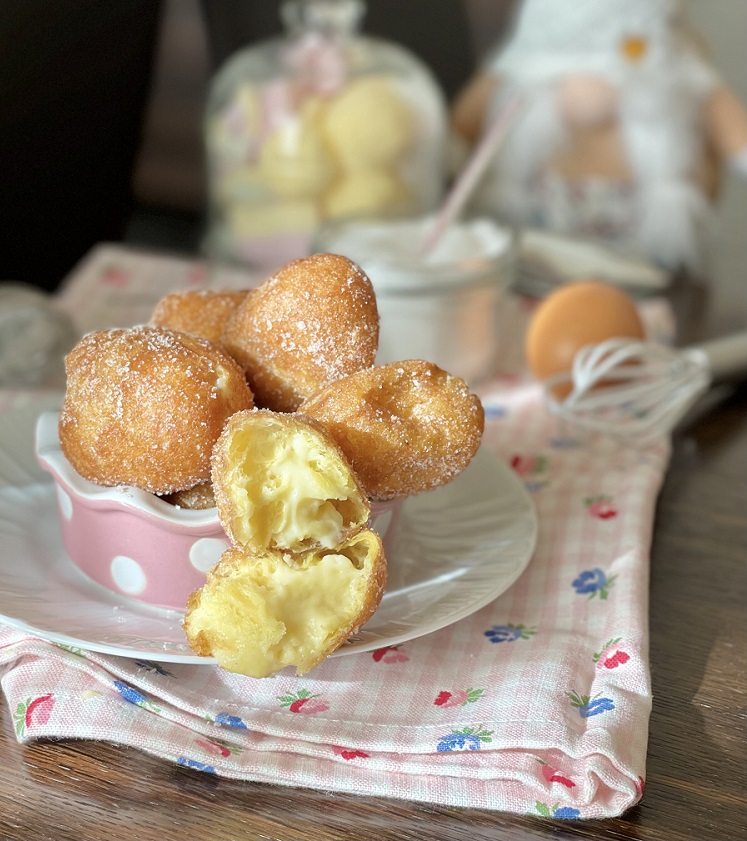 They are just what you need to open one of the sweetest times of the year: Carnival.
One of the most loved carnival sweets in Italy, which you can find in Venice during the Carnival, are "FRITTELLE DI RISO".
They are small rice balls, easy to make, starting with rice cooked in milk, filled with Pastry Cream that release a delicate lemon aroma that makes them irresistible.
Eat them hot, sprinkled with icing sugar, you will have to hide them so as not to make them disappear.
The recipe for SWEET RICE FRITTERS is very simple.
To make them you will need a few ingredients that we often already have at home: rice, milk, flour, sugar and eggs.
I wanted to make today's recipe even more delicious by filling the pancakes with Pastry Cream but if you don't like it or want to shorten the preparation time you can safely not use them, they are still very good.
Let's now see together all the steps to prepare Italian-style sweet rice pancakes.
They are usually prepared for carnival but they are so good that after tasting them you will find an excuse to cook them all year round.
Difficulty

Easy

Cost

Cheap

Preparation time

20 Minutes

Cooking time

10 Minutes

Serving

6/8

Cuisine

Italian
Ingredients
For sweet carnival treats
milk
(

7 ounces MILK about 200 ml Milk

)
water
(

3,5 ounces WATER about 100 ml

)
rice
(

3 ounces RICE about 80 g

)
cake flour
(

3 ounces FLOUR about 80 g

)
sugar
(

3 ounces SUGAR about 80 g

)
baking powder for sweets
(

1 tsp Baking powder for cakes

)
lemon zest
(

1 lemon zest

)
For frying
vegetable oil
(

Peanut oil q.s.

)
For Pastry Cream
milk
(

2 1/4 cups whole milk

)
yolks
(

6 large egg yolks

)
cornstarch
(

1/3 cup cornstarch

)
vanilla bean
(

1 vanilla bean, split lengthwise

)
Steps
STEP 1
Put the milk and water in a large pot together with the rice and lemon zest.
Cook for about 15 minutes, until the liquid is completely absorbed.
Once cooked, remove the lemon zest, place the rice in a bowl and let it cool.
STEP 2
Beat eggs in a bowl with sugar.
Meanwhile the rice will have cooled down. Combine egg and sugar and, little by little, flour previously sifted with yeast.
Mix well to blend. Create many small balls.
STEP 3
In a narrow pan with high sides put plenty of sunflower oil to heat.
When it has the right temperature (it is the right temperature when you put a piece of dough and it immediately starts to sizzle) start frying the balls a few at a time.
Turn often to make cooking homogeneous.
Once cooked, place on a plate with absorbent paper.
Roll in granulated sugar when they are still warm.
The RICE FRITTERS are ready!
FILLING
If you have a sweet tooth like me you can stuff rice pancakes.
After you've made the cream, put it in a pastry bag and fill the pancakes.
PREPARE PASTRY CREAM
Ingredients for about 3 cups of pastry cream: 2 1/4 cups of whole milk, 6 large egg yolks, 2/3 cup of sugar, 1/3 cup of cornstarch, 1 vanilla bean, divided lengthwise.
METHOD.
In a medium bowl, whisk together 1/2 cup of milk, egg yolks, 1/3 cup of sugar, and cornstarch. Transfer the remaining 1 3/4 cups of milk to a medium-heavy saucepan.
Scrape the seeds from the vanilla pod; add pod. Sprinkle 1/3 cup of the remaining sugar, letting the sugar sink to the bottom undisturbed.
Put the pan over medium heat and cook over low heat without stirring.
Whisk the hot milk mixture, then gradually whisk the egg yolk mixture. Return to the saucepan over medium heat and cook, stirring constantly, until the custard has thickened, for about 1 minute.
Remove from heat, remove the vanilla pod and whip the cream until smooth. Transfer to a bowl and press the cling film directly onto the surface. Cool until cold, about 4 hours before using.
STORAGE
Sweet rice pancakes can be stored for a maximum of two days in the refrigerator.
They can be frozen raw.
NOTE
Instead of lemon peel you can use orange peel.
FOLLOW ME ON INSTAGRAM