Easy BACON PASTA recipe
You don't always have to spend a lot of time in the kitchen to prepare a tasty pasta dish.
This easy BACON pasta recipe with SPINACH is very quick to prepare, just long enough to cook the pasta or while you are setting the table and it is ready.
A tasty dish that conquers everyone, including children, and then there is also some vegetables!
I used fresh spinach, but you can also opt for frozen ones. To make it, just cook the spinach with a drizzle of extra virgin olive oil, add bacon to the pan just before draining the pasta al dente, then "cook it" just long enough to add flavor to the sauce and the final result will be truly delicious.
The type of pasta to use is indifferent, fusilli as in the recipe, but also penne, mezze penne, calamarata but you can also choose spaghetti, bucatini or the pasta you prefer.
To finish and give a touch of creaminess you can add double cream or buffalo mozzarella that goes well with the flavor of the bacon and the earthy flavor of the spinach.
Now let's see together how to prepare easy BACON PASTA recipe with SPINACH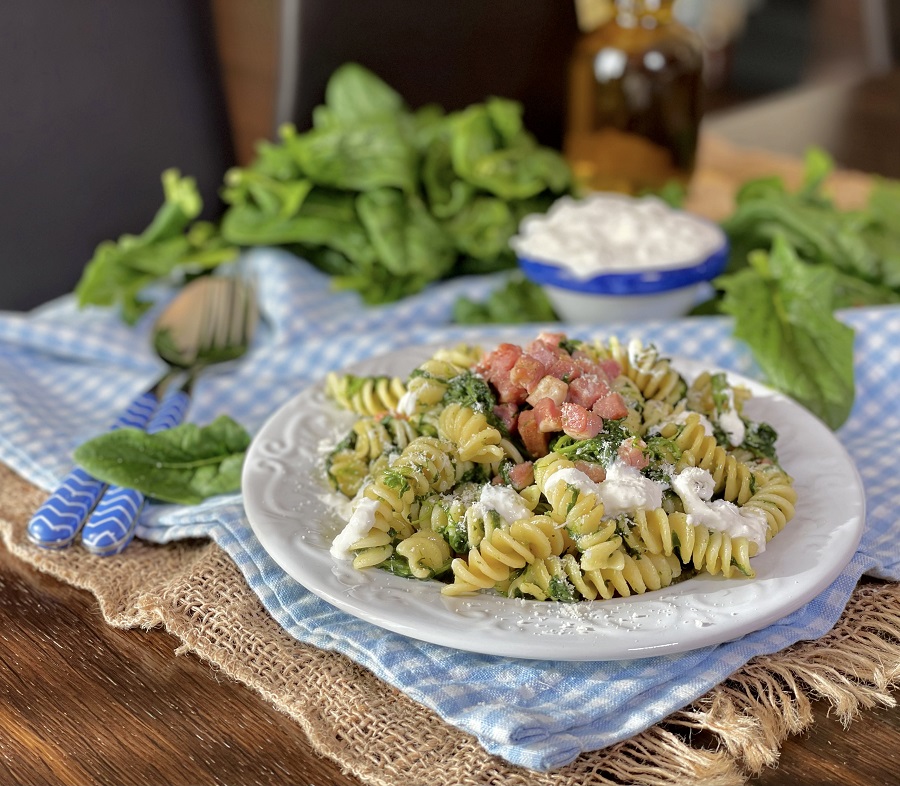 Difficulty

Very easy

Cost

Very cheap

Preparation time

10 Minutes

Cooking time

12 Minutes

Serving

4

Cuisine

Italian
Ingredients
3
/
4
pound
pasta
(

fusilli, penne or other type of pasta about 320 g

)
spinach
(

Fresh spinach 4 bunches or frozen 8 cubes

)
bacon
(

5 ounces about 150 g

)
extra-virgin olive oil
(

2 tbs

)
double cream
(

or burrata mozzarella 2 ounces about 50 g

)
parmesan cheese
(

grated parmesan 4 tbsp

)
Steps
NOTE
If you use fresh spinach you have to wash them thoroughly under running water and then pat them dry gently with a clean towel.
On the other hand, if you use frozen spinach, they will be blanched in water and then squeezed to remove the excess.
STEP 1
Put 2 tablespoons of extra virgin olive oil and fresh spinach in a non-stick pan, cook over low heat to dry them.
Once the spinach is ready, remove from the pan and set aside.
In the meantime, put a saucepan with plenty of salted water on the stove that we will need to cook the pasta. When it reaches the boil, throw in the pasta and follow the cooking times indicated on the package.
STEP 2
Take the pan back and add a tablespoon of oil, diced bacon and let it brown over low heat for a couple of minutes.
Add spinach, lightly salt and leave for a couple of minutes.
STEP 3
When there are 2-3 minutes until the pasta is cooked, drain and transfer to the pan with spinach and bacon and finish cooking by adding 1 tablespoon of the pasta cooking water and double cream.
In this way, the pasta will flavor and form a very light cream.
Once cooked, remove from heat, add 3 tablespoons of grated Parmesan cheese, mix.
Serve immediately.
STORAGE
I recommend eating freshly prepared BACON and SPINACH pasta.
If left over, you can keep in the fridge in an airtight container for a maximum of 1 day.
NOTE
I used fresh spinach but you can also use frozen ones.
FOLLOW MY INSTAGRAM PAGE