CHIACCHIERE FRAPPE Italian Carnival food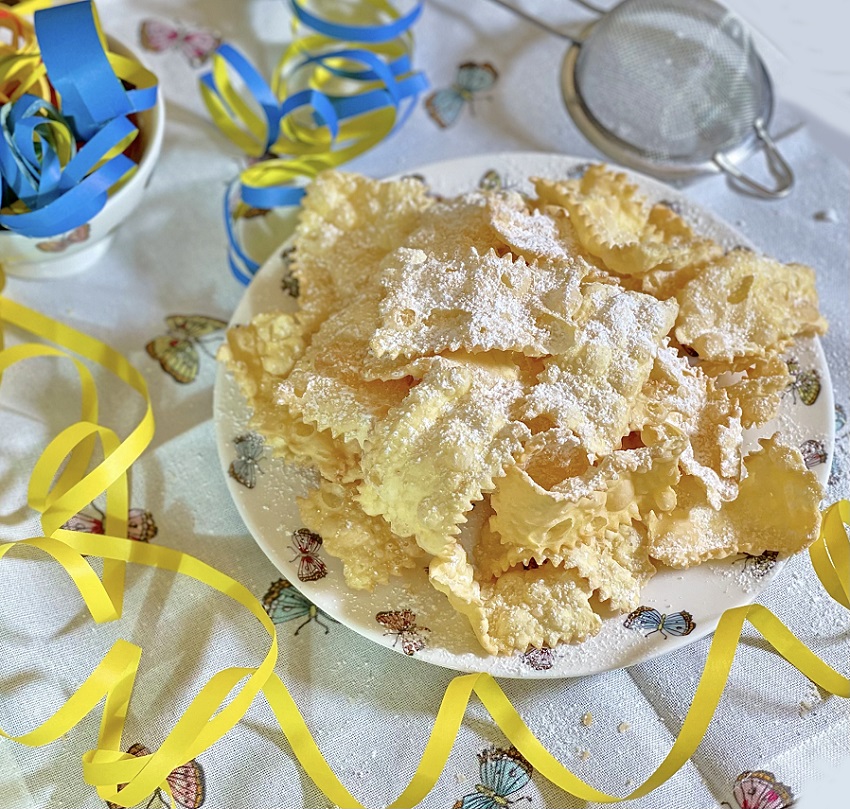 CHIACCHIERE FRAPPE Italian Carnival food
Without a doubt, traditional sweets are an integral and indispensable part of fun at Carnival.
Crunchy, sparkling and super addicting Chiacchiere are a typical food during the "MARTEDI' GRASSO" or the Carnival season in Italy. Both children and adults love them!
Depending on the region they differ in shape, name and even slightly in the ingredients.
Chiacchiere, pronounced as [kjakˈkjɛːre], is their typical name in Lombardy, crostoli in Veneto, frappe in central Italy and bugie in Liguria and Piedmont.
But the super-delicate, sweet lemon-flavored strips of dough are fried in oil and then drizzled with powdered sugar is all they are.
With a few simple ingredients you have a truly exceptional result that the whole family will love.
There are some tricks that will make the whole preparation even easier and your chatter simply irresistible!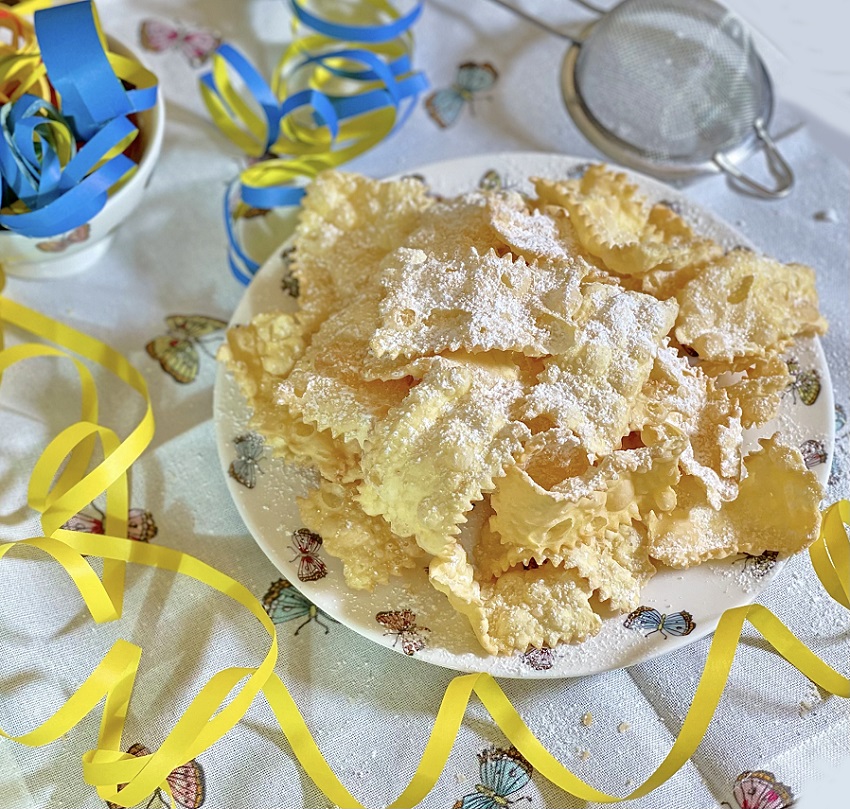 Difficulty

Easy

Cost

Very cheap

Preparation time

20 Minutes

Cooking time

20 Minutes

Serving

8

Cuisine

Italian
Ingredients
cake flour
(

3 cups (14 oz) flour

)
rum
(

2-3 tbsp rum brandy or other strong liquor

)
lemon zest
(

1 lemon zest

)
vegetable oil
(

for frying

)
icing sugar
(

for dusting

)
milk
(

1-2 tbsp warm milk if needed

)
Steps
STEP 1
Put flour and yeast sifted together in a large bowl. Add sugar and softened butter and mix. Lightly beat the eggs and add to the mixture together with grated lemon zest.
Mix well with a fork.
Finally, add a tablespoon of rum or other liqueur, it serves to make the pancakes more crunchy but leaves no taste.
STEP 2
Work the dough with your hands until it becomes smooth and firm.
If it is too crumbly, add a spoonful of warm milk.
Wrap the dough in cling film and let it rest for 30 minutes.
STEP 3
After it has rested, cut a piece about ½ inch wide from the dough and sprinkle with flour.
If using the pasta machine, set the roller to 0 and pass the dough. Fold it in half, and move on to the next setting again.
It is also okay to use a rolling pin by hand: roll out the dough thin, fold in half and roll out a little thinner.
Repeat the folding process preferably 2 times on each setting.
STEP 4
Use a pastry wheel to cut the dough and cut the dough into 1×4-inch strips scored in the center.
In a deep pan or deep fryer heat vegetable oil. The best temperature for frying is about 350F.
Once the oil is heated, lower the temperature to prevent it from overheating.
Fry the chiacchiere for a few minutes on each side, as soon as they are slightly golden, transfer to absorbent paper.
Put the chiacchiere on a serving dish and sprinkle generously with icing sugar.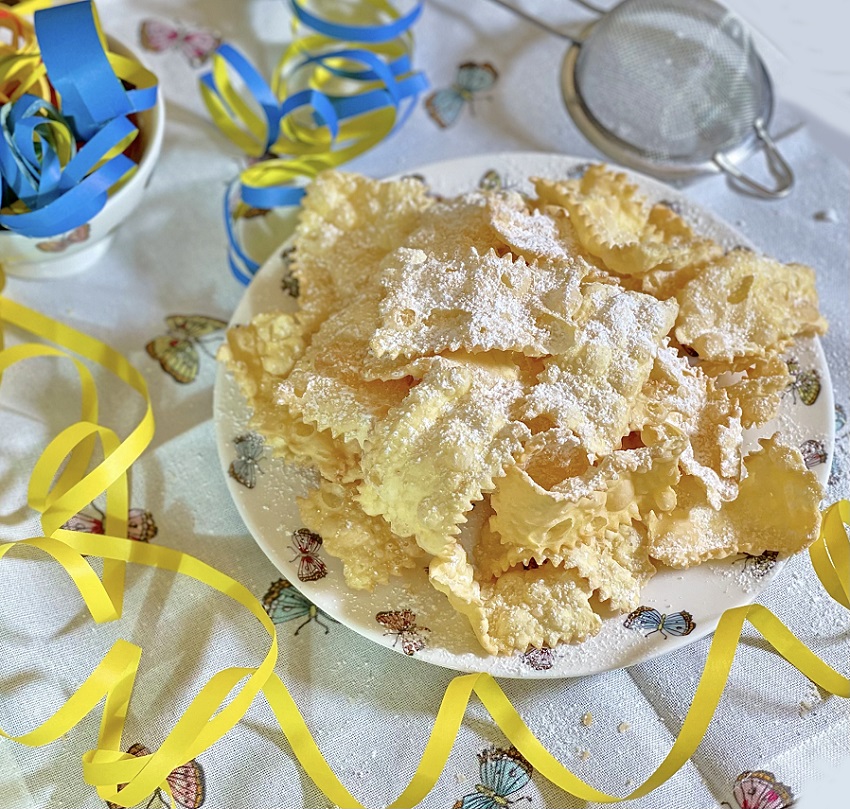 NOTE
If you don't have a cooking thermometer, try frying a piece of dough: if it floats in less than 3 seconds, the oil is ready.
If using the fresh pasta machine the sheet breaks, fold it again and pass it again.
You can flavor the dough with vanilla instead of grated lemon zest.
STORAGE
I advise you to consume freshly prepared "chatter" because only in this way can you savor their crunchiness. You can store in an airtight container for a maximum of 2 days away from humidity.
They are not suitable for frozen food.
FOLLOW MY INSTAGRAM PAGE