Crispy Chicken CESAR SALAD


Raise your hand if you don't love Cesar Salad!

It is impossible that you do not love this dish, there is certainly a version for you.

CESAR SALAD is perhaps one of the most loved dishes in the United States, you can find it everywhere: from street food to refined restaurants and everyone has their own version.

Whenever I come to the USA I cannot fail to eat a nice plate of Cesar Salad and whatever the version I am always satisfied.

But I must confess that my favorite, even if it is not very dietetic, is the one with fried chicken, but you can also use boiled chicken, grilled or any leftover chicken.

This is also a great recipe for recycling leftovers and it's handy because you can prepare it in advance and it doesn't need to be heated, so you can take it to the office too.

But remember making Caesar salad dressing is an exercise in the art of stacking salty ingredients to create flavor.

There is Parmesan and Worcestershire sauce, in addition to the salt itself there is also garlic.

The success of a dish also depends on a delicious and balanced dressing, prepared with the right quantities of each ingredient.
Difficulty

Very easy

Cost

Cheap

Preparation time

15 Minutes

Cooking time

15 Minutes

Cuisine

American
Ingredients
for the cesar salad
4
tablespoons
parmesan cheese
cesar sauce
1
/
2
cup
extra-virgin olive oil
1
tablespoon
Worcestershire sauce
2
tablespoons
lemon juices
black pepper
(

ground pepper q.b.

)
vinegar
(

White wine vinegar 1 tbsp

)
Steps
STEP 1
Choose the most tender and internal leaves of the romaine lettuce, wash and dry them without breaking them.

Cut the bread into slices 1 cm high, remove the crust and cut it into squares.

Blend a clove of garlic and add it to 2 tablespoons of extra virgin olive oil, pour it into a non-stick pan and toast the squares of bread over medium heat.
PREPARE THE SAUCE
Put the lemon juice in the glass of the food processor, the egg previously cooked in boiling water for 1 minute, the vinegar, the garlic, the Worcestershire sauce, the salt and the freshly ground pepper.

Begin to blend the mixture, adding 150 ml of extra virgin olive oil a little at a time, until you get a thick sauce similar to mayonnaise.
PREPARE FRIED CHICKEN STEP 1
Pour the Greek yogurt into a large bowl with a pinch of salt and pepper to taste.

Mix everything with a spoon.

Dip the chicken strips and cover them well.
PREPARE FRIED CHICKEN STEP 2
Bread the chicken a few pieces at a time.

Fry for a few minutes in a pan with plenty of seed oil (oil temperature of about 170-180 °).

When they are golden, drain them and put them on a plate with absorbent paper.

Salt them lightly.
PREPARATION CESAR SALAD WITH CHICKEN
Put the romaine lettuce leaves on the bottom of a plate, arrange the strips of chicken in the center, add the croutons, the flakes of Parmesan cheese and finally season everything with the sauce obtained.

Serve at room temperature.
NOTE
For a more delicious salad, add some bacon or pancetta: lightly toast it in the pan with the oil before adding the chicken pieces.
If you like strong flavors, add a teaspoon of mustard to your sauce or a desalinated anchovy cut into small pieces.
For a lighter sauce, use only oil, lemon juice, mustard, salt and pepper: combine the ingredients in a jar and shake it energetically until you get a homogeneous and well-tied sauce.
Follow my INSTAGRAM PAGE
Other recipe MENU Home Page
Some examples below SEAFOOD PASTA recipe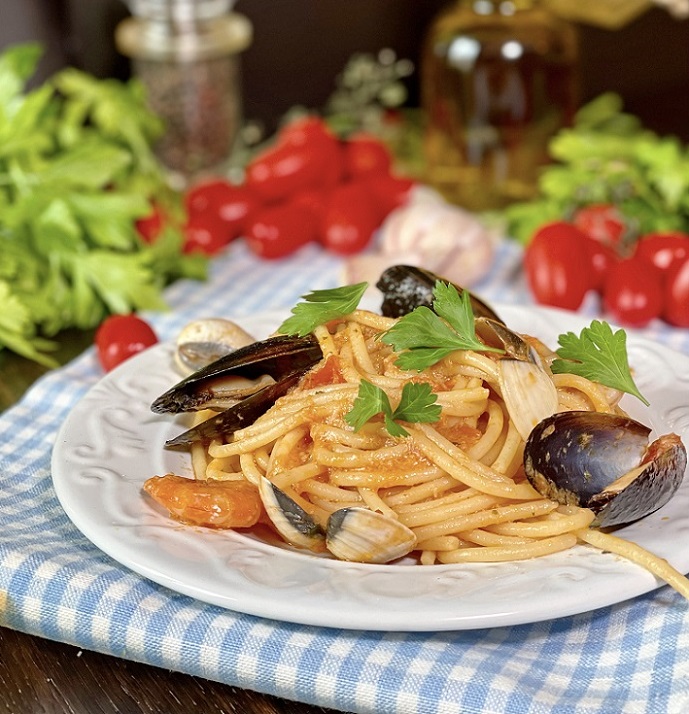 Baked MAC and CHEESE
BEER-BRAISED PORK KNUCKLES
ORIGINAL BOLOGNESE recipe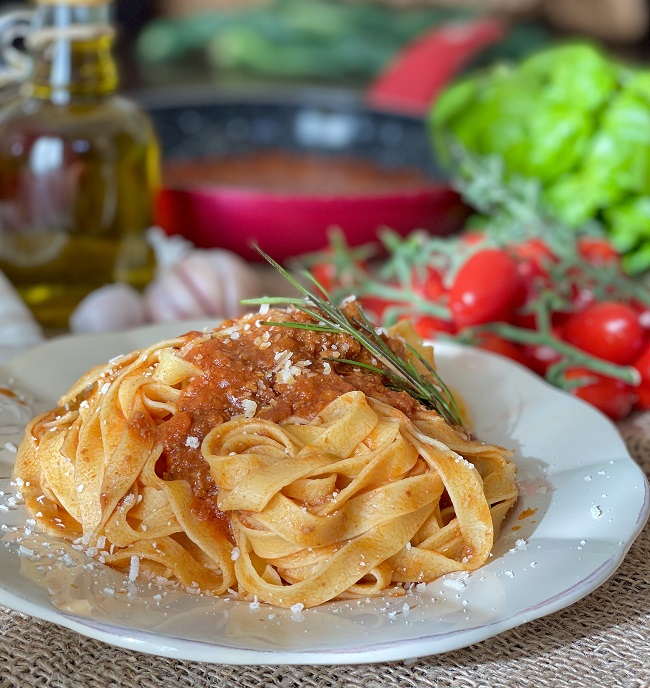 EASY Profiteroles