Italian CHESTNUT flour CAKE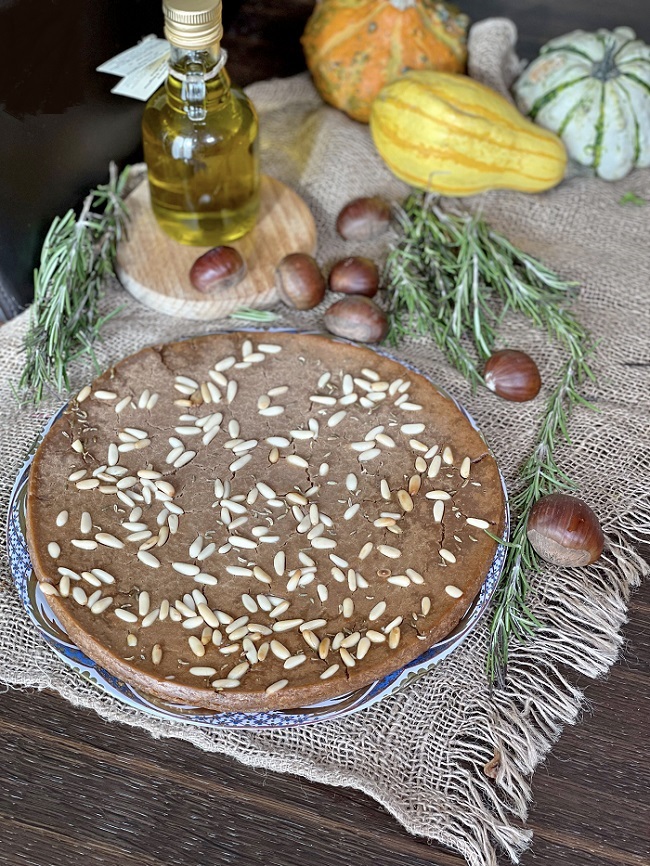 The "Castagnaccio" chestnut flour cake is a simple autumnal Italian dessert with a rustic flavor made from chestnut flour.
 
Not very sweet, it has a soft and compact consistency at the same time but moist and almost tender in the center.
 
The recipe is typical of the popular tradition of Tuscany and of the regions where chestnuts have always been present in abundance.
 
It has peasant origins when with few ingredients it was necessary to create an energetic and tasty dish.
 
Only later was it enriched with raisins and pine nuts.
 
However, it remains a poor dessert, without sugar, eggs, butter or flour and therefore gluten-free and suitable for celiacs.
 
It is a very easy and quick preparation, childproof. In fact, it is enough to mix all the ingredients together and then pour into the pan.
 
Like any traditional preparation there are numerous versions: those who prepare it with sugar; who with milk; and even those with chocolate.
 
What I am giving you today is the original Castagnaccio recipe that my grandmother used to prepare: the traditional recipe without sugar, eggs and butter.
 
Follow my instructions and you will get a sweet with a tender consistency that melts in your mouth.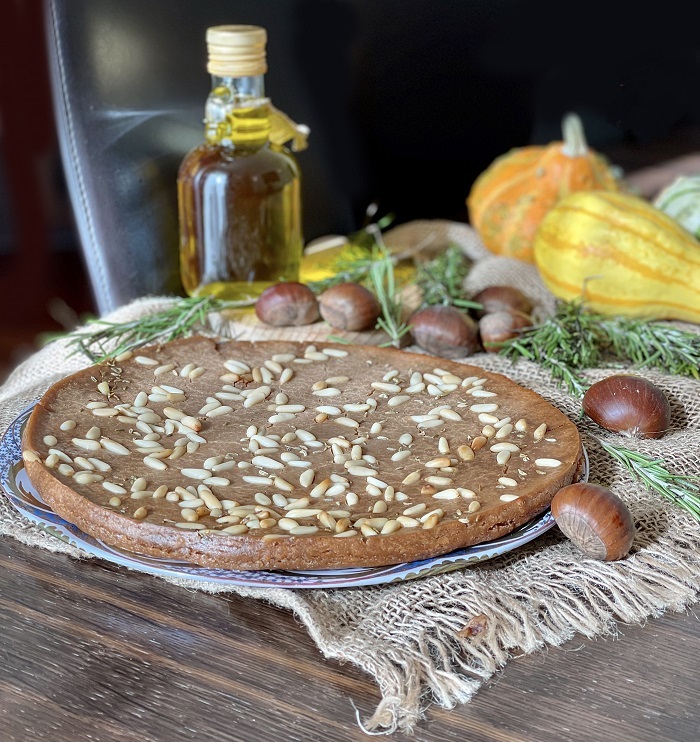 Difficulty

Very easy

Cost

Very cheap

Preparation time

20 Minutes

Cooking time

20 Minutes

Serving

8/10

Cooking method

Oven

Cuisine

Italian
Ingredients
chestnut flour
(

2 cups about 250 g

)
water
(

1 1/2 cup about 400 ml

)
raisin
(

1 3/4 oz about 50 g

)
pine nut
(

1 3/4 oz about 50 g

)
salt
(

1 pinch fine sea salt

)
rosemary
(

1 sprig of rosemary

)
extra-virgin olive oil
(

to grease baking tray and sprinkle castagnaccio

)
Steps
STEP 1
Preheat the oven to 175 ° C (350 ° F) and soak the raisins in warm water with a tablespoon of vinsanto.
Put chestnut flour and salt in a bowl. Pour in water a little at a time, stirring constantly to avoid lumps.
Add the squeezed raisins and half of the pine nuts, then mix again.
STEP 2
Grease a 10 inch / 26 cm round pan with plenty of extra virgin olive oil and pour the batter inside.
Sprinkle with remaining pine nuts, then add rosemary needles.
Drizzle with extra virgin olive oil and cook for about 25-30 minutes. The chestnut cake should become dry on the surface and covered with fine lines. Let it cool before eating. The Castagnaccio is ready.
NOTE
The pan in which to cook the castagnaccio must be with low edges.
Chestnut flour must be very fine.
STORAGE
The castagnaccio can be kept in the refrigerator for a maximum of two days.
Follow my Instagram page, click here
Other recipes can be found on the home page, some examples below Easy ZUCCOTTO recipe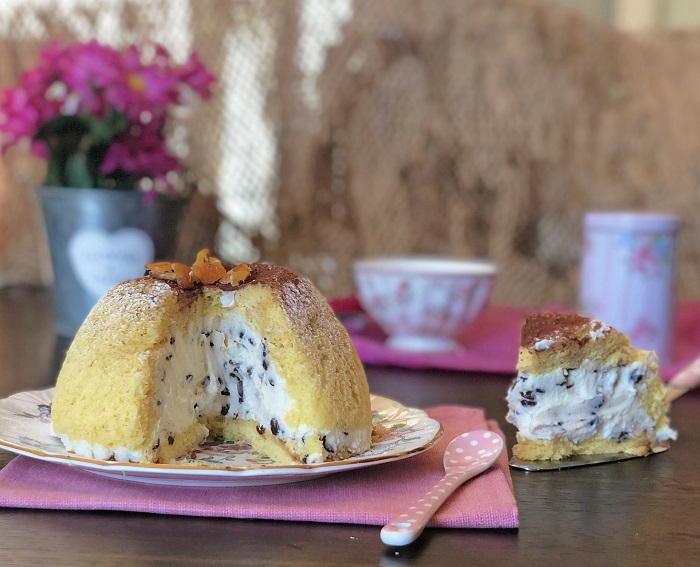 Italian STUFFED VEGETABLES
SEAFOOD PASTA recipe
How to Make Four Cheese Gnocchi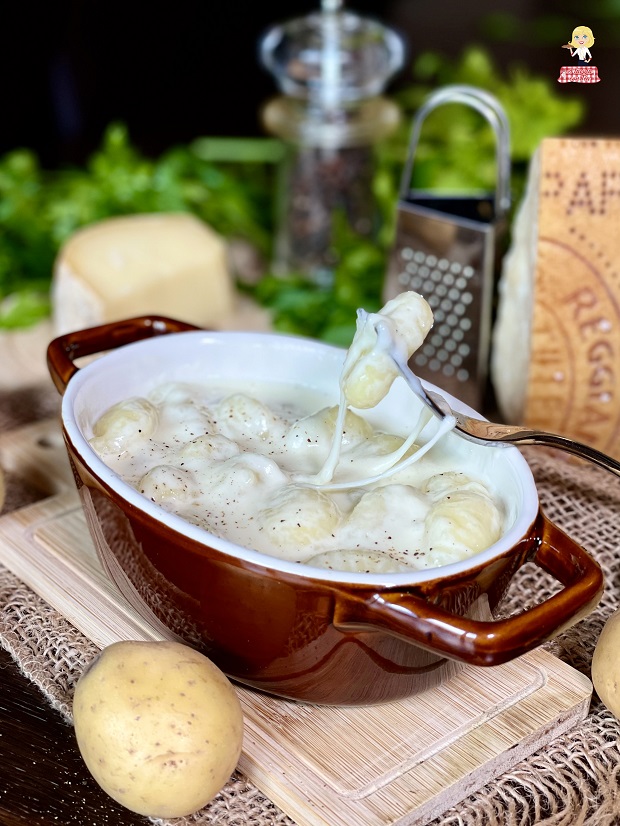 Italian FOCACCIA BREAD instant recipe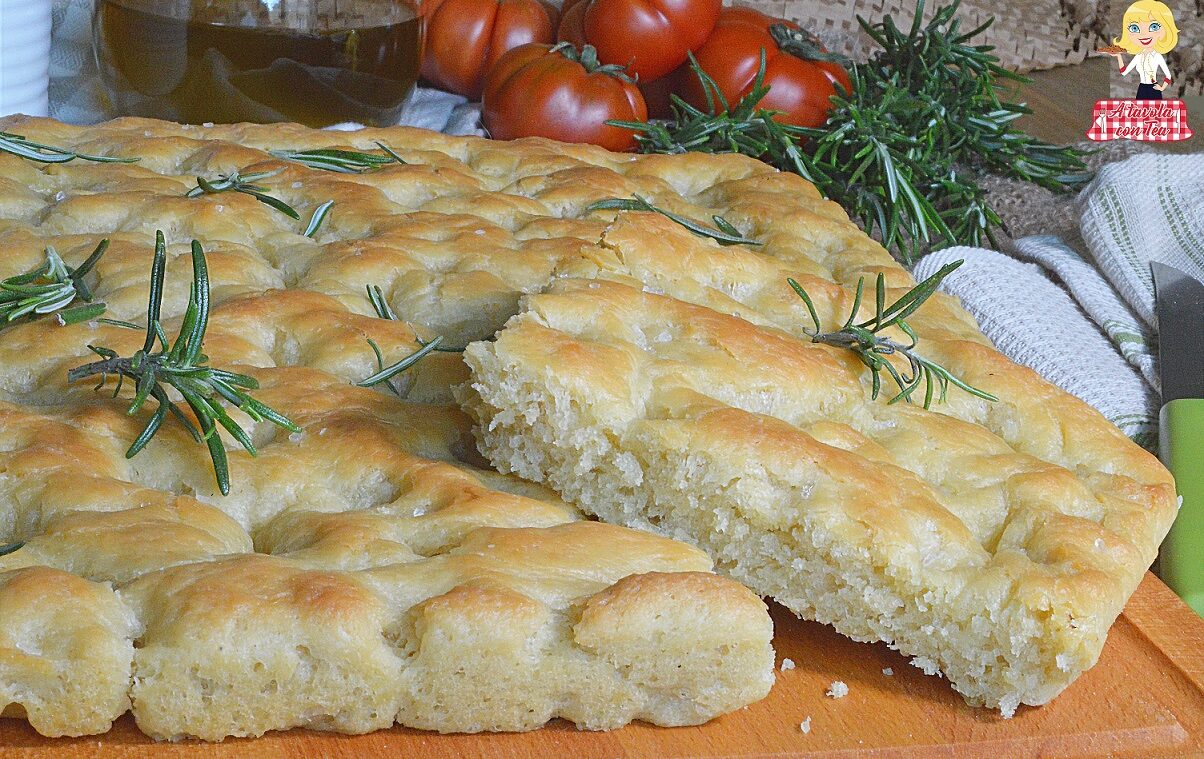 Easy CARBONARA