The homemade chocolate granita is a fresh and creamy Italian dessert (very popular especially in Sicily) that you can prepare at home with a few simple ingredients and – following this simple recipe – either with or without using a n ice-cream maker. The Sicilian granita is a dessert that you must try in its countless variations, especially if you are enjoying a holiday on this beautiful island: almond, coffee, lemon, mulberry…almost always accompanied by a delicious brioche.
But if you cannot visit Sicily for the time being, you can at least prepare an excellent homemade chocolate granita, with all the creaminess and scents of the artisanal one. If you have an ice-cream maker, you will get a chocolate granita with a perfect texture in just a few simple steps.
Otherwise, with a little patience, you can make a great chocolate granita even without an ice cream maker, using only a plastic tray and a spoon or a fork. Below I show you both methods – with and without an ice cream maker – for making a delicious homemade chocolate granita!
You might also be interested in these recipes: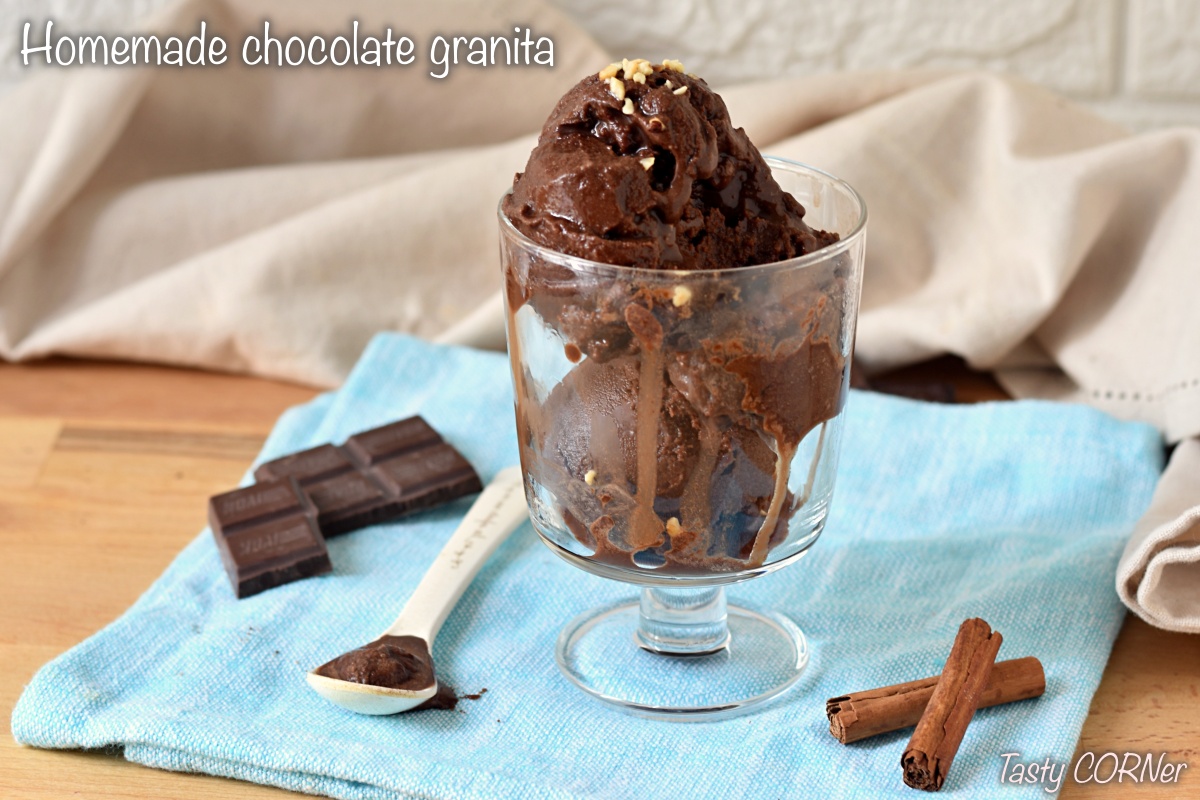 Difficulty

Easy

Cost

Very cheap

Preparation time

40 Minutes

Rest time

5 Hours

Serving

4 servings

Cooking method

No cooking

Cuisine

Italian regional

Seasonality

Summer
Ingredients for about 4 cups of chocolate granita
To prepare the gluten-free chocolate granita you must check that the unsweetened cocoa and chocolate chips have the words "gluten-free" on the label.
For the chocolate granita
1
1
/
4
cup
sugar
(

250 gr – 8,8 oz

)
1
/
2
cup
cocoa powder
(

unsweetened; 60 gr – 2 oz

)
1
/
3
cup
dark chocolate drops
(

50 gr – 1,7 oz

)
1
pinch
cinnamon powder
(

optional

)
Some
drop
vanilla essence
360,19 Kcal
calories per serving
Power 360,19 (Kcal)
Carbohydrates 81,80 (g)

of which sugars 71,40 (g)

Proteins 3,98 (g)
Fat 7,33 (g)

of which saturated 3,19 (g)

of which unsaturated 1,25 (g)

Fibers 5,68 (g)
Sodium 16,62 (mg)
How to prepare the chocolate granita with or without an ice-cream make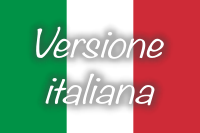 Puoi trovare la versione italiana di questa ricetta qui!
A. Prepare the cocoa and chocolate blend 
To prepare the homemade chocolate granita start by preparing the blend, which must first cool at room temperature and then in the refrigerator for at least 4 hours if you use the ice cream maker.
First, place the unsweetened cocoa powder in a bowl and add sugar, cinnamon and some drops of vanilla extract. Mix well with a fork or a hand whisk. Bring water to a boil in a saucepan, then pour some into the bowl.
For now, you only need to add enough water to dissolve the sugar and cocoa. Mix thoroughly with a whisk or fork to dissolve any lumps. Add the chocolate chips.
Stir briefly and immediately pour the rest of the boiling water into the bowl, to melt the chocolate to perfection. When you have obtained a smooth and homogeneous mixture let it cool to room temperature.
Now follow procedure B1 to make the granita with an ice cream maker or B2 to make it without an ice cream maker.
B.1 Prepare homemade chocolate granita with an ice cream maker
There is nothing simpler than preparing a chocolate granita with an ice cream maker. When the mixture is warm enough to be placed in the refrigerator, cover the bowl with a sheet of cling film and place it in the coldest part of the refrigerator for at least 4 hours.
Then, when the mixture is cold, pour it into the ice cream maker. Get the ice cream maker running and let it work by setting a 40 minutes program. However, check your chocolate granita  already after 25-30 minutes: it should be quite thick but still creamy.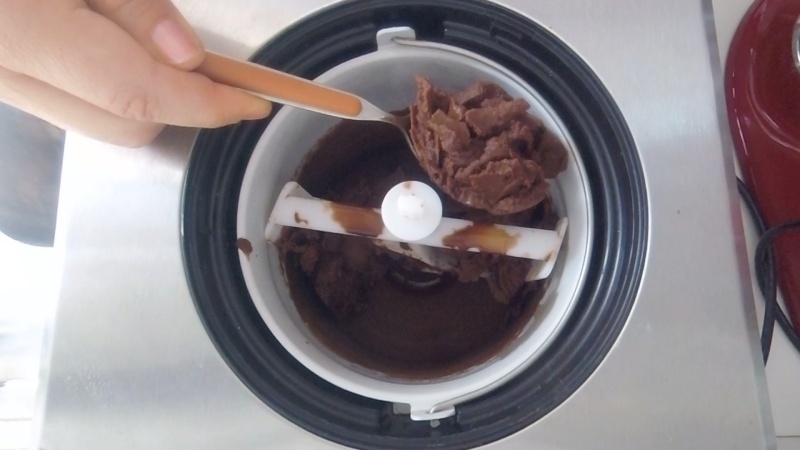 If not, keep running the ice cream maker until you get the desired consistency. Otherwise, your chocolate granita is ready to enjoy!  You can serve it straight up or garnished with whipped cream or even chopped pistachio.
B.2 Prepare chocolate granita without an ice cream maker
If you don't have an ice cream maker, let the mixture cool to room temperature and then pour it into a plastic or steel container (low and wide is best).
Cover it with a lid or a sheet of cling film and place it in the freezer for 30 minutes, after which scrape it with a tablespoon or a fork to break up the ice crystals. Cover the container again and place it back in the freezer.
Repeat this process for another 3 or 4 times every half hour  (if you see that the granita freezes quickly, repeat the operation every 15 minutes) until you get a creamy texture. Your chocolate granita is ready to enjoy!
How to store the homemade chocolate granita
The homemade chocolate granita keep the right texture for 4 or 5 hours, beyond that it may freeze. If it happens you can leave it about ten minutes at room temperature, just long enough to break it into large pieces; then transfer it into a blender and grind it briefly until you get the right texture.
Tips and variations
Cinnamon is a spice widely used in Sicilian granita, but not everyone likes it. If you do not like it you can omit it.
Not all chocolate granita recipes call for chocolate; often only cocoa is used: chocolate in my opinion gives a creamier texture to the granita, but if you prefer you can omit it and use another 1/2 cup (60 grams) of unsweetened cocoa powder instead. If you use chocolate, still choose one with a cocoa percentage of at least 70 percent.
The amount of sugar can be slightly decreased or increased. Once the blend is ready, taste it and adjust accordingly, without going below 1 cup (200 grams) or exceeding 1 e 1/2 cup (300 grams).
Translation by Giacomo Meucci