The eggplant parmigiana is one of the most famous and loved dishes of the Italian cuisine, present in many regional traditions with slight variations. Today, I'm going to show you the authentic Italian eggplant parmigiana recipe, as it is usually prepared in Sicily, where it probably originated
In Italy there are many different variations of the egglplant pamigiana, all tasty, but the authentic Italian eggplant parmigiana has two features which differentiate it from the other versions:
1. Eggplants are fried as they are. This means that they don't need to be dipped in eggs, or sprinkled in flour or even in breadcrumbs. Instead it is important that they are sprinkled with salt and left to rest for about 1 hour.
2. The authentic Italian eggplant parmigiana is made of a few simple ingredients: eggplants, tomato and basil sauce and quite a lot of cheese (grated Parmesan cheese or grated caciocavallo). Other ingredients like mozzarella cheese, ham or meatballs, despite being tasty, are not part of the authentic Italian eggplant parmigiana recipe.
You might also like these recipes:
Difficulty

Easy

Cost

Cheap

Preparation time

45 Minutes

Rest time

1 Hour

Cooking time

30 Minutes

Serving

4 servings

Cooking method

Oven

Cuisine

Italian

Seasonality

Spring, Summer and Autumn
Ingredients for a 8×8 inch italian parmigiana
28
oz
aubergines
(

eggplants – 800 g

)
28
1
/
2
oz
tomato puree
(

800 g

)
1
/
2
cup
grated parmesan cheese
(

about 80 g – 2,8 oz

)
2
tablespoons
extra-virgin olive oil
q.s.
olive oil
(

for frying

)
Tools
1
Baking Tin
8×8 inch (21×21 cm)
How to make the authentic Italian eggplant parmigiana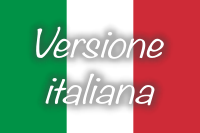 Qui trovare la versione italiana di questa ricetta!
To prepare the authentic Italian eggplant parmigiana, start by thoroughly washing the eggplants. Pat dry and cut them into slices not too thin, lengthwise or crosswise, it doesn't matter. Place the eggplants in a colander as you cut them.
Sprinkle them with a pinch of thin salt. Form layers, sprinkling every single layer with salt.
Then take something heavy (for example a pot full of water) and lean it on the eggplants, so that they will be well pressed. You can place a plate or a chopping board under the colander. Let the eggplants drain for at least an hour.
You will notice that some dark liquid (the water contained in the eggplants) will leak out from the colander. This step is very important for two reasons: first of all it allows you to remove the bitter aftertaste of eggplants.
Secondly – and most important – because the eggplants water loss will make them less spongy, and as a result they'll absorb less oil during cooking.
While the eggplants are purging, you can prepare the sauce: finely chop the onion and cut the garlic in half, removing the core. Let saute garlic and onion in 3 spoons of extra vergin olive oil.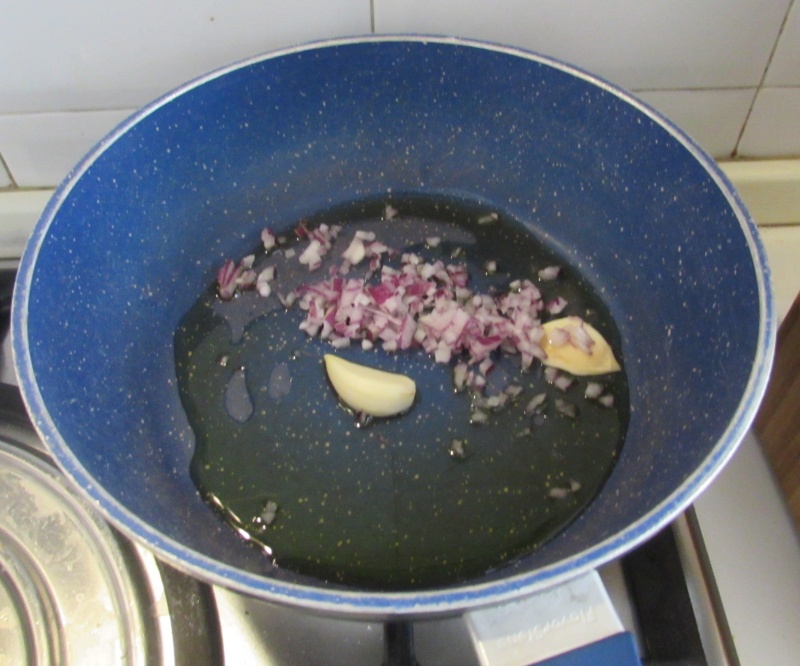 When the onion has become transparent add the tomato sauce, a pinch of salt and cover the pot with its lid. Simmer on low heat for about 15-20 minutes. Then turn off the heat and remove the garlic cloves.
Spent an hour, remove the weight from the eggplants. Rinse them one by one under running water to remove the salt, squeeze them well, then dry them thoroughly with a clean cloth.
Heat plenty of olive oil in a thick-bottomed saucepan, then fry the eggplants few at a time for about three minutes, turning halfway through cooking.
When the eggplants are slightly browned, drain them and pat dry on a paper towel to absorb any excess oil. Salt them lightly while they're still warm. Now it's time to assemble your authentic Italian eggplant parmigiana!
Spread the base of the baking dish with a ladleful of tomato sauce. I used a squared baking dish 8×8 inch, forming 4 layers of eggplants parmigiana; if you form only 3 layers, you can prepare a bigger parmigiana with the same amounts of ingredients. Arrange the fried eggplants next to each other, without overlapping.
Cover them with plenty of tomato sauce and garnish with fresh basil leaves. Cover everything with plenty of grated Parmesan cheese.
Proceed forming another layer of eggplants and tomato sauced, seasoned with basil and Parmesan cheese, until all the ingredients have been used up.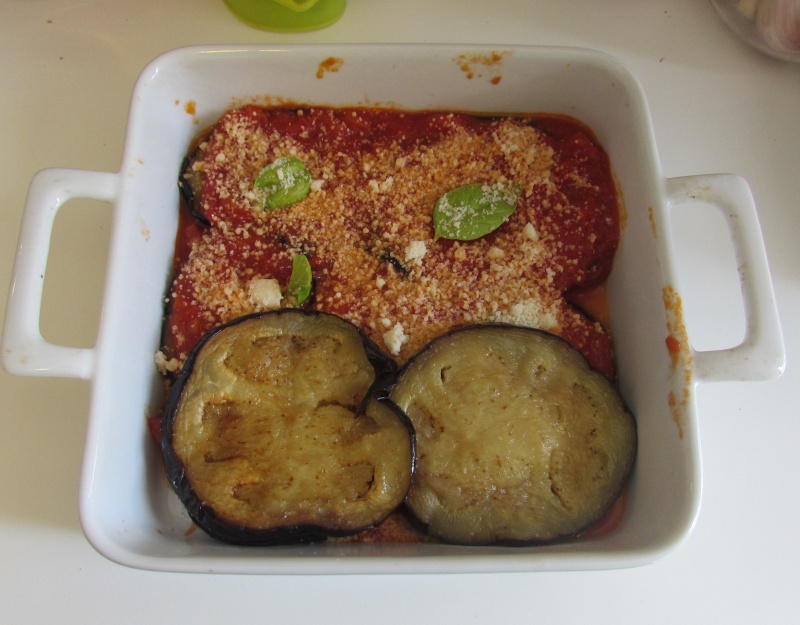 Complete the authentic Italian eggplant parmigiana with plenty of grated parmigiana cheese. Preheat the oven to 356° F (180 C°) and bake the eggplant parmigiana for 30 minutes.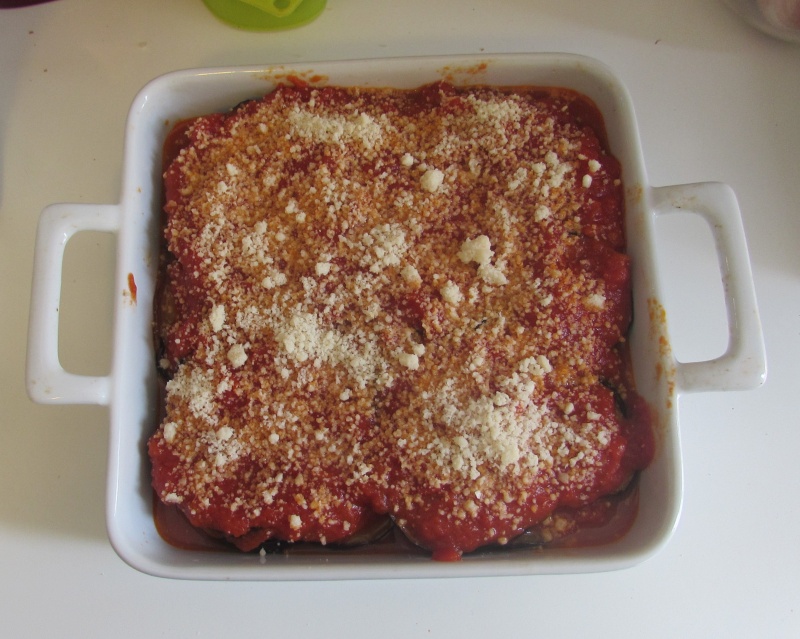 At the end of cooking, if the surface is not yet golden brown, turn on the grill for a short time. Take the eggplant parmigiana out of the oven and let it bring to room temperature for at least 15 minutes before serving.
The authentic Italian eggplant parmigiana is excellent either warm or cold, and it can be served as a substantial starter or as a vegetarian main course.
How to store and freeze the authentic Italian eggplant parmigiana
You can store the authentic Italian eggplant parmigiana well covered in the fridge for about 3 days. If you need to prepare the eggplant parmigiana well in advance, you can freeze it. Proceed as follows: fry the eggplants and assemble the parmigiana in a pan that can go into the freezer. Freeze it and then, when you want to eat it, you can cook it still frozen, increasing the cooking time by at least 15 minutes. If you have some leftover already cooked, you can freeze it and then thaw it in the microwave or in the oven.
No bake eggplant parmigiana
There is an even more simple version of the Authentic Italian eggplant parmigiana (here described) in Sicily: this recipe does not involve baking. It is prepared with a fresh tomato sauce and the fried eggplants are arranged directly on the plate, forming layers with tomato sauce, basil and parmigiana cheese.
Did you know?
The term "parmigiana" does not probably originates from the generous use of Parmesn cheese, but from the sicilian word "parmiciana", the term for the wooden strips that make up the shutters.
The analogy is with the disposition of eggplant slices, arranged next to each other, that reminds that of the shutters strips.
For this reason is common to call "parmigiana" others recipes that involves the ingredients disposition in a similar way, like zucchini parmigiana or potato parmigiana.