Mango sorbet is a fresh and creamy dessert, perfect to serve at the end of a meal or as a snack on hot days. Prepared without cream, milk or dairy products, mango sorbet has a strong taste and a velvety texture: if you love the taste of this delicious fruit, this sorbet will win you over at the first bite!
Mango sorbet is prepared with only 3 ingredients (plus water): mango pulp, sugar and a few drops of lemon juice to enhance its flavor and to preserve its colour. If you have an ice cream maker, preparing homemade mango sorbet will be very easy and in 30-40 minutes it will be ready to taste. Without an ice cream maker, the recipe is a little longer, because you'll have to mix it every half hour with a fork 5 or 6 times, putting it in the freezer each time, until you get the right consistency. But the result will still be excellent!
You might also be interested in these recipes: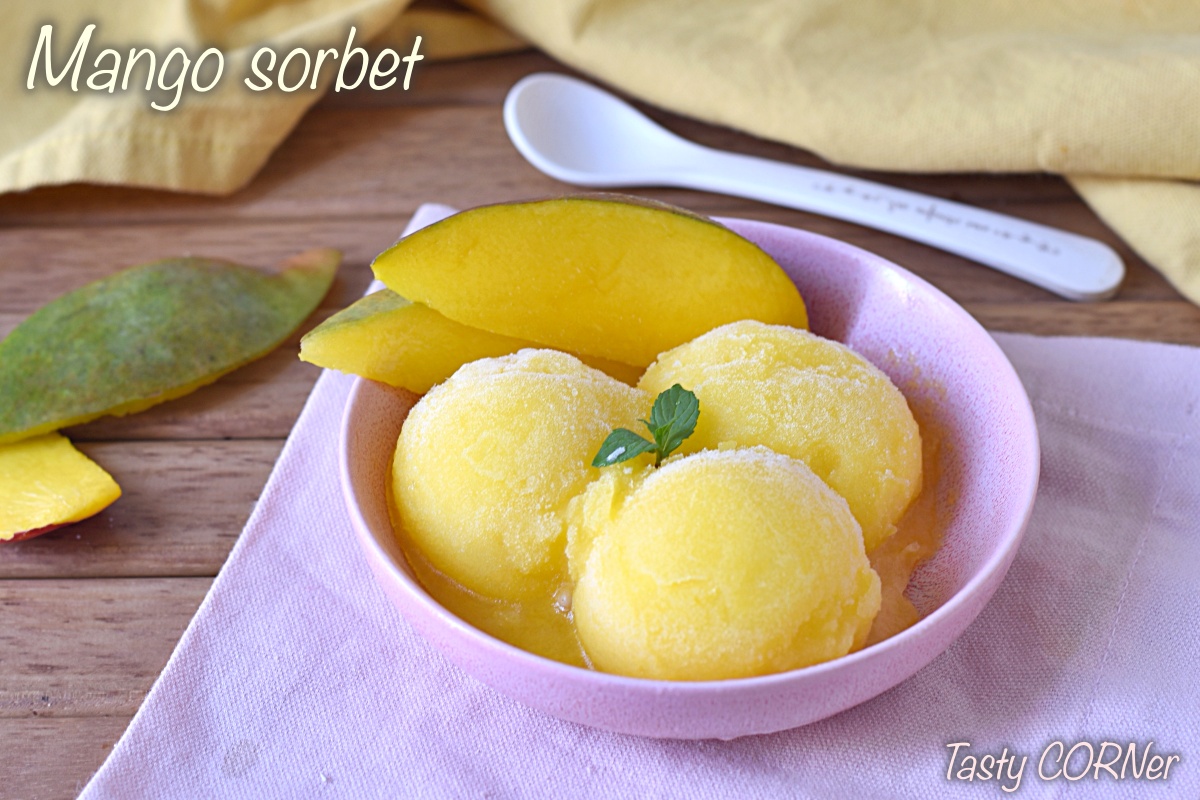 Difficulty

Very easy

Cost

Very cheap

Preparation time

1 Hour

Rest time

2 Hours

Serving

4 servings

Cooking method

No cooking

Cuisine

Italian

Seasonality

Summer
Ingredients for about 4 cups (1 kg) of homemade mango sorbet
3
cups
mangoes
(

about 2 mangoes peeled, seeded and diced; 500 grams – 17 oz

)
3
/
4
cup
sugar
(

150 grams – 5 oz

)
1
1
/
4
cup
water
(

290 ml -10 oz

)
2
tablespoons
lemon juice
222,63 Kcal
calories per serving
Power 222,63 (Kcal)
Carbohydrates 58,07 (g)

of which sugars 56,42 (g)

Proteins 1,04 (g)
Fat 0,48 (g)

of which saturated 0,12 (g)

of which unsaturated 0,26 (g)

Fibers 2,00 (g)
Sodium 4,65 (mg)
How to make homemade 3-ingredient mango sorbet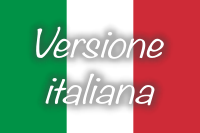 Puoi trovare la versione italiana di questa ricetta qui!
To prepare the mango sorbet, start by preparing a syrup of water and sugar: pour the sugar and water into a saucepan and heat it until the sugar has completely dissolved. Chill in the refrigerator for at least 2 hours (you can also prepare the syrup the night before).
Then clean the mangoes (for 3 cups of pulp you will need about 2 mangoes). Put the mango on a cutting board and with a knife cut it about two-thirds along the length.
Cut the pulp of the slice thus obtained without reaching the peel, forming a checkerboard.
With your hands, press on the peel, to separate the mango cubes well from each other, then remove them from the peel using your hands or with the help of a knife.
Do the same on the opposite side of the fruit, then cut the pulp stuck to the seed and remove the peel.
Put the diced mango in a blender and add the lemon juice. Also pour in about a quarter of the syrup.
Blend thoroughly, until you obtain a liquid and homogeneous mixture. At this point add the rest of the syrup and mix well.
Now, if you have an ice cream maker you can prepare the mango sorbet in 30-40 minutes. Pour the mixture into the ice cream maker and set a 45-minute program.
Already after 30 minutes, check your mango sorbet, which will be ready when it has a consistency that is hard enough to stick to the blades of the ice cream maker.
The time necessary to obtain the right sorbet consistency may vary according to the model and power of the ice cream maker, but generally 40 minutes is sufficient. You can serve your mango sorbet immediately, or keep it in the freezer for 1 hour / 1 hour and a half to obtain a more consistent sorbet.
If you don't have an ice cream maker, you can prepare the mango sorbet as follows: pour the mixture into a plastic or steel tray – preferably low and wide – cover it with a lid or a sheet of aluminum foil and place it in the freezer for 30 minutes.
Then take it out of the freezer and mix it with a fork to break up the ice crystals that have formed. Cover it again and put it back in the freezer for another 30 minutes. Repeat these operations 5-6 times, until you obtain a soft and creamy sorbet.
If it is too soft to form scoops, once you have obtained the right consistency let it rest in the freezer for 1 and a half to 2 hours.
How to store homemade sorbet
You can keep the homemade mango sorbet for 2-3 weeks in the freezer. It should be taken out about 15 minutes before serving.
Tips and variations
If you prepare the mango sorbet without an ice cream maker and forget to mix it, it will be completely frozen; to solve the problem, leave it at room temperature just enough to be able to remove it from the container, then cut it into pieces and blend it with a mixer. Put it back in the pan and continue with the mixing operations.
If you want to impress your guests, you can serve the mango sorbet "affogato" with a glass of vodka.