Ciambotta is a vegetable stew typical of southern Italy, a sort of Italian ratatouille: in Basilicata, Puglia, Campania (where it is also called cianfotta), Abruzzo you will find this dish of peasant origin, prepared, with small variations from area to area, during all the year. In summer, in particular, ciambotta is prepared using the typical vegetables of this period – peppers, eggplant, zucchini, tomatoes – to be served both as a side dish and as a vegetarian main course.
Like all ancient dishes of peasant origin, it is difficult to trace the original recipe of ciambotta since it was prepared with the vegetables available (although potatoes, eggplant and peppers are the most used). The ciambotta is ready in a few simple steps: just cut all the vegetables into cubes and, after lightly frying the garlic and onion, add them all together in a saucepan with a little water. The ciambotta then cooks for about 30 minutes and should only be stirred from time to time. If you can prepare it a little in advance, this vegetable stew will be even better because it will be able to flavor more.
You might also be interested in these recipes: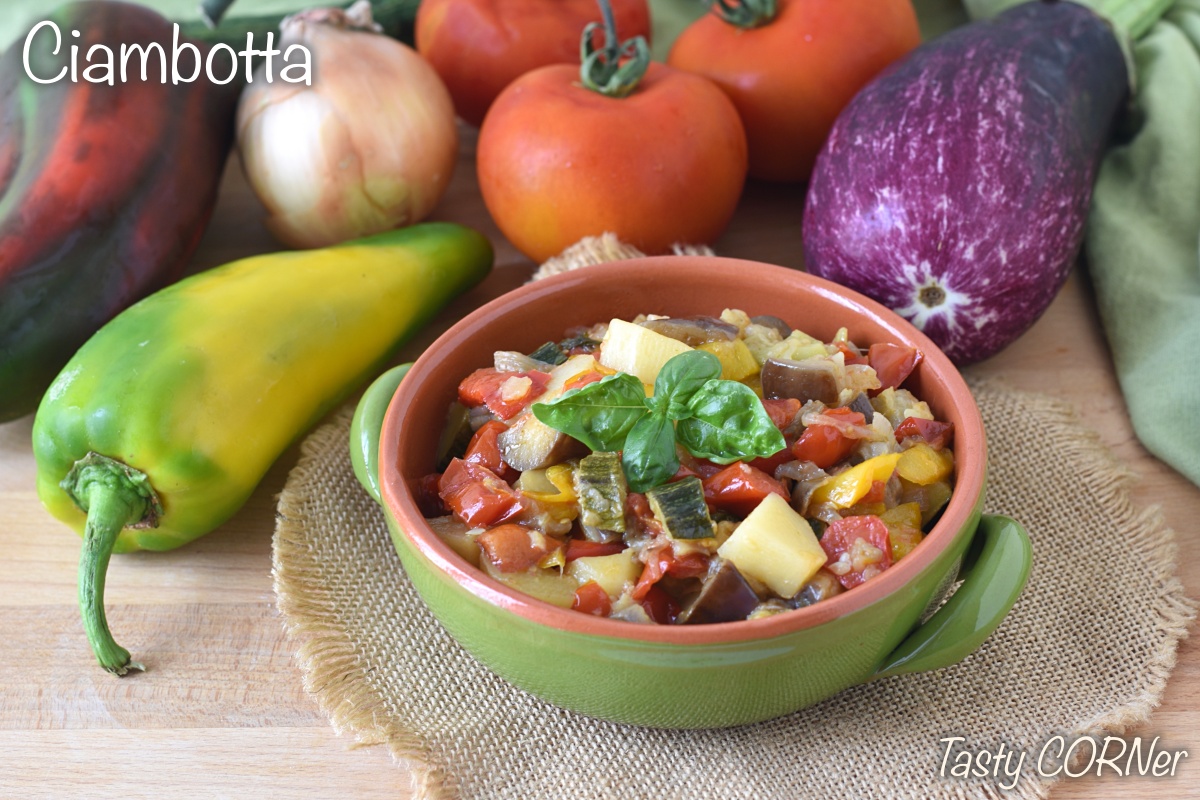 Difficulty

Very easy

Cost

Very cheap

Preparation time

25 Minutes

Cooking time

35 Minutes

Serving

6 servings

Cooking method

Stove

Cuisine

Italian regional

Seasonality

Spring, Summer and Autumn

Region

Basilicata
Ingredients for the Italian vegetable stew
2
potatoes
(

medium: 7 oz – 200 gr each

)
1
eggplant or aubergine
(

16 oz – 450 gr

)
2
bell peppers
(

small, yellow and red, 9 oz – 250 gr each

)
2
courgettes or zucchini squash
(

5 oz – 150 gr each

)
10.5
oz
cherry tomatoes
(

300 gr

)
5
tablespoons
extra-virgin olive oil
Tools
1
Pot
non-stick and thick-bottomed, with lid
How to prepare Italian ciambotta (mixed vegetable stew)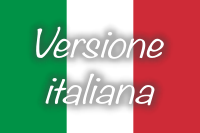 Qui puoi leggere la ricetta in italiano!
Preparing the ciambotta is very easy, the only thing that will take you some time is to cut the vegetables. You will have to try to form pieces of the same size as much as possible. Start by peeling the potatoes and cutting them into not too large cubes.
Wash and trim the eggplants, remove the stalk and the bottom and cut them into rather thick slices. Then reduce the slices into cubes. Wash the zucchini, then cut them into cubes.
Wash the peppers, remove the stalk and seeds. Then cut them into slices and remove the internal filaments with a knife. Finally, cut them into pieces.
Wash and dry the cherry tomatoes, then cut them into quarters. Peel the onion and cut it into slices.
As you cut the vegetables, you can combine them all (except the onion) in a large bowl as they will all be added to the pot together. Put a large thick-bottomed saucepan on the heat and add the oil.
Also add the garlic and the onion. Fry over low heat for about 5 minutes, then add the vegetables. Add salt, pepper, oregano and the chopped basil.
Mix well and leave to flavor for a couple of minutes. At this point add about 2/3 cup of water, mix and cover the pot with its lid.
Leave the ciambotta to cook for about 30 minutes on a low flame, stirring occasionally. Once the cooking time has elapsed, remove the lid and cook for another 5-10 minutes, in order to let the excess water evaporate. Put out the fire.
Serve the ciambotta hot or, even better, cold. You can offer it as an appetizer, as a side dish or as a vegetarian main course, accompanied by slices of toasted bread.
How to store
Ciambotta can be kept in the refrigerator, closed in a glass container, for 2 or 3 days.
Tips and variations
As mentioned, ciambotta can be prepared with your favorite vegetables. In many areas of southern Italy, a little chilli pepper is also added to the initial sauté. In some recipes, fresh tomato pulp or peeled tomatoes are used instead of cherry tomatoes. The ciambotta of Benevento (in Campania) usually includes green beans and chard among other vegetables.
The name of ciambotta also indicates richer preparations that include the addition of non-vegetarian ingredients: the Lucanian ciambotta, for example, also uses sausage and eggs. In Puglia there is also a fish-based ciambotta.