The savoy cabbage and potato soup is a healthy and cozy dish for cold weather, a vegetarian recipe which you can enjoy during winter ahead. In this typical winter soup, the taste of savoy cabbage is pleasantly softened by the potatoes, which falls apart when cooked, giving rise to a very creamy soup.
The cabbage and potato soup is delicious both on its own and with the addition of croutons, pasta or rice. It could also be an excellent vegan meal, however I suggest you add a little grated Parmesan to the cabbage soup at the end of cooking, because it gives the dish a fuller taste.
You may also like: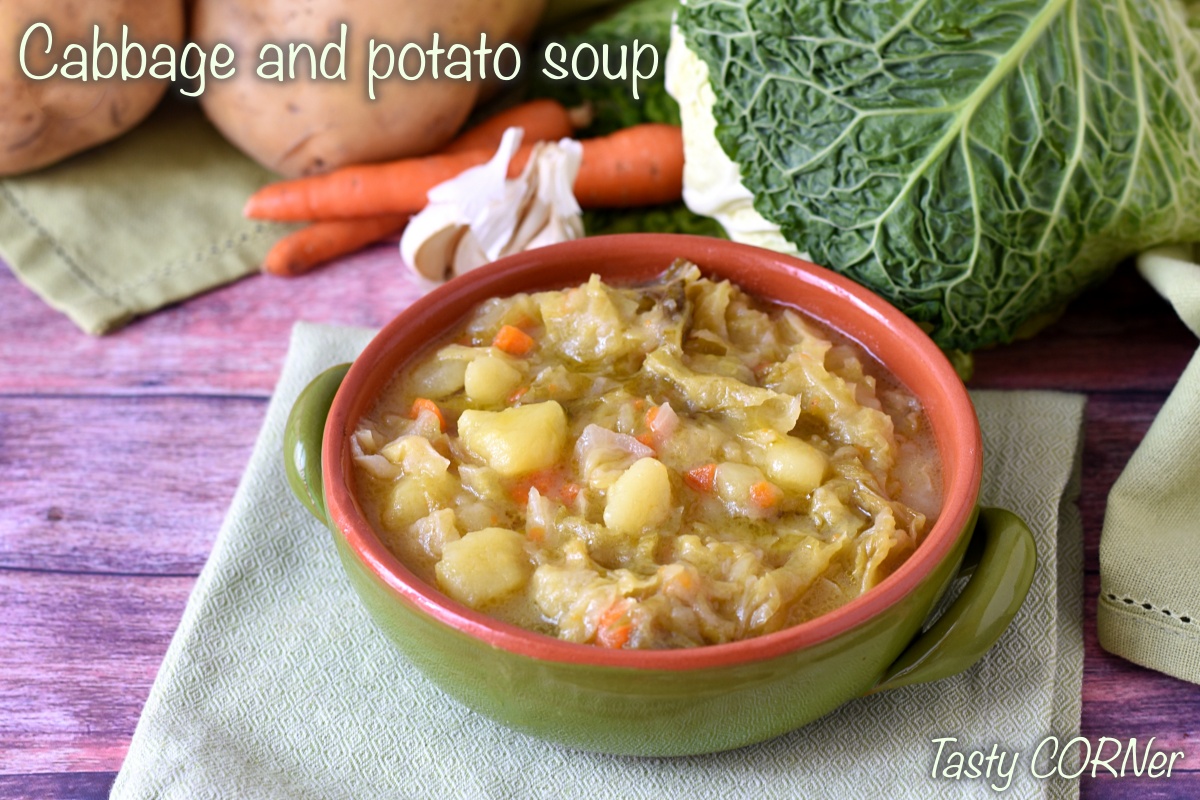 Difficulty

Very easy

Cost

Very cheap

Preparation time

15 Minutes

Cooking time

20 Minutes

Serving

4 servings

Cooking method

Stove

Cuisine

Italian

Seasonality

Winter
Ingredients for the cabbage and potato soup 
1
/
2
savoy cabbage
(

800 gr / 28 oz

)
3
potatoes
(

600 g / 21 oz

)
1
carrot
(

large or 2 smaller

)
2
tablespoons
parmesan cheese
(

grated

)
3
tablespoons
extra-virgin olive oil
How to prepare the cabbage and potato soup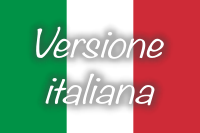 Qui puoi leggere la ricetta in italiano!
The first step in preparing the cabbage and potato soup is to lightly blanch the cabbage before adding it to the soup, so that it will cook quickly.
Remove the stem and peel off the cabbage leaves, thoroughly rinsing leaf by leaf. Remove the hard and fibrous midrib, especially in the outermost leaves.
Cut the cabbage leaves into strips; in order to do it quickly, you can overlap 4 or 5 of them, roll them up and proceed to cut.
Once cut into fine strips, you can boil the cabbage in plenty of lightly salted water for about 7 minutes. If you have a pressure cooker, 2 minutes from the whistle will be enough. 
Drain the cabbage and keep it aside. While the cabbage is cooking, peel the potatoes and cut them into cubes not too small . Clean and chop finely the carrot, celery and onion.
Fry the chopped carrot, celery and onion in a large pot over low heat in hot oil together with the peeled garlic clove.
Then add the potatoes with a pinch of salt and let them flavor for about a minute, turning them often. Sprinkle them with a little warm vegetable broth, in order to barely cover the potatoes.
Cover the pot with a lid and let cook over medium heat for 6-7 minutes. Then remove the garlic, add the cabbage and sprinkle  it again with a couple of ladles of warm broth.
Season with salt and pepper, and let the cabbage and potato soup cook with the pot covered for 10-12 minutes, stirring occasionally and adding more broth if it should shrink too much.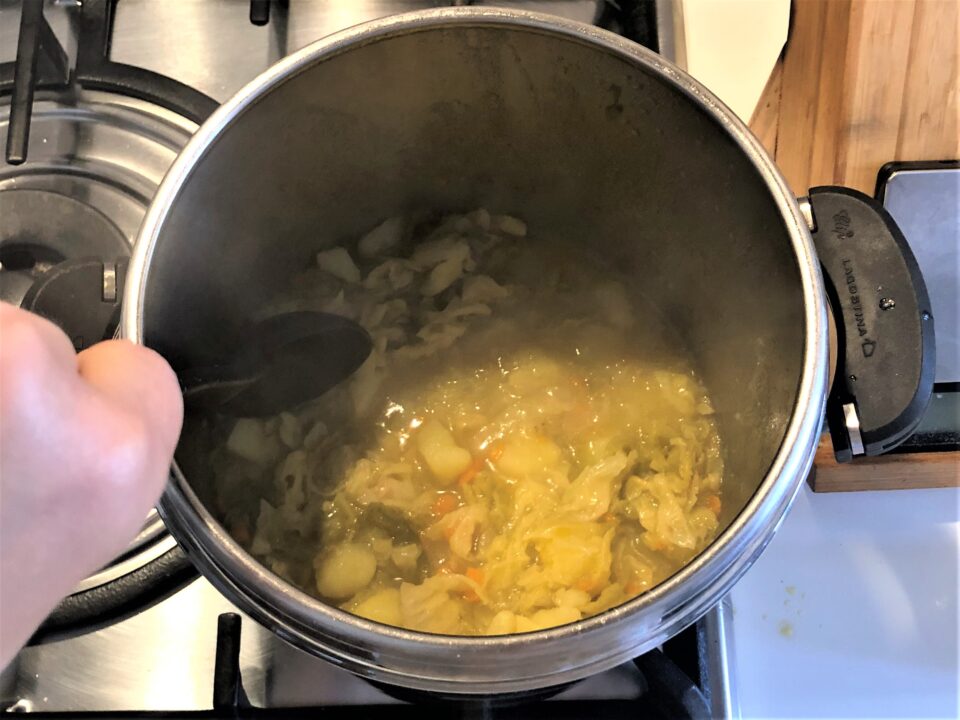 When the potatoes will be partially undone and mixed with cabbage, the soup is ready! It will be thick and creamy. Turn off the heat and if you would like to give your soup an extra twist, add a tablespoon of grated parmesan.
Stir it well with the heat off and let it rest for about a minute. Serve the cabbage and potato soup immediately.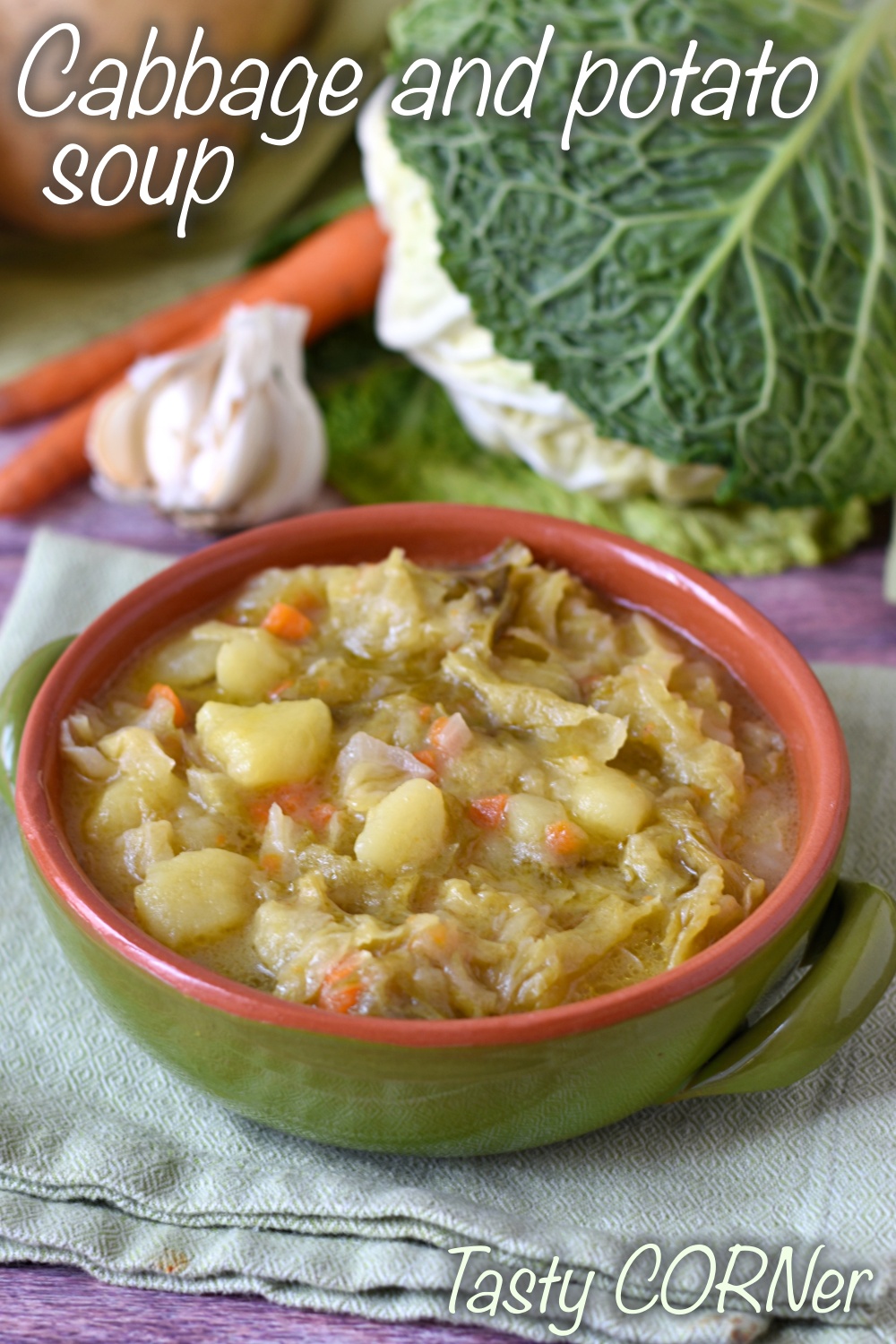 Conservation
If there is any leftover, you can store the cabbage and potato soup in a glass jar in the fridge for a couple of days.
Tips and variations
The cabbage and potato soup can be served on its own or with croutons. You can also add rice or pasta to the soup: consider about 1/3 cup (1,4 oz / 35-40 grams) per person to be cooked directly in the soup. The main rule for cooking pasta/rice properly is to lengthen the soup with a lot of broth and closely check the cooking, stirring frequently.
For a tastier cabbage soup – but no longer vegetarian – you can add 3,5 oz (100 grams) of diced pancetta or guanciale (bacon or pork cheek) to the mirepoix.
Translation by Giacomo Meucci