SHRIMP Vol au Vent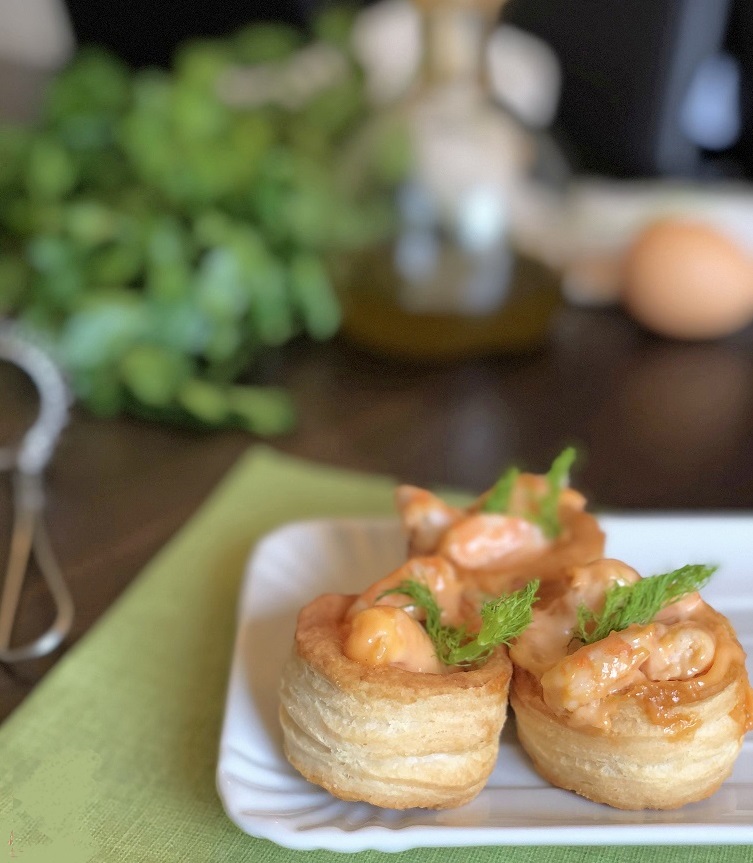 These puff pastry baskets are better known as vol au vent, which literally means flying in the wind.

A name that immediately makes you understand the lightness of this puff pastry wrap made of several overlapping layers and then baked in the oven.

Even if you would not say the basic recipe to prepare them is very simple, especially if you use the ready-made puff pastry, and it is also very fast.

They are usually served as an appetizer, in buffets or with an aperitif as finger food and the beauty is that you can fill them with an infinite number of ingredients and preparations.

The filling inside them is usually based on vegetables, cheeses, mushrooms, meat and fish and it is with the latter that today we will prepare them by creating delicious baskets of puff pastry with shrimp and pink sauce.

These vol au vent are topped with shrimp for a surprising and delicious appetizer.

A great option for entertaining, the perfect party appetizer for all occasions.

Top them with fresh chives for a nice color contrast and some earthy freshness.

if you like my recipes I invite you to visit my Italian blog "A tavola con Tea" with more than 500 Italian recipes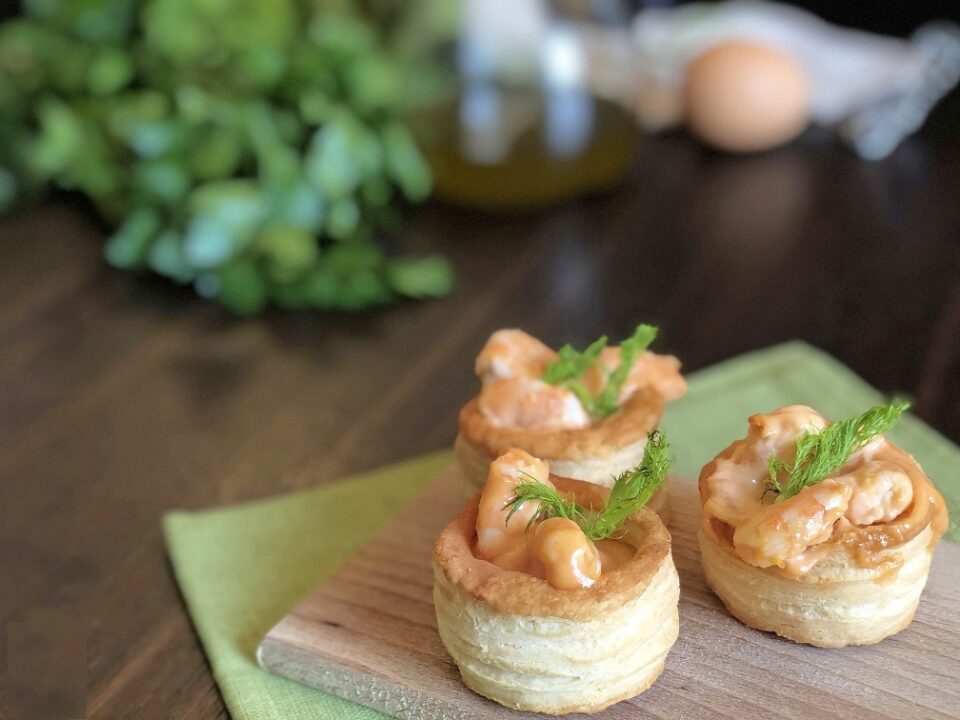 Difficulty

Very easy

Cost

Medium

Preparation time

25 Minutes

Cooking time

20 Minutes

Serving

4/6 PORTIONS

Cuisine

Italian
Ingredients
For Shrimps vol au vent
1
/
2
pound
shrimps
(

peeled shrimps or prawns, frozen

)
For cocktail sauce
1
/
4
teaspoon
Worcestershire sauce
1
/
4
teaspoon
sweet mustard
2
drops
chilli
(

chilli oil or tabasco

)
Steps
how to make cocktail sauce
If you prefer to prepare the cocktail sauce at home, follow these instructions.

Put all the ingredients (mayonnaise, ketchup, chili oil, lemon juice, Worcestershire and cognac) in a bowl. Beat well. Cover and let cool before using.

Prepare puff pastry baskets
Unroll a disc of puff pastry and cut out many discs of 2.5 inches in diameter using a pastry cutter or a glass.

Proceed in the same way with the second roll of puff pastry.
Arrange 10 discs on a baking sheet lined with parchment paper and prick with a fork.

In the remaining discs make a central hole using another smaller (about 2 inch diameter) pastry cutter forming so many circles.
Cook vol au vent
Place larger discs on a baking sheet covered with parchment paper and brush with an egg then place 3 smaller discs on each, always brush with beaten egg even on the edges.
Bake in a pre-heated oven at 392 F for about 10-15 minutes.

They must become swollen and golden.

Remove from the oven and let cool before filling.
Prawn preparation
You can use both fresh and frozen shrimp.

If you use fresh shrimp, wash and peel them before cooking. Instead the frozen ones just defrost them.
Cook shrimp in boiling water for 2 minutes, then drain and dry, dabbing gently with kitchen paper.

Leave to cool.
Last step
To fill the vol au vent, simply combine cocktail sauce in a bowl and then fill the puff pastry shells.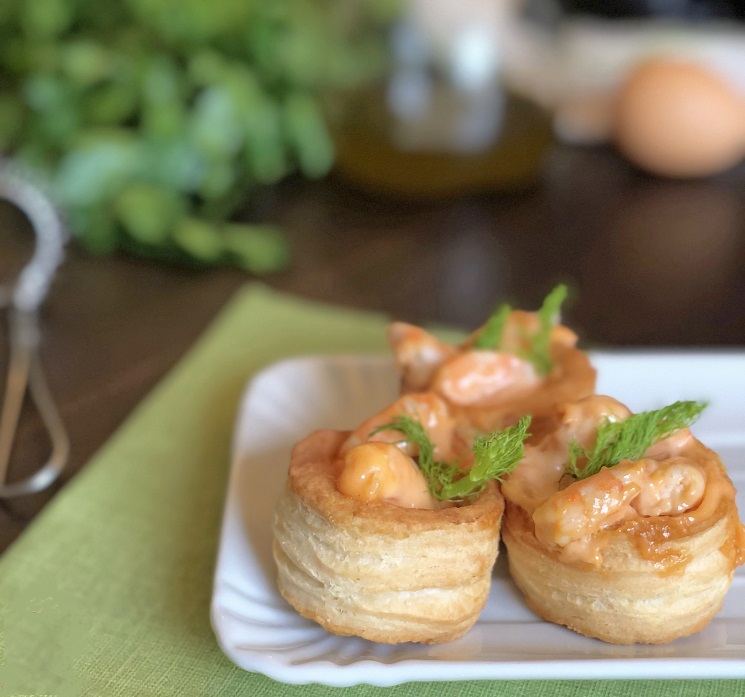 If you stuff the vol au vent you must eat them immediately.You can prepare the puff pastry baskets in advance and store in a cool and dry place for up to 2 days or freeze
Follow my Instagram page click here
see below or the latest recipes published and enjoy your meal