I fell for it again … every time I go to the supermarket I'm attracted by Cookies on offer
It wouldn't be a problem to buy cookies if someone in my family ate them, but that's not the case.
Eventually I end up with a huge amount of cookies that no one eats.
Now you understand why I decided to make a cake with leftover biscuits
I decided to make a No-baked Cookie cake because it's faster and also in this heat period nobody wants to turn on the oven
It's a very easy recipe that everyone is able to prepare, perfect for those with limited time.
To prepare the No baked Cookies Cake you just create a base with any type of biscuit (I used "Ringo" but "Oreo" or other dry biscuits are also fine) and melted butter.
Then You mix the ingredients together to obtain a grainy mixture, put the mixture in a cake mold and compact it. While the base rests in the fridge, whip cream with mascarpone (or ricotta) and a little cocoa.
The job is done and you're ready to compose this No Baked Cookie Cake
A cold cake with a soft and at the same time crunchy texture with two layers, one with cream and one with hazelnut cream.
A perfect dessert both for a delicious snack and for dessert at the end of the dinner that will make not only children happy.
From this base you can start to create many delicious variations: add chocolate chips, toasted hazelnuts, pieces of biscuits to the cream, or simply decorate the cake with whipped cream, chocolate topping or dried fruit, creating many different irresistible desserts every time.
I'll give you one suggestion: it's important to respect resting times in the fridge for a perfect result.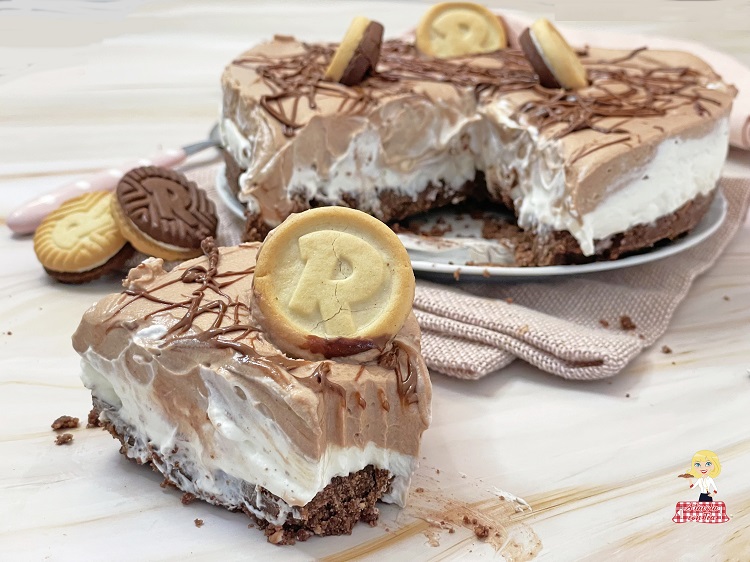 Difficulty

Very easy

Cost

Cheap

Preparation time

15 Minutes

Rest time

1 Hour

Serving

6

Cooking method

No cooking

Cuisine

Italian
Ingredients
for the cookie base
10
oz
biscuits
(

about 50 biscuits or 300 g

)
1
/
3
cup
unsalted butter
(

100 g

)
for the filling
1
1
/
2
cup
whipping cream
(

350 ml

)
1
cup
mascarpone
(

or ricotta 250g

)
4
tablespoons
Nutella®
(

or hazelnut cream

)
578,98 Kcal
calories per serving
Power 578,98 (Kcal)
Carbohydrates 28,81 (g)

of which sugars 9,56 (g)

Proteins 5,33 (g)
Fat 50,04 (g)

of which saturated 21,66 (g)

of which unsaturated 5,49 (g)

Fibers 1,54 (g)
Sodium 400,22 (mg)
Steps
STEP 1
Take biscuits, put them in the mixer and reduce to powder. You can also put cookies in a bag and break them with a rolling pin.
Pour crumbled biscuits into a bowl with melted butter, mix with a spoon to obtain a grainy mixture.
STEP 2
Line the cake mold with parchment paper, pour the biscuit and butter mixture inside and compact, helping you with the back of a spoon. Leave to rest in the fridge for 1 hour or 30 minutes in the freezer.
STEP 3
Put heavy cream in a bowl and whip with an electric whisk, add mascarpone or ricotta cheese and whip again. Divide into two parts of the same weight and add Nutella or hazelnut cream to one of the two. Mix with a spatula.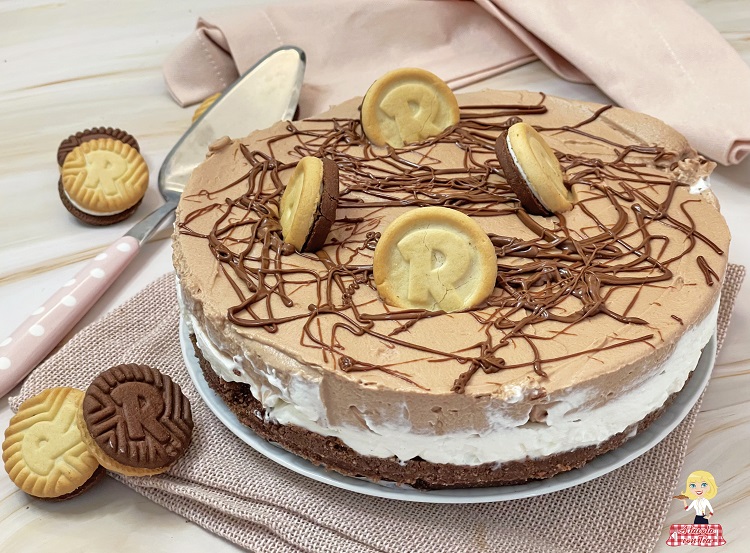 STEP 4
Remove base cake from the fridge and pour the white filling inside, level with a spoon, then add the hazelnut cream filling and level again.
Put back in the fridge to rest to firm up the cake (about 1 hour). Before serving, leave the fridge for a few minutes. Decorate the cake according to your tastes: I used the same biscuits as the base and a little hazelnut cream.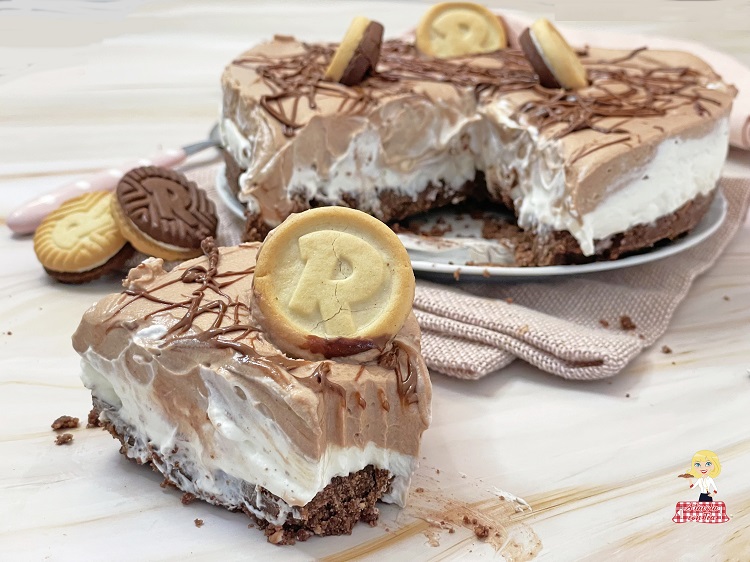 NOTE
You can replace the mascarpone with ricotta or philadelphia.
Use any type of biscuit for the base of the cake. The important thing is that they are dry biscuits.
STORAGE
The unbaked biscuit cake can be kept in the fridge for a maximum of 2 days. Alternatively you can put cake in the freezer and in this case it lasts 15 days